For every female out there who just needs a little help reminding herself that she can make shit happen.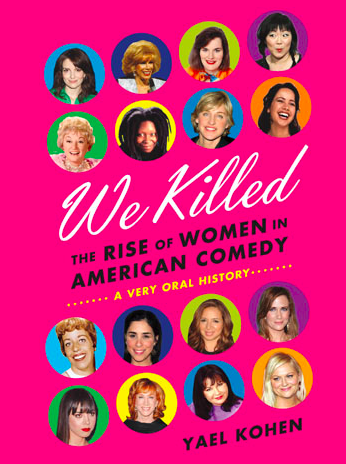 This one is a given. Fey covers everything from growing up as a nerd, to experiencing the comedy scene in Chicago, to landing her life-changing role on Saturday Night Live. In a collection of hilarious essays, she explores what it's like to live with the pressures of being a modern day woman and shares plenty of fascinating information about working in the fast-paced comedy world.
Another obvious choice, Poehler's book, like Fey's, includes tons of captivating bits about working on shows like SNL and Parks and Recreation. But my favorite part about this book is the endless amount of encouragement, inspiration, and honest advice that Poehler gives out, like the following: "You have to care about your work but not about the result. You have to care about how good you are and how good you feel, but not about how good people think you are or how good people think you look."
Kaling shares a lot of insight on how she got to where she is now. And, in my opinion, the best part about her book is that she shows you how achieving a seemingly-impossible future in comedy is possible, when you take it one step at a time. She goes into delightful details about her time living in a cramped NYC apartment, to how she got her writing gig for The Office (and how initially inadequate she felt), to how she has dealt with the unrealistic expectations that the media has for women in Hollywood. You can't not read this one, especially if you're an Office fan.
This book is a female comedian's dream. It covers a history of funny ladies that spans over fifty years, going all the way back to the early days of Phyllis Diller and Joan Rivers and ending with the most prominent female voices today. You get to hear from successful writers, producers, nightclub owners, and more, to go alongside the interviews and discussions with famous standups, SNL standouts, popular TV stars, and more.
Dratch's book is a remarkably honest and vulnerable account about the difficult parts of showbiz life. She goes into some awesome details about her audition for SNL, and also discusses some of her favorite moments there (including the infamous Debbie Downer at Disney World sketch). But she also delves into what it's like when the calls stop coming in, and how she's learned to deal with the ugly side of comedy.
Technically, any of Chelsea Handler's many hilarious memoirs could be included in this list. I simply chose this one because I have crystal clear memories of laughing out loud while reading it in the airport (standing in a three-hour customer service line after a canceled flight, mind you.) Handler delivers continuous wit and refuses to apologize for her irreverent sense of humor. It's inspiring for any female trying to make it in this world.
Though not nearly as entertaining as most of the female-written books on this list, this inside account of one of the most successful periods in television, by the former NBC President of Entertainment, is still incredibly informational and beneficial to read. Top of the Rock goes into a ton of detail about casting processes, how pilots are picked up, what made certain actors stick out, etc. It's highly useful for anyone looking to get into this field – both behind and in front of the camera.
Like Top of the Rock, this book is an awesome insiders' account of what it was and is like to work on one of the most successful shows in the history of comedy and television. It provides plenty of fascinating, behind-the-scenes interviews with former SNL writers, producers, guests, stars, and more.
Lynch provides an honest viewpoint about what it was and is like to try to make it as an actress in a highly competitive environment. It's been described as both a hilarious memoir and an inspirational narrative, and is a beneficial read for any woman who feels like she's missed her chance at her dream.