The Women's World Cup is heading into the quarter-final round, which led to an absolutely ridiculous conversation popping up on Twitter.
An editor from Sports Illustrated tweeted a vine of England's amazing goal against Norway to fellow editor Andy Benoit, and wrote this: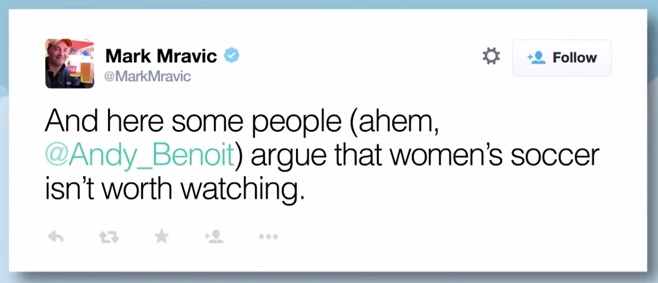 To which Andy Benoit responded… with this:

To which the incredible comedic team that is Amy Poehler and Seth Meyers responded by absolutely owning him. They used Benoit's own idiotic comment to point out the ridiculous way that the media handles women's sports, and we were gifted with the following segment:
[youtube https://www.youtube.com/watch?v=KmEoKXgBvSI%5D
Benoit tried to apologize for his offensive comment:
My sincere apologies for last night's senseless tweets. I got carried away responding to playful ribbing ….

— Andy Benoit (@Andy_Benoit) June 23, 2015
But it looks like the damage is already done. Because, as Amy Poehler put it: "No more tweeting, Benoit. You're too dumb." And whatever Queen Amy says, goes.