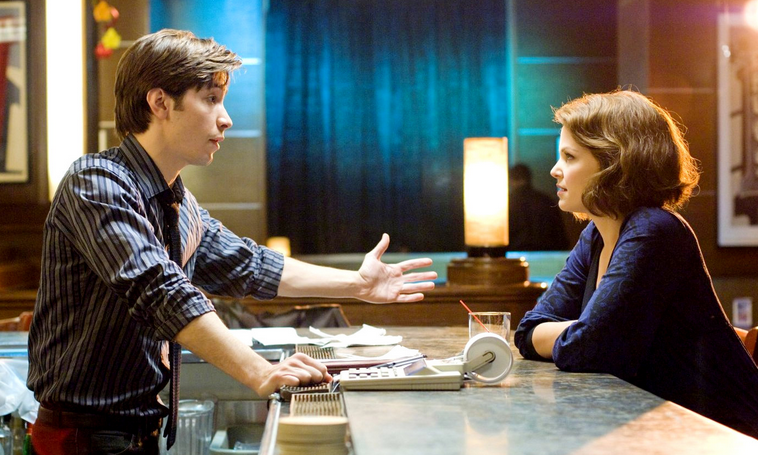 1. We're not supposed to be shallow, but with apps like Tinder, it's pretty much impossible to judge people on anything other than their looks.
2. It's promiscuous to sleep with someone on the first date, but it's prude to keep them waiting for too long.
3. We should take our time finding the right person, but we should also hurry up because people enjoy reminding us that we're in our mid-twenties and we won't be young forever.
4. It's important to take your time when it comes to starting a family, but "taking your time" also means you better get started before you're thirty because, as people consistently point out, your chances go down exponentially from there.
5. Although there are plenty of fish in the sea, don't be with too many fish because that's just not classy.
6. We're told to focus on our careers and building our life, because there's time for romance and family later. We're told this while being simultaneously bombarded with engagement and pregnancy announcements on social media.
7. When you're in your mid-to-late-twenties, your significant other needs to be your main priority. But at the same time, if you start spending less time with your pals, you're a bad friend.
8. Weddings are criticized for becoming too much like circuses, but you're still expected to have an engagement photo shoot and crazy bachelor/bachelorette parties and spa days for your bridal party and a beautiful rehearsal dinner and an incredible wedding venue.
9. Nothing is more important than being yourself, but wait until several months or years into the relationship to actually be yourself, or else you'll scare off any chance of love.
10. People like mysteries, but they also want to be able to find out everything about you online before you go out on a date.
11. We're told it's best to be honest and upfront, but then when someone straight up tells us they're interested or calls/texts us when they say they will, we don't know what to do.
12. Communication is important, but half of our communication is done over devices that let us think over and perfect exactly what we're going to say before we send it.
13. It's ingrained in our brains that it's best to look natural and effortless, but it takes quite some time and effort to achieve the I woke up like this look if you feel like you have any chance of competing with everyone else and how they look.
14. It feels nearly impossible to make a connection with someone, regardless of the fact that there are a bajillion different websites and apps offering to do just that.
15. It's supposedly unrealistic to have a list of requirements you're looking for in a significant other, even though the endless dating apps in existence allow us to treat dating like a shopping experience.
16. Love is not supposed to have a timeline, although there seems to be a readymade one: go on a date ⟶ become official ⟶ get engaged ⟶ have a wedding ⟶ get a dog ⟶ have a baby ⟶ have another baby ⟶ and so on and so forth. Otherwise you're weird.
17. Don't settle, but don't be picky.
18. Take dating seriously, and treat every date like they could be your next girlfriend/boyfriend. But don't say that to them out loud or they'll think you're crazy.
19. It's best to put yourself out there fearlessly all the time, regardless of how many times your heart's been broken.