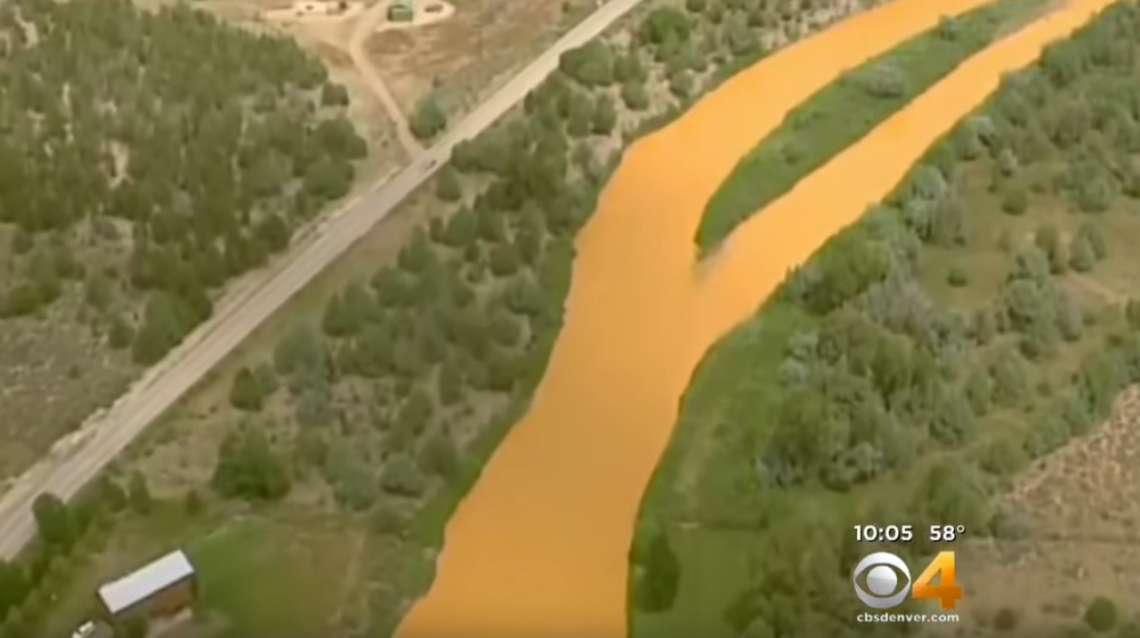 A blond kid pops a wheelie past the ski and bike store. A parade of RVs and pop-up campers strut their stuff in town, returning from their weekend trips in the high country. Harleys roar in and out of earshot, some riding on to the world's highest Harley-Davidson store just up the road, others out onto the breathtaking million-dollar highway, which stretches both north and west of town. Wandering through the main drag, you'd have absolutely no idea that just a few weeks before, Silverton, Colorado, was the epicenter of one of the worst ecological disasters in the country this year.
The only hint that anything was amiss was an 8.5 by 11 inch sign attached to a bridge guardrail reading:
Cement Creek and below Confluence of Cement Creek RIVER ADVISORY

Due to GOLD KING MINE SPILL – EPA recommends that recreational users of the Animas River avoid contact with or use of the river until further notice.
On August 5th, 2015, a company contracted through the EPA worked to improve the tailing pond at Gold King Mine, a mine abandoned in 1923. The heavy equipment they used disrupted the structural integrity of the old dam that contained the tailing pond. The slurry squeezed through and enlarged an opening in the dam, dumping at least three million gallons of wastewater filled with lead, cadmium, arsenic, and other pollutants into Cement Creek. From Cement Creek, the plume of wastewater roiled into the Animas River. The Animas flows through Durango, a flourishing town in southwestern Colorado, and eventually joins the Colorado River. Images of the pipe colored gunk spread onto Facebook, Twitter, and TV and into our collective consciousness. It was an astonishingly visible reminder of Colorado's mining legacy. Since then, just as quickly as it rolled through the west, most of its obvious signs disappeared. The disaster too faded from our collective consciousness.
[youtube https://www.youtube.com/watch?v=ac5blL1u8Yg&w=560&h=315%5D
After spending some time in Silverton, I came to realize that all of this was probably by design.
My wife and I recently spent five days in Silverton as a part of a two-week trip to the San Juan Mountains of Colorado. We almost decided to skip it, after hearing about the King Mine Disaster and the contamination, but we decided to go anyway. We figured Silverton needed all the tourists it could get. And once we got there, we were glad we went – it's one of the quirkiest mountain towns in a state filled with quirky mountain towns. We ended up staying longer than we had originally planned. Poisoned rivers or no, we were looking at real-estate brochures by the end of the week.
The San Juans are to United States mountain ranges what Neil Peart is to drummers and a 1982 Lafite-Rothschild is to wine: for connoisseurs who appreciate the best. They are, simply put, the most spectacular mountain range in the continental United States, a stunning and endless collection of high-relief peaks, radiant wildflowers, and undisturbed landscapes. But they are as remote and as challenging to approach as they are beautiful. They're a six-hour drive from Denver and just as far from any decent-sized airport. If you've got the cash, you can charter a jet to hit the tiny landing strip in Telluride, a town 20 miles northwest of Silverton where Tom Cruise and Oprah have homes. But for the rest of us, you've got to want to get there. And you have to be willing to punt a few days to make it worth your while.
The history of Silverton, Colorado – much like the rest of Colorado and the west – is intimately and inextricably connected to the metals and mining industry. Americans of European descent first settled in Colorado in the 1840s and 1850s when gold was discovered near Colorado Springs and Denver, now the two largest cities in Colorado. Over the next four decades, bustling boomtowns sprung up in treacherous and unforgiving locations, such as Leadville, Blackhawk, and Silverton. Risk-taking miners with more courage than a sense of self-preservation took turns blowing up, carving out, and sifting through the mountains looking for any hill valuable enough to merit full-scale excavation. By the time Colorado became a state in 1876, many of its largest cities were in places scarcely fit for human habitation.
Silverton is one of those places. In summer, it's a peaceful mountain village that attracts adventurers and sightseers the world over. In winter, it's a tiny hamlet in a frozen and isolated mountain valley. In the 1870s, the first white prospectors who found silver near town (thus the name), had to have known that the decision to settle there was brazen and fraught with fatal risk. Their survival is a testimonial to their resolve.
By the 1880s, they discovered gold in the hills, and a few more courageous souls arrived. Soon after, Silverton did its best to live up to every ugly western stereotype. The town hosted forty bordellos and a hundred mills and mines for a population somewhere in the neighborhood of a thousand people. According to a storefront sign today on Silverton's "Notorious Blair Street," at its peak, the town had 118 prostitutes — more than ten percent of the local population in the 1890s. The overall population then peaked in 1910 at around 2,000, and has been declining since, with only about 600 people living there year round today.
Back in the day, Silverton's resident miners treated their mountains much like they treated their women: aggressively, and without much thought for the future. On the treacherous dirt roads around town, there is evidence of ambition and excavation everywhere, but not much of follow-through. Abandoned wooden mine shafts rot along the sides of mountains and waterfalls that otherwise might belong on a postcard. The remnants of rope-suspension bridges dangle in the breeze. The same mustard shade of oxidized chemicals that colors Cement Creek dots the horizon in every direction. If you have any doubt where the rusty pollutants in the rivers come from, all you have to do is look up.
But, as much as some outsiders may be inclined to judge or object to its early settlers' lifestyle choices, Silverton doesn't hide from or ignore its past. It flaunts it. Every morning at 11:30 am, a hundred or so camera-wielding tourists pop into town on the narrow-gauge Durango-to-Silverton railway, their presence announced by the conductor's horn and a puff of coal-smoke visible from miles away. They come, first, for the world-class views. But they also come to see Silverton, a town lost in time. For two hours, the locals ham it up for the tourists. The store with the sign about the 118 prostitutes doubles as an old-timey photo booth. A man so old he looks like he could have been here in the 1890s rides through town with two horses and a covered wagon. A woman stands outside the Shady Lady Saloon enticing customers to come in for burgers and ice cream. Next door, a man clanks away with a hammer, making sure everyone who came in on the train knows about his supply of artisanal silversmith designs.
And while some of the lost-in-time feel may be an affectation for tourists, parts of it feel very real. The town has a larger collection of old and abandoned trucks on lawns than any other place I've been, and I lived in Alabama for four years. The man who lives kitty corner to the Cement Creek bridge with the sign has three different depression-era Dodge trucks on his lawn, proudly standing as a monument to the fact that anyone who survived the lean years in Silverton must have needed reliable transport. And then there's the painted sign on the hotel at the corner of 10th & Blair St. that tells of rooms available "from $1.50 a night!" Of course, 100 years ago, hotels etched advertisements on walls with similar prices in New York, Chicago, Omaha, and San Francisco. What separates Silverton from all those other places is that in the intervening 100 years, people updated the prices, painted over the walls, or razed the buildings that housed those signs. Here, they didn't. The infrastructure that stood in 1910, in town and in the area that surrounds Silverton, is what can be seen today. That's part of its attraction, but that's also a big part of Silverton's problem.
[youtube https://www.youtube.com/watch?v=ZBlR05tDCbI&w=560&h=315%5D
Since the late 1990s, Silverton has been a candidate for Superfund site designation. Superfund sites receive significant EPA resources to fund large-scale, multiyear projects to clean up uncontrolled hazardous waste sites. That's what Silverton is: a gorgeous mountain town burdened by 100 years of neglect and pollution. And, given the amount of issues with the old and decaying mines, you might think the locals would welcome the help. But plenty of Silverton residents don't want the money or the attention the designation might bring. According to one article written last year in the Durango Herald, "for years, many locals have considered the word "Superfund" dirtier than Cement Creek." And that was written before the King Mine dumped three million gallons of cadmium, lead, and arsenic into its waters. It's an issue that's been on locals' minds long before it acquired national attention, and it's going to remain for long after.
Perhaps the locals' concern about the Superfund is understandable. There are few jobs and limited resources in this town. People are nervous that if the EPA calls attention to Cement Creek's issues, it might scare off tourists. And without tourism, Silverton might – like so many of its former neighbors sprinkled throughout the San Juans – end up a ghost town.
Just before we arrived in town, we bumped into a part-time resident who quipped that, in Silverton, it's hard to tell where one environmental catastrophe begins and the next one ends. That's a bleak thought, but after a week of exploring the town, it rings true. The Million Dollar Highway runs north of Silverton paralleled by the Animas River to its west. To the east, murky water similar in opacity to Cement Creek cascades down a mountainside. Running on a trail just above the drainage, I wondered if it came from the Gold King Mine or someplace else. But, the Gold King Mine was across town on a separate ridge. As the man said in Silverton, it's hard to tell where one source of pollution begins and another ends.
Like a rural Irish village, you can't sit down at a bar or a restaurant in Silverton without someone welcoming you to town or asking about your origins. It's a deeply warm, hospitable place, welcoming of tourists in a way that many close-the-door-behind-you Colorado mountain towns aren't. We chatted with lots of locals, with most of the conversations initiated by the locals themselves. Most were at or near retirement age, but the ones that weren't had a vibe about their working lives that wasn't far removed from retirement either. Silverton is unrushed, even for a town of its size.
Everyone had a great yarn to share about how they'd made it to Silverton, whether they had come from Brooklyn ten years ago, Albuquerque twenty-five years ago, or their ancestors had moved here a century ago. People are proud to say they're locals, and they're proud to greet anyone who walks on their streets, whether they are there on the train for a few hours or there for a few weeks. It's a deeply welcoming place.
In summer, the population swells to at least twice its normal size with part timers who visit the town when it's easiest to appreciate. Ultrarunners love it here, because it's the home of the infamous Hardrock 100 Mile Endurance Run, perhaps the hardest 100-mile race in the country, with around 33,000 ft. of elevation gain. So do the aforementioned Harley owners, who use the town as a launching pad for some of the most spectacular rides around. At any coffee shop or restaurant in August, you're almost guaranteed to find an outsider planning their own personal variation on the rugged mountain adventure, in a guidebook, on their laptops, or on their phones.
Still, before you're considered a true member of the community in Silverton, you have to survive at least one winter there. We heard that line many times. Apparently, Silverton's tight-knit community grows tightest when the treacherous Red Mountain Pass north of town gets shut down (happens about a half dozen times a year) and the same for Molas Pass to the south (happens about half as often). This leaves Silverton completely cut off from the outside world. It's a real-life parallel to Stephen King's Overlook Hotel in the Shining. There's no choice but to stock up on supplies, hunker down, and get to know your neighbor. Those who love the quiet, serene beauty of the mountains in winter wouldn't have it any other way.
On a great powder day or when there's a big storm, the whole town will pop into Montanya's and regale each other with stories of the day gone by. It's such a small town and so far removed from the world on the other side of the mountain passes, it's impossible not to grow close to your neighbors.
But as chatty as everyone was with us, no one much cared to talk about the poisoned elephant in the room. There were a few exceptions. At the Avalanche brewery on Blair Street, someone had drawn up an illustrated brochure in folded paper about the different types of mushrooms that could be placed near rivers to counterbalance the effects of pollutants such as cadmium, lead, and arsenic. A couple of shopkeepers posted signs promising that the town's water was safe to drink and to bathe in. But most simply smiled and greeted outsiders as if nothing had happened. Perhaps there was more verve, more gratitude, and more genuine kindness shown to tourists for visiting their small town. No tourist was taken for granted. But the goal was to put on a show and then wait for people to forget what had happened. Silverton and the San Juans are beautiful enough that people will come back sooner or later. It's a strategy that's always worked in the past.
The EPA seems content to play pretend, too. For the first 24 hours, they made no mention of the disaster at all, even as the Animas River darkened from a crystalline mountain stream to muck-filled rust-colored wastewater. Then they acknowledged that the leak had happened, but underestimated the volume of the spill by two million gallons. As of August 19th, the EPA had declared the Animas River safe for use again. News reports claimed that the mess had been "all cleaned up!" But, based on the vantage point from the bridge above Cement Creek with the laminate sign, it's obvious that that explanation is a bit too tidy. There's still sludge and detritus on the banks and on the rocks. No, three millions gallons of toxic wastewater didn't get cleaned up in a couple of weeks. It just got diluted and pushed downstream – with some places seeing a little less dilution than others.
Perhaps more surprisingly, there's no hint of any cleanup anywhere. In five days in town, I saw one truck from Environmental Restoration LLC, the company that caused the disaster, driving through town one evening. Despite seeking out the areas most seriously impacted by the disaster, I didn't see a single representative of the EPA or any other governmental agency purporting to remedy the damage. Even though I went to the very place where innumerable pollutants had been dumped into the ecosystem, there was no one working to do anything, even in places where the damage was still very much visible.
Perhaps it makes sense that the EPA would want to keep a low profile. They have responsibility for stopping the ongoing poisoning of the local ecosystem, mollifying its effects, overseeing the investigation into the causes of the disaster, assessing its environmental impact, and dealing with stubborn residents. They already have a lot on their plate. Plus, they caused the damned problem. If the locals are content to keep it quiet, why would they want to make a big deal of it?
We asked a few local business owners how the disaster was affecting business. One shopkeeper admitted that it had. She said, before the disaster, she was doing an average of 150 sales a day. Now, after the disaster, it was closer to 35. She had to let go two part-time employees to stay solvent. But she was the only one. Everyone else said that things were going fine. One restaurant owner said that the town had been all booked up the prior two weekends because of festivals, and that business was good. He said that business had slowed down after the festivals, but that things always slowed down this time of the year. But on the whole, things were pretty busy.
Still, we couldn't help but notice as he was saying it, that we were the only ones in the restaurant.