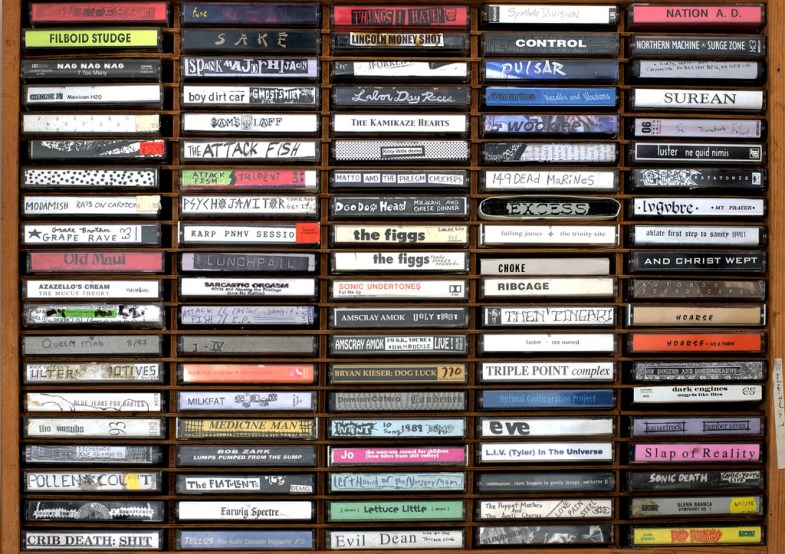 For the past few years a swell of DIY, faux-J-Pop music projects has been rising like the waves of Planet Miller, and it seems that the movement is still only in the early stages of what could very likely turn out to be an enormous hoax that will somehow embarrass us all when the prestige is finally revealed—or, worse yet, "eliminate our maps" in the manner of Incandenza's Infinite Jest.
But maybe not?
So until that dreaded day, here's a quick guide to catch you up on some noteworthy post-ironic pop acts that have "everyone" talking.
QT — "Hey QT"
QT is maybe the easiest place to start because this project embodies a lot of what post-ironic pop is (probably) about: obscured artist identity, hollowed-out maximalist production with pitch-lifted vocals, lyrics so cheddar cheesy they actually come off as heartfelt. "Hey QT" is one of the more accessible records on PC Music—the label behind a lot of this post-irony—not to mention the brilliant and impeccably simple video concept that epitomizes how post-ironic pop addresses consumerism within a bubblegum middle ground located somewhere between the second and third dimensions, a 2.5D totality where sincerity and irony spin perpetually in a septic cotton candy machine. But all in a good way.
Hannah Diamond — "Every Night"
Hannah Diamond (who cleverly uses her initials as a double acronym for "high-definition") is sort of the first poster girl for PC Music, i.e. she's actually a real person. Aside from contributing drop-dead imagery to the post-ironic repertoire of a nostalgic, millennial aesthetic, Diamond's work illustrates how incestuous the PC Music team is, from photography and art direction collabs to double-team production with mastermind producers A.G. Cook and SOPHIE. "Every Night" is (both visually and sonically) a fusion of hyper-cute J-Pop and 90s Irish girlband B*Witched, and it typifies how much of this genre is, at least on the surface, about young, apprehensive, idealistic infatuation.
Kero Kero Bonito — "Picture This"
Double Denim Records trio Kero Kero Bonito is the perfect blend of J-Pop and the British DIY music subculture. And Kidz Bop. For example, their latest track "Chicken" totes lines like, "Whether on the street or living in the sea / All creatures need a beat." But they also make more puerilely poignant records like "Picture This," which is sort of an apologist's rant on selfie culture and is, in all its comedic glory, actually convincing.
SOPHIE — "Lemonade"
Like KKB, SOPHIE's lyrics deal with the quotidian but in more of a non sequitur, stream-of-consciousness, confessional manner, as in songs like "Lemonade." The track also has that Lil' Mama "Lipgloss" vibe and is a prime example of how post-ironic imagery translates into pop sounds, i.e. floating waterslides x bubble fx + a bipolar combination of trap and post-ringtone flavors.
easyFun — "Fanta"
I think there's just something post-ironic about beverages.
Spazzkid — "Truly (feat. Sarah Bonito) Remix"
Spazzkid taps into J-Pop vibes more so than his labelmates at Magical Properties. This remix of "Truly" is a livelier, sped-up delivery of the original and features KKB's Sarah Perry—along with her signature polyglot lyrics and some mouthwatering percussion/electrochimes that would melt any synthetic heart. Also check out the KKB remix of "Daytime Disco."
Danny L Harle — "In My Dreams"
Another great example of PC's mysterious genderbending and irresistible melodies, "In My Dreams" feels a lot like Hannah Diamond with less of a fixed identity. This record is especially enjoyable because of the Knife-esque synth and air-slick beat.
GFOTY — "USA"
Miiight require the utmost openmindedness. Listen while stuck in traffic if you want to completely evaporate.
Augustus — "Wonder2"
One of the members of KKB, Augustus' solo repertoire is post-ironic in the sense that it is not New Sincerity or New Boring or Vapourwave but is also sort of all of them. This cover of J-Pop girlband Perfume pulls in 60s surf influence (Beach Boys, The Zombies), and it's as if the Teletubbies were sucked into the Matrix (from, like, a real place?), survived for months on Hot Cheetos and Pocky sticks, and then lucid dream-recorded their Earth-English debut. Again, all in a good way.
Anamanaguchi — "Pop It (feat. Meesh)"
Debuted as the soundtrackers of the Scott Pilgrim video game, this song is in some ways a rather distant evolution from their early Nintendo tunes. Lyrics like, "Thank you so much! Oh wow! OK!" prove that lolcore cyborgs fueled by pure granulated sugar have finally been realized. Anamanaguchi seems to have further embraced an apathetic plasticity the way that other post-ironics reference Paris Hilton songs or even Kesha's early production. "Pop It" expresses precisely why I love—and perhaps what we're supposed to get out of—this movement: "I don't know! IDK!"
A.G. Cook — "Beautiful"
"Beautiful" is like the sound of the birth of post-ironic, or like what I imagine Ex Machina's Ava singing to herself when that door opens. With hints of Blood Diamonds' "Phone Sex"-era dreamy J-Pop, songs like this are the most club-ready of the bunch. My favorite Cook track so far is "Keri Baby," another collab with Diamond where she Barbie-talks, "Tell me if you want to see me / Play with my hair on a TV" — a total black-mirror negotiation of relationship roles.
Also check out tunes from DJ Warlord, Princess Bambi, Kane West (third member of KKB and PC collaborator), Meishi Smile, Tielsie, Slime Girls, Thy Slaughter, Birthday Sex, Life Sim, Felicita, Dux Content (A.G. Cook x Danny L Harle), and Lipgloss Twins, most of whom are included in this Spotify playlist.

Perhaps this music is the next step in a teleological progression toward the absence of the human voice in music, the absence of the human in life. As everyone with a smartphone becomes a full-functioning cyborg, maybe this music is saying something about our imminent future, making light of the actually frightening A.I. situation wherein we might soon just be mainframes with a biodegradable transport component, i.e. the human body. Regardless, these music projects have the potential to turn the avant-garde music world on its head, allowing a new pop form to coexist intellectually with socially-aware hip-hop or experimental art music or whatever Sufjan is working on at the moment. This truly enlightening conversation between NPR columnist Eric Ducker and Vogue.com's Deputy Culture Editor Alex Frank is a must-read for more info about PC Music, a brief feminist consideration, and the annoying-but-inevitable "post-"ness of the genre (hence the barefaced title of this article). Personally I don't think the situation is as mysterious or cynical or well-thought-out as these lads hypothesize. It's probably, like most things, just a cause/effect cultural evolution, one that began with Britney Spears and is being fulfilled by the generation that grew up listening to Britney Spears.
But maybe not?