2014 was a stellar year for pop music. In all its metamorphic, trans-genre incarnations, this year's contribution to the history of pop marks a distinct recontextualization of the past into our contemporary setting, from the mainstreamification of nüdisco to the trending confessions of inspiration drawn from 90s R&B and bubblegum pop. I wouldn't venture to say these are necessarily the best songs of the year, but here is a list of favorites compiled by an American twentysomething music editor who grew up on the kind of music today's artists are already recycling.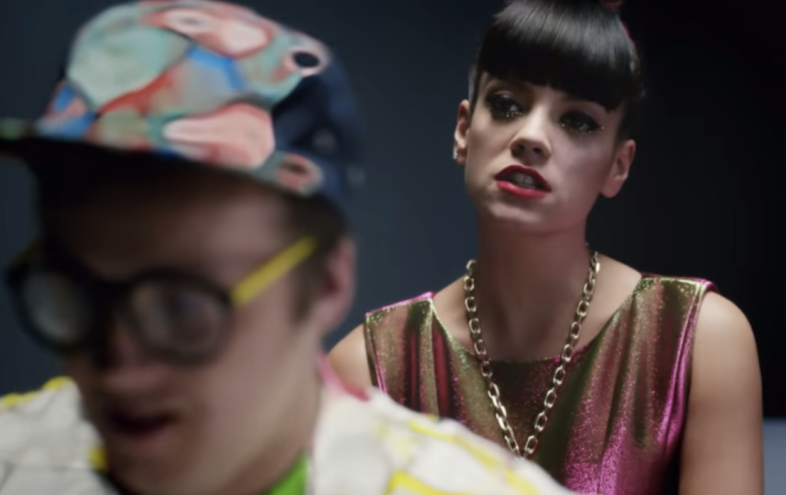 Tennis seems to make my list every year they put out a record. The Colorado couple's latest album is subtle and funky like last year's Small Sound EP, but songs like "Needle and a Knife" indicate a return to their earlier, cuter euphony most present in 2011's Cape Dory. Moony strings and piano accompany an optimistic chorus that rings, "Only a lonely love can devour you | But when you're lonely the same love empowers you." Vocalist Alaina Moore whispers nostalgic cha cha's in the foreground of a cunning drum/tambourine arrangement and a snappy guitar riff reminiscent of older Rilo Kiley tunes, i.e. it's the perfect windows-down autumn jam.
My second-favorite Arthur Russell record—perhaps even his sweetest, most romantic—got a terrific Sufjan revamp for this year's honorary compilation dedicated to the late musician. Sufjan keeps to Russell's signature minimalism to an impressive extent, even though the song is highly polished and well crafted in his post-Adz fashion.
It's been too long since Penguin Prison released some original material (although earlier this year he delivered that superb Lionel Richie cover which I couldn't wait to play for my parents and show them their generation's music is cool again). "Calling Out" is another one of Chris Glover's ultra-catchy bachelor-pop records that sticks like a Katy Perry banger. The playground shouts, the "Summer of '69"-style guitar strikes, the electric solo at the end: all constituents of Glover's underground repertoire that I wish had more to do with a master plan of taking over the radio waves.
17.

Sick Beat

– Kero Kero Bonito
My best Brit chappie showed me these blokes a few months back and I listened for a week straight. The best thing about Kero Kero Bonito is the kid-friendly, chav-friendly nature of their intriguing, low-budget sound. A new beacon of DIY movement production, "Sick Beat" is a flawless polyglot femme-gamer track en route to every college dance party and/or every car commercial.
Although "Rather Be" was one of the transatlantic songs of the year, I enjoyed this more recent track a little more because of its contemporary vogue-pop nod to early 90s artists like Deelite, Robin S., and CeCe Peniston. There's also the signature string element to be expected from Clean Bandit but this time it's a little more pleasantly understated. Also, is it just me or should Jess Glynne really just consider joining the band already.
Katy B and producer Geeneus synthesize elements of old Madonna and Mary J. Blige into a fresh new mid-tempo ballad about the unexpected meltdowns of a twentysomething. Honest and confessional ("I push all my problems to the back of my mind | Then they surface in my dreams, they come alive"), the song also speaks to the way our generation typifies an emotional inability to accept the reality of adult life. The last minute and a half is Katy belting and Geeneus' production really going for it, making this single my favorite Katy B song to date.
The song begins with slightly askew chimes, layered next with some classic Hot Chip production components—steady electro-drum beat, emotive synth, unobtrusive melody—that make for the kind of pure, crisp electronica for which Goddard's motherband has been largely responsible in laying the foundations over the past decade. Goddard's smooth vocals combined with Betsy's shocking entrance, her pipes like those of a 50s chanteuse, are a real treat, and with lyrics like "Did you make it any better with your tears, my dear? | Brush those tears away, troubles are here to stay," this track could easily be the sequel to "Crying For No Reason."
I haven't really been interested in anything Calvin Harris has been up to recently, but "I Will Never Let You Down" was a great summertime sing-along, and Ora was the perfect personality and vocalist for the job. Charming but still mature in its cheerfulness, this single proves that Ora may be the young Janet of our generation (before the surgical and Superbowl mishaps).
Thanks to the recent nüfunk/nüdisco craze, acts like Chromeo reached a newer level of relevance this year. They've referenced Teenage Dream as one of the main influences of this song, thus it's no wonder it was one of my favorite dance party hits this year.
A rare, backwards moment when an American remix tops the charts months before its Swedish original because a British pop star rocketed the track to global popularity via Instagram. Hippie Sabotage crafted a perfectly melancholic track from an already superb song, and Tove Lo's songwriting is as pensive and uncluttered as the beat and echoic vocals of this spectacular reconstruction.
Another Scandi record with minimalist electrodrums, "One More" is a normal conversation between bar-bound best friends, turning cliché lyrics like "I got moneyyy" into benevolent expressions of generosity toward a loyal wingman. The first surprise is when the second verse hits and Elliphant and Mø merge their voices wondrously, followed by another synth surprise at the bridge. "Don't fade away, just stay with me tonight" sums up so many post-Facebook era friendships, a sort of best-friends-for-a-night mentality that made university the memorable epoch that it was.
Sam Smith was the massive breakout artist of the year, and for good reason. It was hard to choose which of his songs was my favorite, but whenever this ballad comes on it's hard not to feel overwhelmed with a sort of reverence and retrospection, partially from the soulful choir backup and basic three-chord progression, but also because it is simply one of the loveliest songs this year.
Her sophomore follow up to 2012's Mercury Prize winning album holds suit with her easily-overlooked, New Boring movement ballads, but with Benny Blanco on the boards ("Teenage Dream," "Tik Tok"), this track delicately takes it up a notch. Songs about marriage really affected me this year, and when Ware serenades in her soothing alto voice, "Can you see it? It's forever" atop M83-style yodels and a smooth bass-line, it re-instills a beautiful hope in the idea of one day marrying the one you love.
07.

Octahate

– Ryn Weaver
Ryn Weaver's debut single is a vocal divastorm of heartbreak, and with help from Blanco, Charli XCX, and Passion Pit, it's hard for this track to go wrong. One of the year's best break-up songs, Weaver writes a lot of allusions to natural disasters ("Shot through the cracks of the earthquake | My body's moving into retrograde"), hinting that love can be the worst natural disaster of all. Also check out this remix by Cashmere Cat.
"Boom Clap," in all its onomatopoeic profundity, is a prime example of why soundtrack queen Charli XCX is possibly my favorite songwriter this year. Her distinctive lyricism combines the fluffy, rainbow pop world of our elementary years—love potions, candy kisses, secret crushes, etc.—with the maturing melancholy of a wearied twentysomething. On the other hand, "Kingdom" is the lullaby we've never heard from her. Aside from proving some impressive vocal abilities, this track also marks her songwriting at its more poetic, but not in a contrived, Lana way, and when Duran Duran front man pops in at the bridge it just makes total sense. There are some unconventional production choices in this track that I really like, plus, the last thirty seconds really sink deep into your marrow.
I don't know why Betty Who re-released her cheddar cheesy "Somebody Loves You" for her new album when she has totally relevant R&B tracks like this in her holster. Regardless, her sexy, Spice Girls voice pairs seamlessly with simple, stable beats, and songs like "Alone Again" deserve more play than her louder synth pop material. The paradox of never being alone again but being alone forever with the one you love is one that anyone who's ever been there (or at least dreamt of Buffy/Alias bombshells the way I did in middle school) can completely understand, and Betty Who delivers a timeless pop ballad that I think we'll be able to look back on with pride.
"Water Me" almost made my top list last year, and "Pendulum" is like a better, more sensuous version of that song (it even uses the same wacky metronome). FKA twigs is the new face of warped R&B, possessing the perspicacity of James Blake and the revolutionary mind of D'Angelo-style love-making production. "So lonely trying to be yours | When you're looking for so much more" is despair at its most defeating, and her vocals reflect that insecurity in a beautiful, velvety way.
I've a soft spot in my heart for Saint Pepsi. I love his DJ production and how he integrates tacky 90s songs into his sets. Of his original material, "Fall Harder" is the sweetest and catchiest, and like Charli, he writes nonchalantly passé lines like "You've got me under your spell | Baby, I couldn't fall harder" with a similarly convincing level of sincerity. This liquid-disco love song, along with its more popular counterpart, makes Saint Pepsi my favorite breakout artist of the year.
Only Lily Allen can successfully construct an immaculate, ironic lullaby from the rubble of the post-2010 dubstep wreckage. Long-time collab producer Greg Kurstin fashioned an impressively eclectic yet still cohesive track, and hearing Allen slyly lulla-rap about cyberbullies is fatally satisfying. I think "Close Your Eyes" is my most-played song of the year though. With magical synth harp, subtle DJ scratches, and a classy auto-tuned bridge, it's the sexiness of crazysexycool and the maturity of an older but even more relevant Allen, wife and mother and certified provocateur.
I Never Learn was my favorite album of 2014, and frankly any of the songs from that album could've been my number one this year, but of all her new material this b-side was probably the most poignant for me. Li sorrowfully croons lines like, "Heaven must have laid stardust in your eyes | To shine the light across the hurt into my eyes," making this song of love and loss all the more abysmal. "No One Ever Loved" is a bottomless tragedy, a truly heartbreaking work of staggering genius, and it's sort of sad to say that Li at her bluest is indisputably Li at her best. She is my song of the year.