If I could go back in time bestow one piece of advice (okay, that's a stretch, I am a Double Virgo after all with MUCH to say) on my younger self, it would be to just use eye cream. To slather it on. To bathe in it. To put it atop a sacrificial altar and worship it.
All humor aside, eye cream has quickly climbed to the top of my "favorites" list when it comes to skincare products. As someone who is about to turn 30, keeping my skin looking fresh and healthy and youthful has become a top priority. That's not to say I'm afraid of the ever-so-dirty word *aging*. Aging is fine! If you like the little lines that come from laughing and smiling through your twenties, that's beautiful. But if you'd rather try botox or fillers or something else, that's a totally valid choice too. Aging, however we choose to do it and embrace it, is not something to fear and I would never judge anyone for how they decide to do it.
But as I said before, keeping my skin healthy and glowy and bouncy and other adjectives that end with y is important to me. And one of the most often overlooked parts of our face is the delicate skin around our eyes.
It's just a fact that the skin around your eyes shows signs of age faster than the rest of your face, and that most of that comes between the ages of 20 and 50. And since it's about 40% thinner than the rest of your face, it's just harder for that skin to bounce back and retain elasticity and suppleness. A lot of people also experience very specific issues with this area (ex: loss of hydration and dryness, irritation, puffiness, dark circles etc.) so it should be a no brainer that we give our eyes some special attention when it comes to our skincare routines.
Enter eye cream!!!!!!
Ever since I started religiously using eye cream, I've noticed the skin around my eyes has been healthier, happier, and just overall better. This isn't to say that I don't still have some almost-30 wrinkles; I absolutely do. But the lines have diminished, the skin around the corners of my eyes is substantially less irritated, and I have a little bit more glow which I'll never complain about.
I've listed my favorite (not sponsored) eye creams and products below and the various reasons I love them. If you're not sure what eye cream is right for you, don't fret! Talk to your dermatologist, an esthetician, head to your local Ulta or Sephora and chat with one of the people working there, or just find your friend with a skincare addiction (c'est moi) and see what they think! Your future of worshipping eye cream awaits!!
---
Youth To The People is very quickly becoming my favorite skincare brand. All of their products are clean, (I believe) vegan, and are based in natural products and superfoods. This eye cream is packed with aloe vera, ultra-emollient sunflower oil, hyaluronic acid, and other vitamins to fight dryness, fine lines, and help your skin repair itself. The main issues I deal with when it comes to my eyes are dryness and irritation (it's winter, I walk outside, you get the picture), dullness (I want my skin to be so bright you can see me from space), and fine lines (again, almost 30). This eye cream works beautifully for all of the above. It's a little on the thinner side so it's not as heavy duty as some other creams, but that also means it sinks in faster which is a bonus in the mornings especially. I love the little natural highlight and dewiness it leaves behind that lasts throughout most of the morning. My skin has responded really well to this cream—it's a staple for me.
This is kind of a "cult" favorite among the beauty community when it comes to eye cream. Hey—if it's good enough for Kylie Jenner it's probably good enough for us. Kiehl's mixes a blend of avocado oil, shea butter, and cocoa butter for a thick, creamy product that's meant to promote hydration, protection, and to restore the natural moisture in the skin. This cream feels luxe—it feels like a splurge. It's pretty thick, so it takes some more tapping and time to get it to really sink into the skin. I prefer to use this cream at night so it really has time to soak in and do its thing. The effects are pretty undeniable. My eyes feel hydrated, they feel well-cared for, they just feel better after using this cream. Plus since I already use it Kylie and I can share since I hear she has a spare room available and might need a roommate. Too soon? I'll see myself out.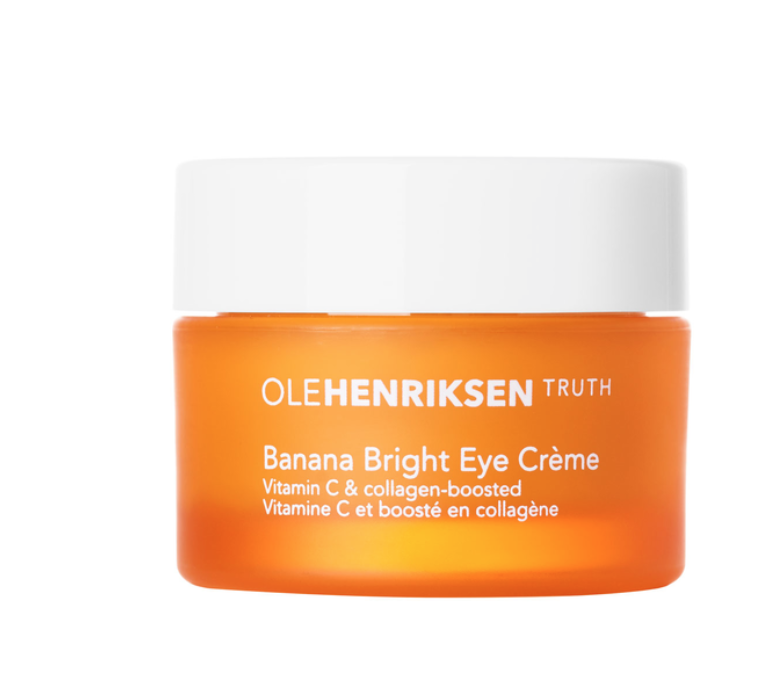 As I mentioned above my goal in life is to be a bright, glowing, luminous sunspot. Even when I feel 100% about my skin, I still check "improve brightness" on things I want to attain on any facialist's checklist. Brightness and combatting dullness is super important to me.
I was hesitant to try this eye cream because honestly, I just really hate banana. The smell makes me want to vomit and reminds me of the worst candy flavor ever. But I'm happy to report that not only does this eye cream do everything it says it will and more, it does not smell like 99 Bananas or anything else. It's sort of just light and fresh fragrance-wise. But smell aside, this product delivers. Vitamin C is what kicks out dullness, and the collagen is what packs your eyes full of renewed elasticity and suppleness. I've absolutely noticed the lines from too many fake laughs on dates going away, and I feel like I have a natural highlight all around my eye area now. I will be a sunspot soon enough.
I'm not someone who usually deals with puffy eyes, dark circles, or under-eye bags. That said, I do love wine, stare at screens all day, and have a tendency to stay up way past my bedtime even on school nights. So I definitely fall victim to waking up with eyes that are dry, pissed off, and not looking their best. This roller (which I use with an eye cream) helps kind of wake everything up. The witch hazel and caffeine bring life back to my eyes and sooth any inflamation, while the peptides and sodium hyaluronate help make my skin look like I didn't stay up pounding hard seltzers while rewatching Game of Thrones until 2 in the morning. I don't use this every day, but having it on hand for days when I don't look super awake and need an extra push is definitely important to me.
Puffiness, as I mentioned above, isn't typically an issue I deal with on a day to day basis when it comes to the skin around my eyes. That being said, a sister loves a drink. And staring at screens until 1 AM. And just general tomfoolery that can result in less than perfect eyes the next morning. On mornings when I really need some assistance with bringing my eyes back to life, I reach for these. The passionfruit extract and betaine help soothe irritation and bring swelling and puffiness down, while the plant stem cells restore collagen and help improve overall texture. And because these are substantially thinner than traditional eye masks, they're able to really sink into the grooves of your face delivering faster and more dramatic results in way less time.
---
Have an eye cream you love that I didn't mention? Tell me about it! Tweet me! I would love to spend more of my money on things to clutter my bathroom counter in the name of healthier skin.