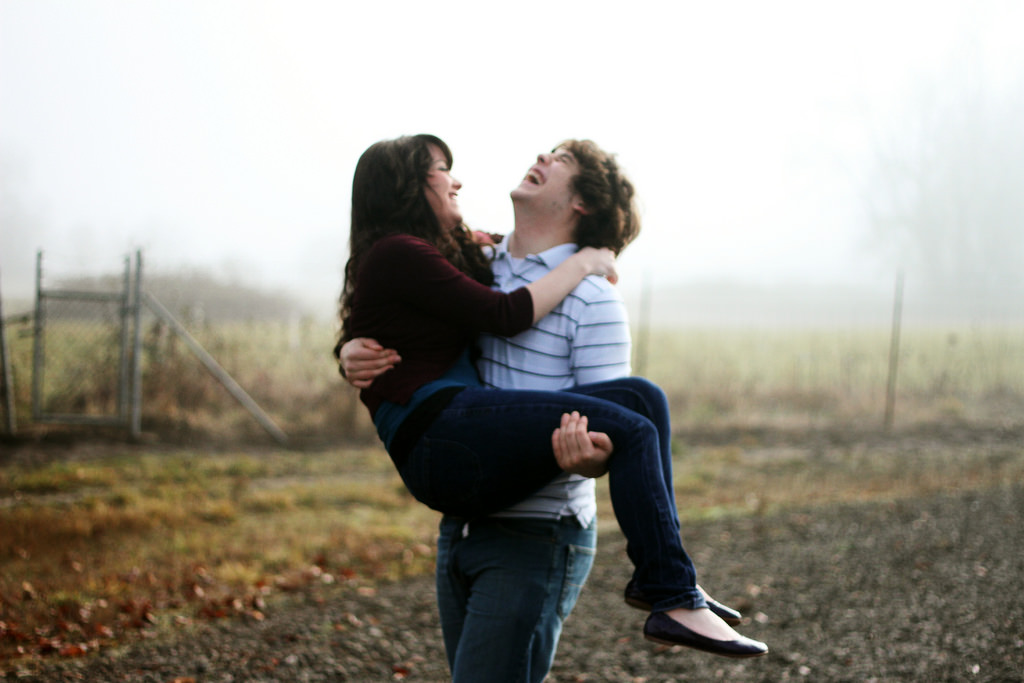 1.
Ask, "Why?" like a 3-year-old to everything they say.
2.
Stare at them for no reason and make sure to do the awkward "I'm not looking at you" look away every time they catch you.
3.
Push them away from you on the couch with your feet.
4.
Set their ringtone to "7 Things" by Miley circa 2008 without telling them.
5.
Take all of the batteries out of the remote.
6.
Take all of the batteries out of the house.
7.
Mess up all of the DVDs so they're in the wrong cases.
8.
Randomly select "Log out of all devices" on Netflix from another computer and then RUN FOR YOUR LIFE.
9.
Tell them you will be making a career change to become an opera singer. Practice always. A L W A Y S.
10.
Whisper while staring at them, "I wonder what it'll be like when you die…"
11.
Set a basic word like "the" or "babe" in their phone to be "Donald Trump" and watch hilarity ensue.
12.
Eat their food. In front of them.
13.
Slowly but surely steal all of their sweatpants.
14.
And hoodies.
15.
And any clothing even if you'll never wear it.
16.
Quote along to whatever movie you're watching.
17.
OR ask, "What's happening?" or "Who is that?" or "Why is he doing that?" every five minutes.
18.
Also eat all of the popcorn.
19.
Be sure to also hog any and all blankets if you're at home.
20.
And if you're at a theater? BRING a blanket.
21.
Mimic them.
22.
But not just with your words. Copy their outfits every day for a week. See if they catch on.
23.
Demand a 'poking' war on Facebook. Never surrender.
24.
Tag them in every cat video you can find.
25.
Change the language of their social media to something super obscure that isn't identifiable by sight.
26.
Hide from them in public.
27.
And pretend you do not know them if they find you.
28.
Insist on jamming windows down, full volume to "Livin' La Vida Loca" every time you're in the car.
29.
And ESPECIALLY if you're in an Uber.
30.
Bonus points for purposely singing along out of tune.
31.
Repeatedly say their name to get their attention.
32.
And when they ask what you want say, "I forget…"
33.
Repeat this cycle until they threaten to dump you.
34.
Hide all of the utensils expect for the spoons.
35.
Flush the toilets and turn on the faucets once you're sure they've found their perfect shower temp.
36.
Post and tag them in really awkward selfies that they never intended to have see the light of day.
37.
Wake them up by Lion King-ing it with your dog or cat.
38.
Snapchat them if they're sleep talkers.
39.
Or shower singers.
40.
Or just whenever you can embarrass them.
41.
Tickle attack at the most random moments.
42.
Leave only one square of toilet paper and write "DEAL WITH IT" on it.
43.
Get in really close like you're going to kiss them, and then sneeze.
44.
Or burp.
45.
Or yawn.
46.
Say "WHAT?!" every time they say anything.
47.
Change your voicemail to one of those "Hello? Hello? JK LOLZ" messages and always send them there when they call.
48.
"new phone who dis?" whenever they text.
49.
Ask them to make you a Tinder profile.
50.
Baby talk. 24/7.
51.
Or a British accent.
52.
Wrap all of their supposed presents very elaborately but have the boxes be totally empty.
53.
Kiss like one of those TLC virgin specials in public. Open mouth, all tongue, no holding back.
54.
Attempt to Catfish them. But not well. Make it painfully obvious.
55.
Force them to do Pinterest crafts with you. The more glitter the BETTER.
56.
Insist on needing a massage and just keep saying, "5 more minutes."
57.
Leave bobby pins everywhere. EVERYWHERE.
58.
Sit DIRECTLY in front of the TV. Do. Not. Budge.
59.
Always go with the opposite when asking their opinion about something.
60.
Make sure you always say, "Aren't you LUCKY?!" when you come up in conversation.
61.
Triple text.
62.
Quadruple text.
63.
12,000 in a row text it doesn't matter because they LOVE YOU.
64.
Put tape all over their face to show them what they'd look like with botox.
65.
Always pull the "We need to talk" card in random locations. Like the line at the bank. Or the grocery store.
66.
But then only talk about things like gluten and Lena Dunham and other stuff that will annoy them.
67.
But them a love fern. DO IT.
68.
And then hold a funeral if they kill the little baby love fern.
69.
Only respond to their texts with Real Housewives gifs.
70.
Suggest that you test if blue balls are real.
71.
Make sure you always say you're not mad, you're disappointed.
72.
Get lost when you're driving. Blame it on Siri. Even if the phone isn't on.
73.
"EVERYTHING IS SIRI'S FAULT." (<-new fave excuse)
74.
Ask if you look fat. When you're naked.
75.
Overly pronounce the foreign language names of food when you're out. But incorrectly.
76.
And then make sure to be ADAMANT that you're right if they point it out.
77.
Read over their shoulder. Out loud.
78.
Put subtitles on the TV so you can read along with the show. Make sure to use voices.
79.
Demand dinner. Immediately claim to not be hungry when it arrives.
80.
Order Postmates of just french fries. Be baffled when they don't get why.
81.
Change the radio or your Spotify every time a song hits the 2 minute mark.
82.
Ask questions like, "Which one of my friends would you want to be my sister wife?"
83.
And then force them to watch all of the seasons of Sister Wife "for research."
84.
Decide to bring back planking.
85.
And gargoyleing.
86.
And if they don't get on board, tell them you feel very unsupported.
87.
Blow raspberries every time they try to kiss you.
88.
When they come in to bed, pose and ask to be drawn like "one of their French girls."
89.
Attempt to convince them that you think a show like New Girl is a reality show.
90.
Replace all of the books with the wrong jackets.
91.
And all of the pens with dead pens.
92.
Decide to become a freegan.
93.
Come up with a really annoying laugh to use every time they make a joke. Like Chandler's "office laugh" on Friends. But WORSE.
94.
Whisper, "Hope you wake up tomorrow," while they're falling asleep. And then hum a creepy song.
95.
Steal their toothbrush. Do not apologize.
96.
Sing Celine Dion in their face. Oh wait that's not annoying that's delightful.
97.
Ask, "Why do you love me?" all the time.
98.
Decide Comic Sans is now your go to font.
99.
Every time you execute something annoying, yell a catchphrase like "GOTCHA" or "BAZINGA" or something else. But make sure to yell it.
100.
And then smother them with as much love as possible for putting up with you.