There's a certain stigma around seeing a therapist–weakness, vulnerability, hopelessness, a deficiency of some sort.
None of that is true. 
Before my doctor diagnosed me with anxiety and panic disorder and prescribed me with antidepressants, I went to therapy. I tried it online a few times–it was usually in moments of panic when I just needed someone who didn't know me or my story to be willing to listen. When I went to college, there were a few months when I was really struggling. Once a week, I went to the counselor at the wellness center on campus. It helped a lot, and I thought I was doing pretty okay after that.
Now, I'm 23 years old and living in Brooklyn. Sometimes I think I have things figured out, but other times, I know I don't.
Since living in New York, there have been moments where I've felt as if everything was crumbling down: I lost a job, I struggled to pay rent, I experienced friend breakups, bad dates, messy relationships. I needed to get back on my feet and feel good about life. I needed help getting there, so I signed up for Talkspace.
I didn't really do much research prior to signing up–I just wanted help quick. (That's so millennial of me, isn't it?) This is how it works: Once you sign up and choose a subscription you think fits you best emotionally and financially, you're automatically directed to a chat with a Consultation Therapist who helps you figure out which subscription service is actually best for you.
You are then guided through an introductory phase. You tell the Consultation Therapist your name, age, where you live, the last time you've gone to therapy or if you've gone at all, what you're looking for in particular. You're offered the option for text therapy (strictly online) or a video/audio session (which I declined because I think better when I'm writing or typing rather than speaking). Once decided on a plan, the Consultation Therapist has you fill out a mini questionnaire that would help their search criteria.
The best part about the Consultation Therapist was that it wasn't a bot (which is what I was expecting) but a real person. It does take some time to get matched with someone and get responses (it took 10 minutes to match me with a therapist but as someone with anxiety, it felt like a lifetime), but that just means they're doing their job.
When it comes to the therapist matches, you are given suggestions, based on what you're looking for in a therapist and what you need help with. On their profiles, you can see their license, years in practice, focus (PTSD, trauma, women's issues, anxiety, and so much more), approach to treatment, and availability. The suggested therapists also share mini introduction videos so you can see and hear who you're talking to.
Once you make your decision, you're automatically directed to a chat with them. Before the session(s) start, however, you are asked to read and sign a consent form and fill out emergency contact information. You're also able to see what the therapy journey is going to be like: "First Steps," "Making Progress," "Exploring Further," "Revisiting," "Broadening Scope," "Continuing On," and then finally, "Closure."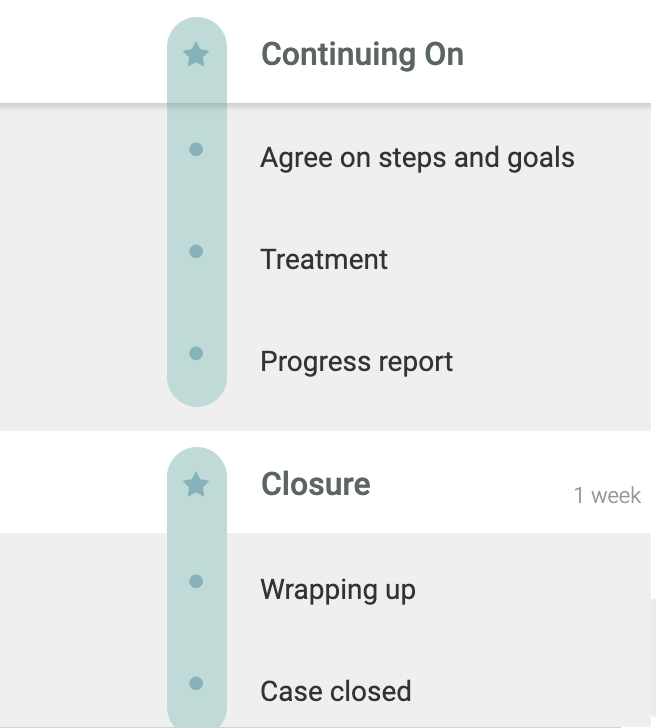 I was paired with Audrey* and throughout the session with her, I took personal assessments that would track my progress and make sure I was receiving the best care. I talked about my problems and anxieties with Audrey and she even offered advice on how to handle panic attacks when they come: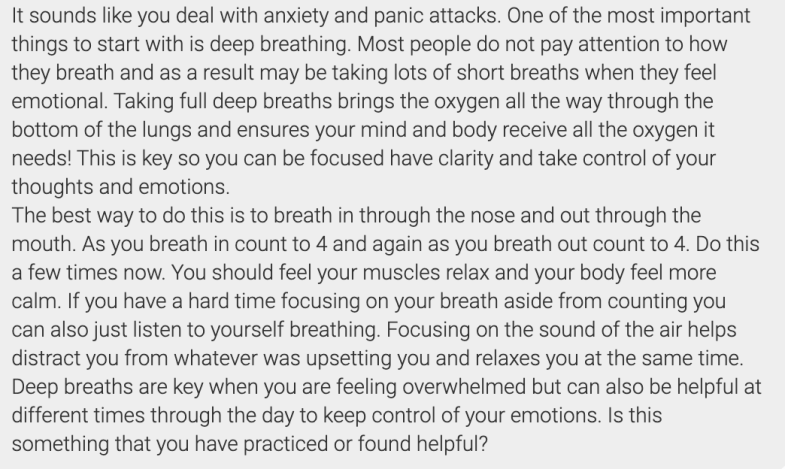 I liked Talkspace. I liked being able to talk to someone who offered advice. Though I would've loved to chat with different therapists to get different perspectives, I'm glad I had one person to confide in.
Let's get real here: you can't put so much weight on your shoulders and expect to walk around like that. Sometimes you really have to talk to someone and get advice on what to do. Seeing a therapist is healthy. Opening up about your feelings is healthy.
Talking to someone means you're brave enough to be vulnerable, to ask for help and for words of advice. Talking to someone means you're strong enough to know you can't go through life alone.
Let go of your pride and face your fears. Talk about what's stressing you out and work towards solutions. Do it for yourself and for your mental health. Remind yourself that you matter. Therapy is a safe space—talk it out every once and awhile.
*name has been changed.