If you watch Netflix's Queer Eye, you know that the Fab 5 is back and fiercer than ever in Season 3. Binge-watching this show is a blessing. Though they're helping other people in their glo-up process, it still feels like I'm the one getting a glo-up.
I mean, can you believe?
Queer Eye is about bettering yourself, with your skin, your hair, your home, and your confidence. With the self-care queen JVN, the inspiring and motivating Karamo, the powerful Bobby, the fashion guru Tan, and the fit Antoni, the Fab 5 knows how to get shit done and to look good while doing it.
1. Take time for self-care. Your body will thank you!
Jonathan Van Ness is the Queen of Beauty, Skincare, and Haircare. Throughout the show, he gives so many great tips and tricks on little ways you can take care of your body–your skin and hair, especially–in the long run.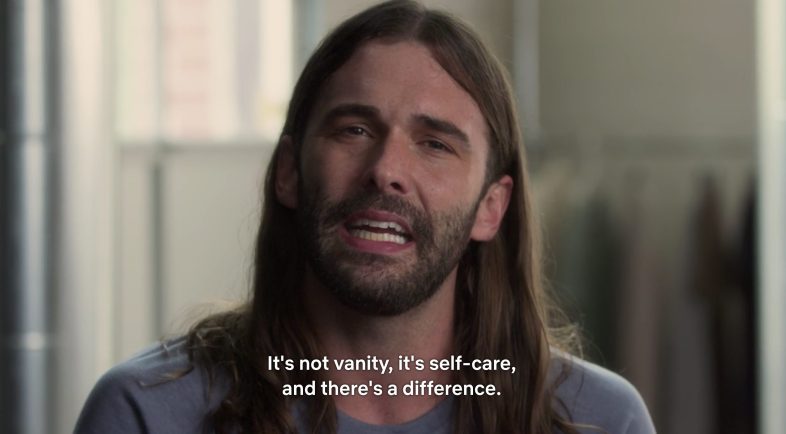 Apply sunscreen everyday. The sun's UV rays can actually cause inflammation and hurt your face in the long run.
If you're feeling like your face is a little puffy, put ice on it – cold reduces puffiness. 
Face masks and body scrubs are so important. Whether if you want to buy something fancy or DIY, it's the perfect way to show some love to your body.
When you're looking for the perfect shampoo, avoid any products that have sulfates in the ingredients. It's damaging to your hair and that's just…not…cute.
2. Style yourself in ways that make you feel confident.
Tan is very blunt when it comes to helping people fix their wardrobe. We stan. His honesty is what makes people feel okay to change things up, whether if that's adding more color to their wardrobe or maybe just a little less plaid.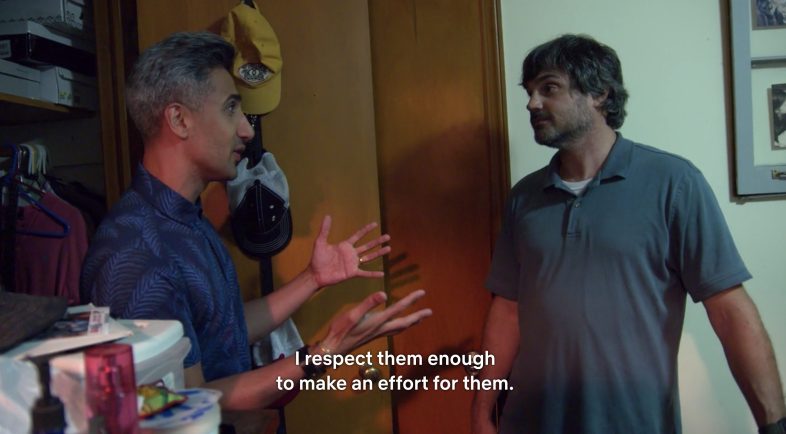 Make an effort. It might come across as harsh, but if you don't make an effort into your clothing, people will be more inclined to see you as someone who just…doesn't try. And you don't want that, do you?
Dress to impress yourself. No matter how you identify as, show off who you are!
Find out what works for you and your body type. If you have some assets, show em off. If you want to dress more conservatively, so be it. No matter your body type, wear what makes you feel cool and confident and comfortable. 
3. Your home should be full of TLC.
If you put in effort and take ownership of one thing in your home that needs to be fixed, it'll guide you on the journey to fix whatever else in your home that needs to a little bit of TLC. Bobby gets it and he knows how to make things look good.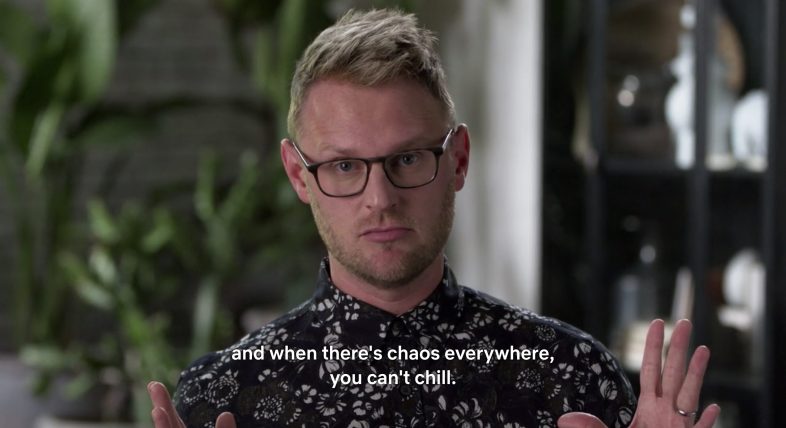 Your home is a place for relaxation. There's nothing relaxing about seeing clothes all over the floor or dirty dishes stacked up in the sink. Clean up after yourself and you'll feel a little less overwhelmed.
Make your space a place that reflects who you are. With color schemes and certain decor, you can make your bedroom and kitchen and living room a place that shows who you are and what you like.
Keep the important things in a safe space. Maybe put photographs on display or in a photo book, make a blanket out of old t-shirts that belonged to your dad, or refurbish furniture that belonged to your mom. Whatever the case, don't just throw important things in a box some where. Make it known.
4. TrEAT yourself right.
Chef Antoni knows how special food can be. He knows how important it is to certain families with certain cultures. With food, there's the good, the bad, and the ugly, and he knows how to find that balance that feels right for each person.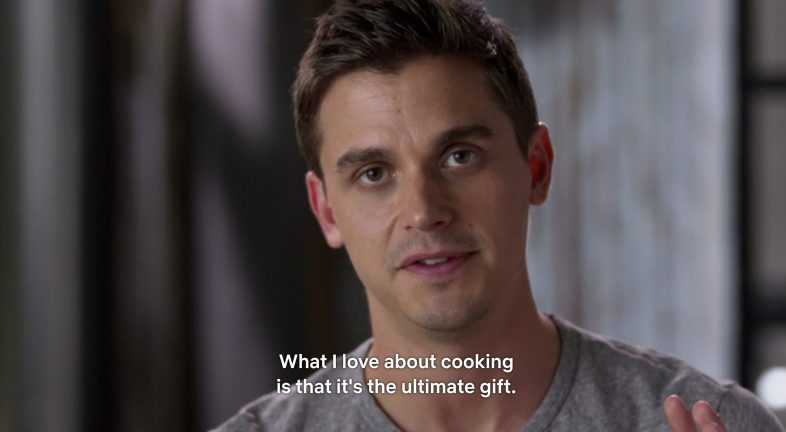 Don't indulge in foods even if you think it "works" for you. We get into these habits of eating processed foods or eating foods that are easy to make (hello, salty, sugary microwavable meals) but it's not good in the long run. If you're gonna eat something quick and easy because you don't have the time or the energy to make a fancy meal, make sure you're still eating right.
Crock pots!!!! We love crock pots, or instant cookers, whatever you want to call them. In the morning before work or school or wherever you're going for the day, gather up the ingredients you want to eat later, throw it in the pot to cook all day, and then enjoy a fresh meal right when you come home.
Keep up with traditions. Let's say you're living on your own for the first time and really craving this one meal your mom used to make for the holidays or just something delicious with a family recipe. Put in that effort to cook for yourself and keep up with those traditional meals! You'll thank yourself later, when you're full and happy.
5. Be yourself. Whoever that is.
I find myself crying throughout every episode. Karamo and his motivational speeches got me feeling some type of way and I just want to hug him and cry in his arms. You know what I mean?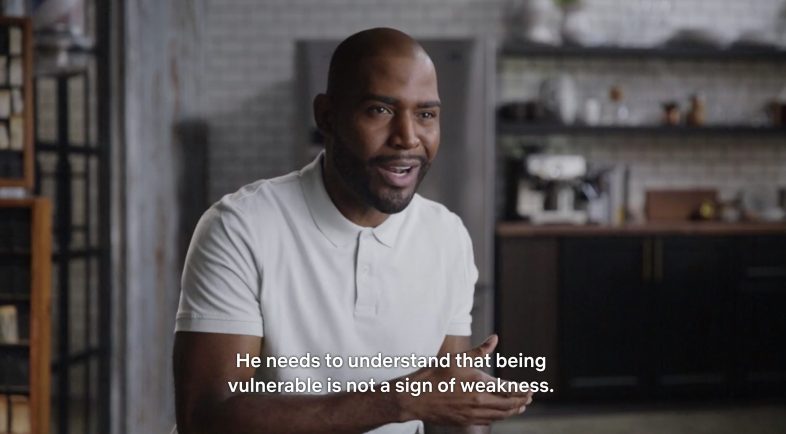 There's always that special heart-to-heart moment towards the end of every episode. In nearly every one, they remind the person their giving makeovers to (and the viewers watching!) that it's okay to be whoever you are. It's okay to vulnerable, open, and loving towards yourself and others. 
"Believe in yourself. " -Karamo
"It's okay to have a relationship with yourself." -Jonathan Van Ness
"Have fun." -Antoni
"There's no shame in showing that you're happy." -Tan
"Onward into the future." -Bobby
It's hard to tear down our walls and to let people in. But if you do, it shows strength. Just try to put in that effort. Put in effort to improve your lifestyle, whether if that may be with your health, your self-care routines, your home, or your style. 
The Fab 5 wants you to feel confident and beautiful and handsome and powerful in the body you're in and the home you're living in. They don't want you to change who you are, they just want you to bring out the best versions of who you are. Embrace what you got, honey, but work towards a better life for yourself.