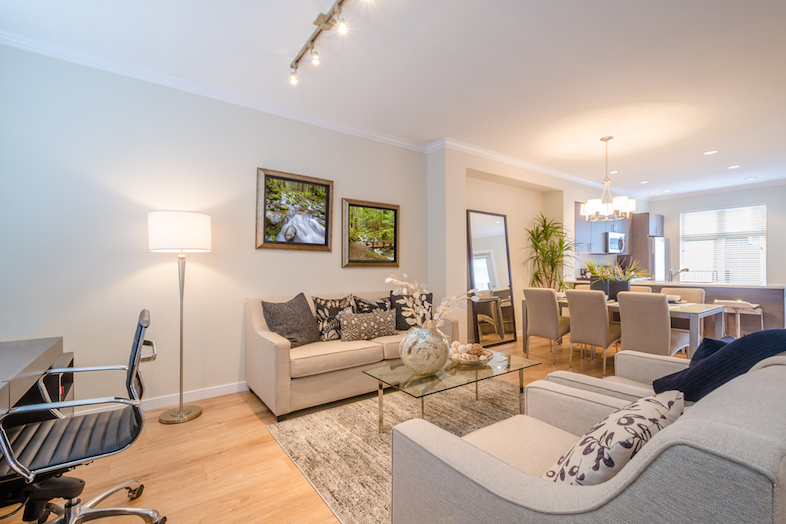 It all began when my older sister told me to watch Love It or List It. She loves the HGTV and DIY channels, and has a long list of shows she regularly follows on them. I thought I'd give the show a chance since I've always liked real estate. My Mom and I have moved four times, and each time I loved meeting with the agent to walk through houses for sale. There is just something so cool about going inside different homes, seeing different layouts and designs, judging if you like them or not, what you would change if you lived there. I did already like watching House Hunters for this reason, especially if they were in a nice location, but after finally watching Love It or List It, I've become a little too carried away.
My Mom and I watch recorded episodes constantly. Our DVR is filled with it. Because of this show I've officially discovered that I'm obsessed with home renovation. The end product never disappoints, and I have a huge grin on my face the whole time I'm watching the reactions of the owners (bonus points if one of them cries, or the husband overuses an adjective like beautiful or stunning). If you're not familiar with the show, Hilary is a designer that renovates problem areas in the current home, while David is a realtor who looks for upgraded homes. So pretty much this show offers the best of both worlds in real estate. You get to look inside different houses while watching an entire renovation take place (the higher the budget, the better the episode).
But after watching a little too much Love It or List It — and thanks to more of my sister's prompting — I started to include Property Brothers in my DVR. Now I'm obsessed with that, too. Although Hilary's work is always impressive, Jonathan Scott (the contractor twin) always has incredible visions and can transform a whole house himself without all the drama of running into problems one after another.
As a result from watching so many episodes of these shows, I think I'm a full blown expert. I have listened to so many discussions regarding all of the design details, I believe I know it all. Once after the bar, I was at my boyfriend's house and we were sitting out on his porch. His house isn't the most functional for five people, and after pointing this out, I started to see the project through Jonathan's (slightly drunk) eyes.
"If you took that wall down between the kitchen and the living room, it would create a flowing open concept and give you so much more space. You'd have great sight lines — it would be so much better for entertaining. You should also update that bathroom, get a wall-to-wall stand up shower rather than the tub you never use. That little hallway between the kitchen and the door to the porch? Just open that up completely — it would make the kitchen bigger and provide an easier passageway to outside. You could put some beautiful French doors in to allow a lot of natural light." I was going on and on. I could just picture how beautiful everything would turn out, just how Hilary's and Jonathan's projects always do.
"But of course, you'd have to worry about any problems you might run into with an older house like this. Some of those walls may be supporting walls, and putting in beams would be really expensive. And the wood underneath the doorway coming out to the porch is rotting a bit. Could definitely be some extra costs there."
He just nodded. "Uh, yeah. Well, I don't think we have the money right now to do that entire renovation."
"Just saying! It would definitely make the house worth more when you sell it. And it would function so much better than it does now."
My boyfriend wasn't the only one to hear all of my new knowledge in renovation. I see my best friend's house with new eyes after watching the shows so much. Her father renovated their entire house by himself about seven years ago. I always knew it looked amazing, he really did an outstanding job on his own, but now I know what I am really looking at, the type of work he's really done. Recently when she had some our friends over to drink and hang out, I heard myself actually comment out loud on the impressive "en suite" he included off the master bedroom, and how well he coordinated the granite counter tops with the backsplash in the kitchen. Apparently I was with the wrong crowd.
In both shows, I've become the third wheel, the third person making judgements and chiming in my opinions.
"$40,000? They're crazy if they expect Hilary to do everything with that budget," I'd remark to my Mom while shaking my head along with Hilary. "If they want the kitchen and bathroom they need at least $80,000. They're being so unrealistic."
I've begun to make plans for renovating my home with my Mom as well — even though everything I think we should do would add up to about $200,000 that we don't exactly have.
I don't understand my obsession with these shows. Maybe after moving so much, I love the idea of starting over and finding a perfect place to live. However, I would personally be horrible at those jobs, even though they may fascinate me to no end. If only I had vision like Hilary or Jonathan, I would love to remodel and flip homes. But I'd be awful at making any final decisions. I wouldn't be able to agree on the finishes for cabinets, the tiles, the hardware. I would second guess, regret my decision right after making it, question the color schemes I chose.
"Should I have kept that wall there?" I'd ask my versions of contractor Eddie or construction head Fergus. "Is a three piece washroom worth the expense of extra plumbing on this floor, or should we focus more on the space for the eat-in kitchen? Crap, I knew I should've gone more neutral with the wall colors."