I have slept with 15 people, and 9 of them have been musicians*. This is a chronological timeline of the many funky men I have loved.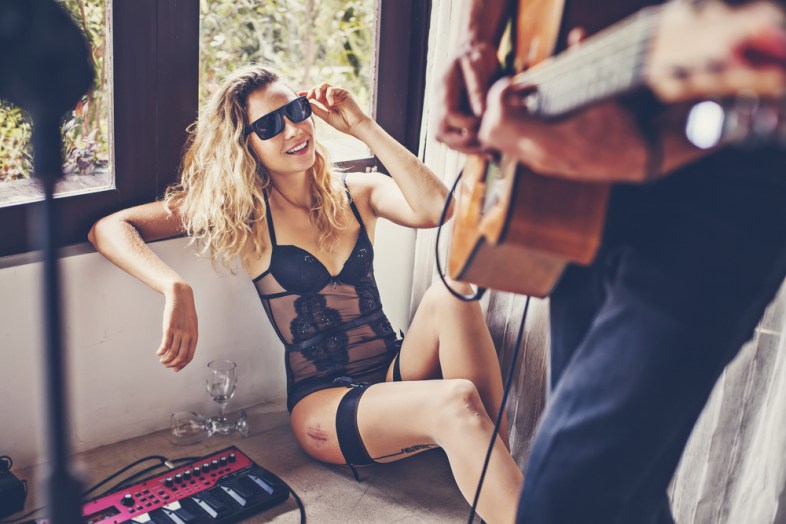 *Real names have not been changed because fuck 'em.
1. Brian: There are two things I remember about losing my virginity to Brian: strawberry lube and excessive eye contact. His favorite band was Foo Fighters. When I broke up with him, he took off all his clothes and climbed inside my dorm room closet. He cried in there until my Residence Hall Coordinator made him leave. He was 27, I was 17.
2. Sam: Sam drank a case of Budweiser every day and he had sleep apnea, but he screen-printed a Daniel Johnston t-shirt for me so I determined that he was worthy of my time (and vagina). He had an unhealthy fixation on the movie Dracula—the one with Keanu Reeves, not Bela Lugosi—and he gave me scabies. His favorite band was Type O Negative and I realize that should have been a red flag.
3. Andy: I thought it was really cool that he made a guitar slide out of the neck of an Ale-8 bottle. I stole a lot of his t-shirts when we broke up. He turned me on to the Minutemen and he always thought I was cheating on him. We went to a Dresden Dolls show together two years after we broke up and I had an asthma attack. He was really cool about it.
4. Paulo: He had on pink pants. He played an Against Me! cover song at the open mic where we met, and he fell down on the sidewalk as we walked back to the house where I was staying. He licked my legs on a mattress in someone's living room floor. He moved to New York and I think he's a model now.
5. Elijah: This guy threw up on my bathroom floor and his phone rang the entire time we were having terrible sex (probably his girlfriend). The next day, my roommate kept saying: "He was the hottest guy in the bar. You left with the hottest guy," as if she couldn't believe it. He played in a metal band.
6. Robert: This dude sent me a Facebook message that read: "hey, I was just thinkin about your boobs." We fucked until he stopped responding to my text messages. He got me a really old ukulele song book, but I threw it away. I once sent him a text that said: "I'd still fuck you if you weren't gay."
7 Josh: I didn't have full-on penetrative sex with this guy, but he did go down on me and it was pretty impressive. He had Bruce Springsteen biceps, was unemployed, and he lived with his mom. I sent him crazy text messages and things went downhill from there. It's embarrassing.
8. Isaac: This guy was actually an artist, but there was a toy piano in his house and he could play almost any instrument he picked up. One of his guitars belonged to his dead brother, who was killed by a drunk driver before he was born. I always thought that was very sad.
9. Robert, again: Whoops.