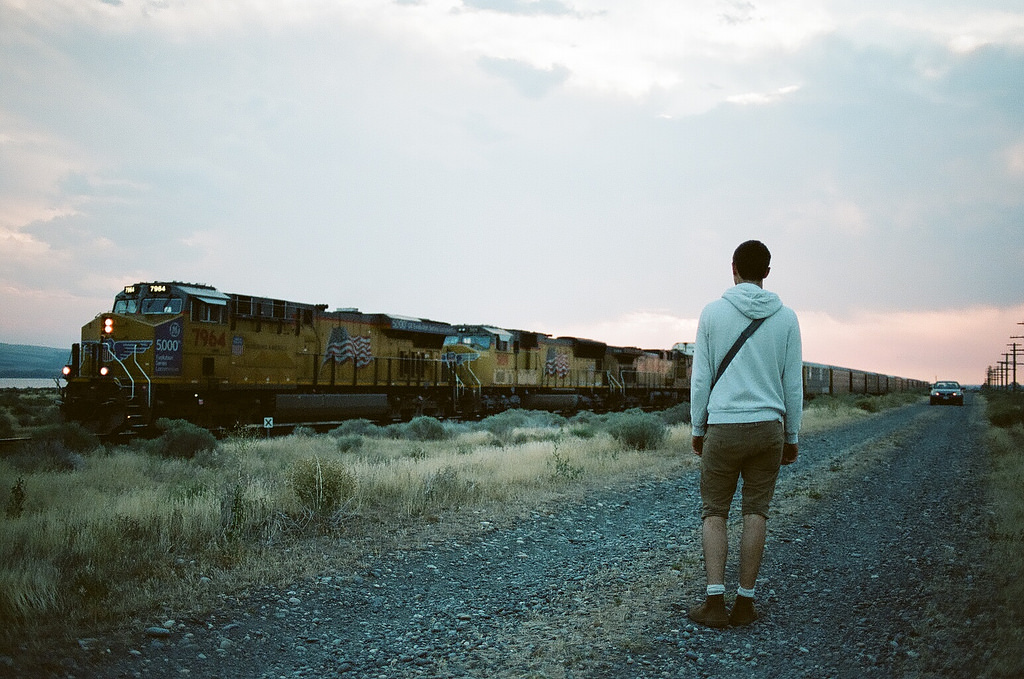 I'm on the Deutsche Bahn train from Berlin to Warsaw. I purchased a ticket at Ostbahnhof today at noon for a 1st class seat — the only one available — for €70, and only to Poznan, not all the way to Warsaw. The only available ticket direct to Warsaw was another expensive 1st class one leaving at 4:30p, and I wanted to leave earlier, at 12:30p, to get out of Germany and finally to Poland, which I've been meaning to visit for years. So I'm on the train.
Never mind that I could have booked a €39 2nd class ticket direct to Warsaw last week, or even a few days ago. I tried to buy it yesterday, once I had finally resolved on a time to leave (Thursday instead of Wednesday, noon instead of later), but the DB website told me that no fares were available. It didn't say it was sold out — only that tickets cannot be purchased online or on the app so close to the departure date and time. Apparently. Damn the imprecision of ticketing and continued imperfections of technology.
Anyway, I'm on the train now, my laptop connected to my data plan, my apartment ready for the Airbnb guest; I'm lightly packed and ready to explore Poland for the long weekend, rain or shine. Now I'm just not sure what to do about this silly problem. The goal is to get to Warsaw, of course, for which I don't actually have a ticket.
I wonder what would happen if I just didn't get off this train at Poznan. Supposedly there are no seats available, since I couldn't purchase one from the counter today, but actually there are plenty of seats, which I can see. But perhaps people will board in Poznan and thereby make the train full… But what if I fell asleep? Couldn't I stand? There are some people in 2nd class right now milling about between cars. Furthermore, the paper about my seat states that I'm actually en route direct to Warsaw — a fortuitous remnant from a previous passenger.
Also, I could spend a couple hours in Poznan, which I hear is a nice Polish town. Maybe having a ticket terminating in Poznan is some sort of sign to check it out? Regardless, I need to end up in Warsaw…
I logged onto the Polish train site and it appears there are indeed 2nd class tickets available from Poznan to Warsaw — I forgot to ask about this at the counter and I wonder if they are just spontaneously available or if I could have bought one from Deutsche Bahn at noon today. Regardless, I could feasibly buy a €30 ticket for the remainder of my journey on this very train, or I could buy one for half price leaving two hours later. I could then explore Poznan a bit, but I wouldn't get to Warsaw until after 20h. I would prefer to get in earlier — an acquaintance there wants to meet for dinner.
So, do I
A)just do nothing and stay on this train, hoping for the best? It's possible I simply stow away without notice. Worst case scenario is that I'm asked for a ticket, forced to buy one, perhaps fined or penalized in some way.
B)buy a ticket on my phone for €30 more, thereby assuring that I am safely aboard? Then I could stay in first class until confronted, at which point I could produce a ticket and move to a different cabin. But I potentially waste €30 on top of an already expensive fare.
C)buy a ticket on my phone for €15, get off in Poznan at 3p and explore for a bit, have a late lunch, tick off this random town on my world map, then board for the train that arrives in Warsaw at 8:30p?
D)just get off at Poznan with no ticket? I would then ask their ticket counter to sort out the rest of my trip, which I might have to do if the online system fails me. This seems like the worse option, but it does offer one key thing:
I still don't know if I'll stay in Warsaw for five days, or if I'll go to Krakow as well, see both cities — each for less time than ideal — and then return to Berlin from Krakow. I'll have to talk with a train agent at some point about my return trip, especially if I go to Krakow.
I don't like having this problem. I don't savor my indecision. I would like a clear solution. In my own heart, I cannot decide if Poznan is worth exploring for a couple hours, or if I'm just keen on arriving in Warsaw in a timely way, checking into a hostel, meeting the people there before dinner time, checking in with my friend, etc.
I need more information to make the best choice, and I simply cannot know:
the quality of Poznan as a destination, to me
the actual amount of free seats after Poznan
the discretion of the ticket collectors
the penalties involved
the fluctuation of price, if it will go up if I continue to wait
the strength of the sign randomly posted above my seat
my luck
There is information in the world one cannot know. Life is a gamble sometimes, and I don't consider myself a betting man, but every action is someone that. The way of the world doesn't make it easy, does it?