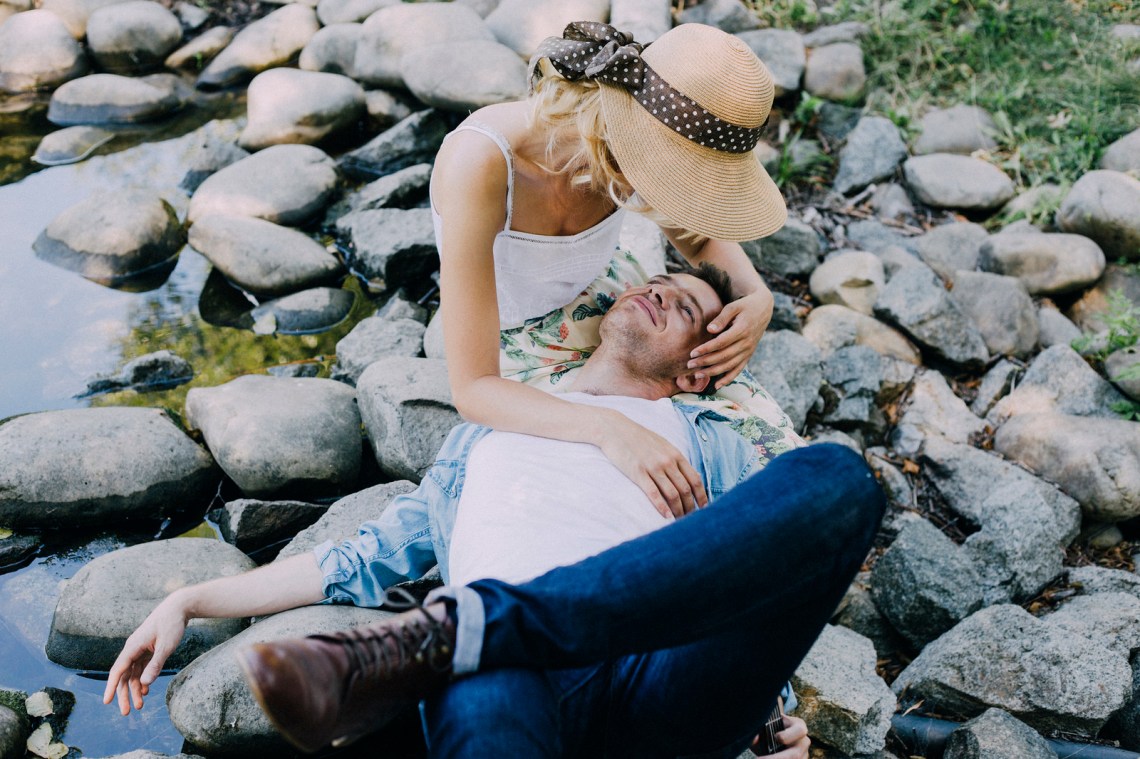 I've been in three fairly serious relationships of over a year, and every time the guy has been single for a while beforehand. There weren't any crazy exes to deal with, or old flings still on the scene. Nobody to feel slightly threatened by. Zero baggage. I'd never been somebody's rebound girl, until last year.
Introducing… Banker Boy.
We met on Halloween back up north while I was staying with my parents (I always seem to meet a guy on Halloween). I was dressed as Margot Robbie's Harley Quinn (with a very bad peroxide blonde wig), and he was a blood-splattered Patrick Bateman from American Psycho stood outside of my favourite pizza place.
He threw some harmless random insult at me and I laughed. It was a schoolboy move but it worked. He also lived in London and our friends thought we were destined to meet. We went to a club on the seafront before a gathering at his friend's country house. I woke up the next morning in the spare room – still wearing ripped fishnets, a pair of hot pants and a t-shirt with the words 'Daddy's Little Monster' emblazoned on the front.
I'd kissed Banker Boy on the dance-floor the night before, but he informed me I'd shouted "I'M NOT HAVING SEX WITH YOU" while drunk in the taxi, so he didn't even try it. Smooth. I'd obviously seen potential and didn't want to dive into bed with him. We clicked and swapped numbers.
I was late to our first date, but he was a complete gentleman. I liked how he looked at me, the way he narrowed his eyes and smiled. Even when I didn't have my shit together, he didn't care, he didn't want to change me. Things were going swimmingly, until he mentioned he'd just come out of a five year relationship. I tried not to appear disappointed, but momentarily looked at the floor. He insisted it was over long before he ended it two months previously, and he was ready to move on.
Banker Boy was attractive, but not pretty, smart, but not smug. I liked him. Everyone was rooting for me to get with a 'nice northern boy' – instead of getting mixed up with the usual womanizers I'd entertained in the past year or so. I told him I wanted to wait a while before sleeping with him. I really hate casual sex these days. He respected that. He respected me.
It may seem like I only write about the few times I've been left feeling like my heart has been through a blender, but there have been plenty of occasions when I've walked away. I often think I don't want to settle down, but with Banker Boy I could see myself being comfortably one half of a couple. At least for a bit. It had been a terrible year. "We want the same things out of life," he told me. "It's really great how alike we are."
I later heard his iPad ping while at his one day, it was Lucy*, his ex-girlfriend. I quietly sighed, but he showed me the messages were innocent. "Don't worry, she knows it's over, she's just still upset and we agreed to be mates," he said, trying to be reassuring. I was okay with that. I felt for her.
Lucy later went round to pick up the last of her stuff (I found out they were living together and she'd moved out). I didn't hear from him all day, and I worried they'd had a heart-to-heart and got back together. But she'd discovered one of my jackets. He told her about us and she cried. I felt terrible.
It was clear he still cared deeply for her, it had been five years, his biggest relationship, I should have known it wasn't right for him to move so fast. But we carried on. He wanted to carry on. I was his distraction from reality, I just didn't see it at the time.
There were moments when he did seem distant, staring off thinking of past moments. I stole a kiss under a Ferris wheel, he flinched, he wasn't comfortable with such a public display of affection.
Days later, I found a sealed letter he'd written to Lucy which he was yet to give her. I could tell there were a things left unsaid, hearts not yet healed. I was starting to feel like fucking Diana. There were three people in this relationship. Something of a running theme in this blog. It's often bad timing.
I'd ignored a lot of other tell-tale signs which should have rang alarm bells; he didn't really like me leaving anything at his apartment, and when we finally did have sex, after about a month, it was like he was plugging in an iPhone charger. There was no passion. We were like a less attractive Jennifer Lawrence and Chris Martin, he still had Gwyneth on his mind. There was nothing I could do about that.
During a hospital stay he danced around the subject of coming to visit me, before finally admitting: "I feel like it's something a boyfriend would do. I don't think I'm ready for a relationship." We ended it over text. I wish he'd picked a moment when I wasn't hooked up to a bunch of wires, and wearing a rather fetching blue nightgown, but I should have known it wouldn't last.
Even if the guy is the one who finished it, even if he claims to be over her, and he is adamant he wants to move on, chances are he is not ready. There is no point investing time in someone whose heart still partly belongs to someone else.