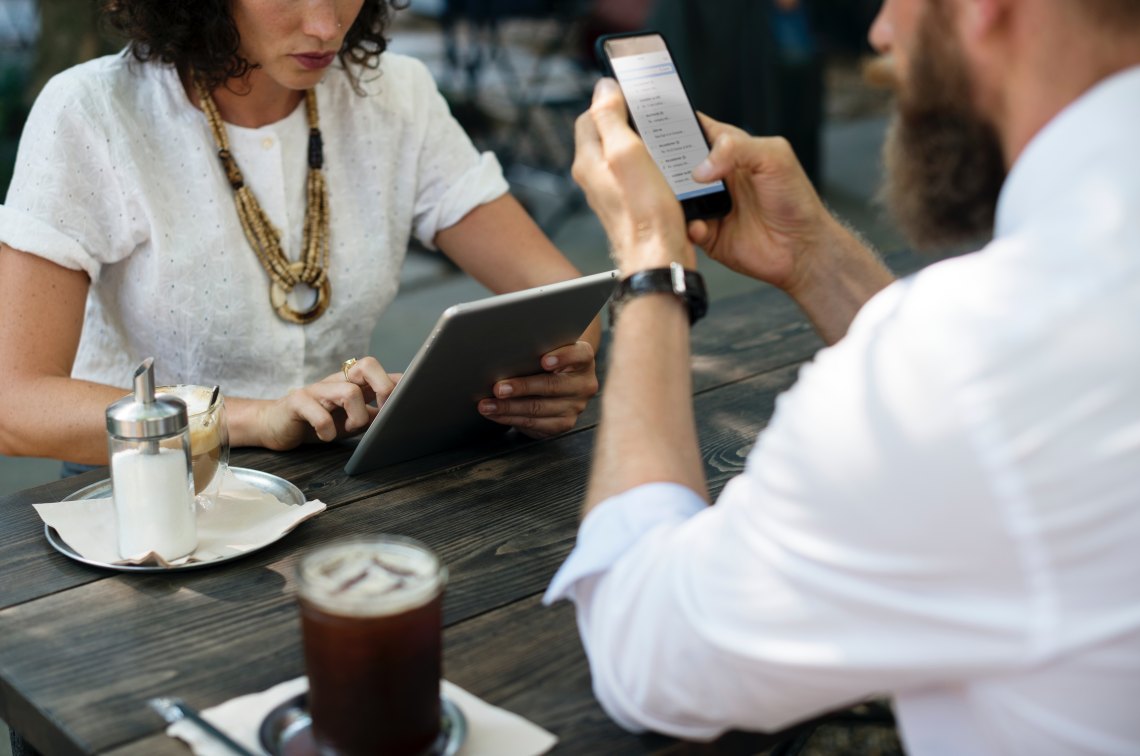 In a world dominated by smartphones, easy access and instant gratification are two major selling points for recent successful technological advancements.
In 2009, Venmo was founded by two friends, Andrew Kortina and Iqram Magdon-Ismail, as portable payment app to transfer money with a text message-like ease and speed.
The app's success is built on how satisfying it is to send and receive money with just the push of a button on your smartphone. It also eliminates several socially uncomfortable money woes, like having to ask your cheapest friend multiple times to pay you back — Venmo allows you to just charge them from the safety of behind your phone screen.
Venmo revolutionized the quick and easy payment market — making the act of paying someone fast, uncomplicated, and even cool.
What Exactly Is Venmo?
In simplest terms, Venmo makes it easy to transfer money to friends and family — because the app is linked to your debit card, credit card, and/or checking account, you can do anything from split the bill at dinner to pay your landlord rent — without the need to go through a bank or withdraw cash from an ATM.
A crucial component to the app's purpose — and its ultimate success — is how Venmo operates under a Peer-to-Peer (P2P) Economy model: where two individuals can exchange money directly with each other, without the involvement of a third-party.
Rather than taking days for a check to clear or going out of your way to find the closest ATM, these money transactions can happen within seconds, with the money showing up back in your bank account two days after you hit "cash out."
To anyone who has ever had a PayPal account, the concept probably sounds slightly familiar. PayPal, which left eBay in 2015, has always advertised itself as a safer way to send money or make online payments and has been around for decades. Its description sounds very similar to Venmo, although it's significantly less popular amongst millennials — and most people have no idea the payment giant actually owns Venmo too.
What heightened the success of Venmo (only three years after launching, Venmo was acquired for $26.2 million by Braintree — a company bought out by PayPal only a year after they bought Venmo) was how the company capitalized on the idea that they could market the platform as a small social media network within itself. Not only is Venmo attached to your bank information, it's also attached to your Facebook account — making it easy to find people within the system.
Thus, the major difference between PayPal and Venmo is how Venmo truly targets the millennial demographic with its focus on the social aspect of sending money to friends. On Venmo, paying your friend back for drinks is more than just being courteous — it's a social experience.
The opportunity to publicly pay your friends and coworkers with funny captions, emojis, and the capacity to "like" or comment other transactions completely skyrocketed the app's popularity amongst millennials — to the point where the app's name is regularly used as a verb: "I'll Venmo you."
The app's newsfeed is perpetually filled with an assortment of public transactions, making it a more brutally honest social media destination than the likes of Facebook or Instagram — you know who is hanging out with whom, where they're hanging out, and even get glimpses into private inside jokes. It's simultaneously very intimate and very public.
Venmo, amongst other tech startups (think: Uber and Airbnb as well), have used the prevalence of smartphones to their utmost advantage: creating a "sharing economy" that can all happen almost immediately, and from the comfort and ease of our phone screens.
How Does Venmo Make Money?
Venmo is one of the very few free-to-use mobile apps that hasn't turned to advertisements for revenue. There aren't any transaction fees either (with the exception of a 3% fee for payments by credit card to cover processing costs), which is why Venmo doesn't directly generate money for their parent company, PayPal. However, Venmo helped extend the reach of PayPal, which contributed to the company generating $10.84 billion in 2016.
Because it does take two business days for money to transfer from Venmo to the user's bank account, there is a common misconception about the app that suggests it makes revenue by investing the money that's sitting in someone's Venmo account during that two-day transitional period.
The future for Venmo is important, however. The company plans to start establishing major partnerships between businesses and their customers. Within these future partnerships, Venmo would take a cut of the transactions (standard rate is around 2.9%) and working with business partners would generate a significant amount of revenue for the company. Last year alone, Venmo's processed about $54 million in payments per day, while also establishing a name for itself — a major selling point that can't be said about most of Venmo's competitors.
But the most lucrative aspect of Venmo is arguably the data it gathers on its customers. Especially once a proper partnership is founded between certain businesses, Venmo will be able to tell where customers are spending their money and on what. With this information, Venmo has huge potential to create highly specific and customizable ads and offers — which would cultivate a huge revenue stream for the company.
Competitors
Since it's launch, Venmo's popularity has grown at a significant rate. Other apps have popped up since including Apple Pay, Square Cash, Facebook, Google Wallet, and, as of recently, Zelle. The closest competitor to Venmo right now would be Google Wallet — the only difference being that Google Wallet automatically transfers the money directly into your bank account without the need to "cash out."
Zelle is arguably the newest and biggest threat to Venmo's success. The app is backed by the U.S. banking industry as a way to fulfill the new demand for P2P transactions, but while still keeping the banks involved — Zelle won't be launched as an individual app, like Venmo, but will be rolled out through other banking apps and can also work through bank websites. The biggest selling point for Zelle is how it promises to transfer money into your account within a matter of minutes, not two days like Venmo, which speeds up the payment process that much more. Zelle's partnership with the banks also is a major selling point when it comes to heightened security and fraud protection — issues Venmo has faced a lot of bad publicity for.
The Downside To Venmo
A major concern of Venmo — as well as an overall drawback to the growing demand for having everything easily accessible on our smartphones — would be the app's security. By having debit and credit card information linked to the app (which has the option for you to set up a PIN code before accessing the app on mobile, but does not require it), the threat of a serious security breach is concerning.
Venmo uses bank-level security and encryption to protect its users against unauthorized transactions. But even with these protections put in place, the security threat still exists. Horror stories about hackers transferring thousands of dollars worth of funds without the user noticing have come out of the woodwork, along with complaints about the lack of empathy and quality in Venmo's customer service in dealing with such false transactions.
Venmo's popularity is booming at such a rate, the company itself seems to not have the ability to hire enough customer service representatives to compensate for such massive growth.
Issues with fraud and scams are common on the app, only because the scammers are well aware that Venmo users aren't really paying attention. Anyone can easily change their name or their profile picture on the app. Venmo is great because it's fast and simple, but that doesn't necessarily mean it's entirely safe.
The Future
As of now, the future of Venmo is promising. The company reports that people visit Venmo without even making any transactions, only just to check in on what their friends are doing, which suggests a huge growth trajectory for the future of the social aspect of the app.
Venmo plans on further facilitating this already well-established social platform to their advantage — hoping that once a great connection between businesses and customers have been made, this social aspect will remain in tact. Pushing customers to have conversations around transactions would be huge for businesses, advertisers, and Venmo itself — especially since the company has no plans on using ads on the platform as of now.
Venmo's core of millennials users is ferociously engaged, projecting the future of the company to be a very lucrative and long-lasting one.
1. The top most used emoji is the pizza slice, followed by the "flying money" (which is commonly used for rent transactions).
2. The top three terms used on Venmo are: Food, Uber, and Rent.
3. For every day of the week, the top category of Venmo transactions is "Food." For Monday through Friday, the second most popular category is "Rent/Utilities," while on Saturday and Sunday it's usually "Transportation."
4. The pizza emoji is the most used Emoji during the early hours of the morning/late at night.
5. The coffee emoji is the most popular in the afternoons. Mentioning "Starbucks" is more common than mentioning "Dunkin' Donuts."
6. "Uber" is used more often than "Lyft."
7. "Tequila" and "Strippers" are in the top 100 most used terms.
8. Venmo is used most often for dinner than for lunch, brunch, or breakfast.