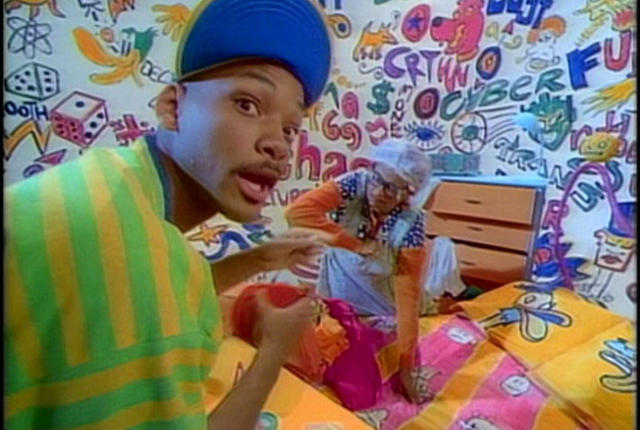 1. Before starring in The Fresh Prince of Bel-Air, Will Smith had garnered some fame as a rapper called The Fresh Prince. The only reason why Smith actually agreed to sign on with the show was because he failed to manage his income wisely and ended up owing the IRS $2.8 million.
2. Producer Quincy Jones picked up Smith for the spot in the tv show. Consequently, Smith was forced to pay the IRS 70% of his salary over the first three seasons of the show.
3. Smith has been quoted as being embarrassed about his early performances on the show. He was never formally trained as an actor and thus claims his lack of experience is pretty painfully apparent.
4. He was apparently so nervous about his acting that Smith used to memorize everyone's lines so he wouldn't forget his. Sometimes, in the first season, you can see him mouthing along to the other characters.
5. The Banks' house featured in the intro isn't actually located in Bel-Air. The house is actually in nearby Brentwood.
6. The famous "Carlton Dance" was inspired by Courteney Cox in Bruce Springsteen's "Dancing in the Dark" music video and Eddie Murphy's "white man dance" from his Delirious comedy video.
7. The world's largest flash mob gathering featured the "Carlton Dance."
8. Smith met his wife, Jada Pinkett Smith, when she auditioned for a role as Will's on-screen girlfriend.
9. As Smith became more comfortable with acting, he began contributing a lot more to the show by producing his own story lines.
10. Karyn Parsons, who played Hilary Banks, recently admitted that there was a notebook left in the set kitchen where camera operators or actors would write down funny poetry and notes in between scenes.
11. In August 2012, the show surpassed the Harry Potter series as the top choice of entertainment for prisoners at Guantanamo Bay.
12. Tyra Banks made her acting debut on the show.
13. Jay Leno, Queen Latifah, Hugh Hefner, and the band Boyz II Men all made guest appearances on the show as well.
14. The names of everyone in Boyz II Men made up Nicky's middle names: Nicholas Michael Shawn Nathan Wanya Banks.
15. Smith was nominated for two Golden Globes for his role.
16. You can only buy a soundtrack of the show in Holland.
17. The show was initially canceled by NBC after the fourth season, but so many fans complained and revolted, that NBC revived it for two more seasons.
18. Smith ad-libbed one of the most emotional and well recognized scenes in the show. The episode when Will's father visits him for a brief amount of time results in Will giving Uncle Phil a very emotional speech about feeling abandoned. No part of it was actually scripted.
19. Uncle Phil's law firm was an ode to executive producer Quincy Jones' favorite band. The firm is called Firth, Wynn and Meyer—referencing Earth, Wind & Fire.
20. Smith picked his own character's name. When he and Alfonso Ribeiro were coming up with the names for the characters, Ribeiro advised Smith choose a name that he would be comfortable being associated with if the show became a major success.
21. Jazz and Smith were best friends in real life. The two earned a Grammy for the Best Rap Performance in 1989 and have two classic songs together: "Summertime" and "Parents Just Don't Understand."