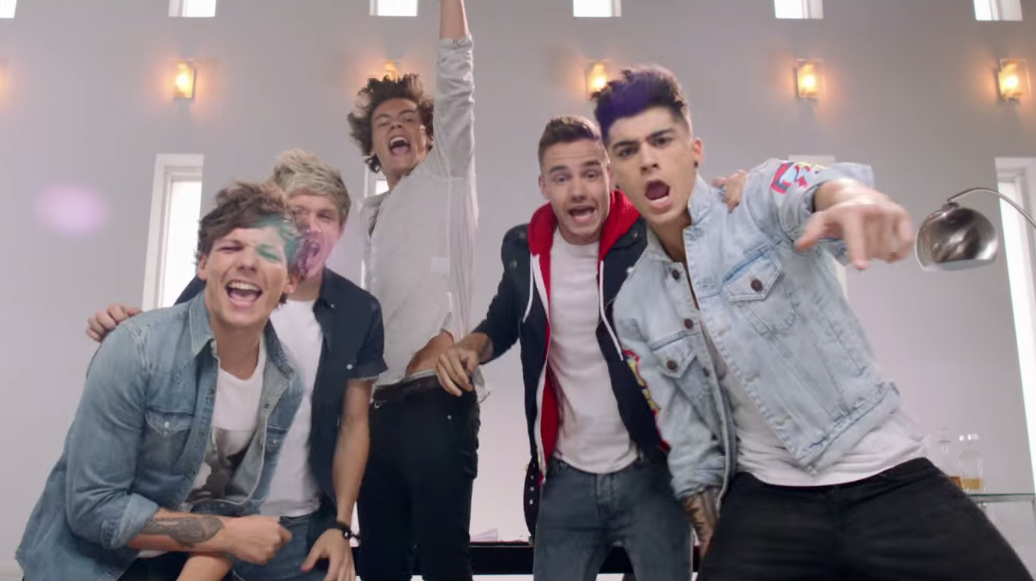 1. Their third album Midnight Memories was the number one selling album of 2013 worldwide despite having only two months to rack up sales because the album was released in November.
2. One Direction owes their fame to one song and that song is "Torn" by Natalie Imbruglia. It was their acoustic, harmonized version of this 90s hit that propelled them into the spotlight of 2010's X-Factor even though they didn't win. In 2011, Natalie Imbruglia was brought onto the show as a judge. Coincidence? Unlikely.
3. Judges Nicole Scherzinger and Simon Cowell both take credit for One Direction ever being a group in the first place with Cowell saying that it "took him 10 minutes to put them together as a group." Individually, none of the members had gotten as far as they did as a group.
4. Zayn switched schools twice because he felt uncomfortable being the only kid of mixed heritage in the school. His father is a Pakistani Muslim and relations between Pakistani immigrants and the indigenous British population are sometimes strained. Zayn has said he was far more comfortable once he was around kids from more diverse backgrounds.
5. Zayn is also a Muslim himself and has received a lot of criticism from conservative Muslims for getting tattoos and touring during the holy month of Ramadan.
@Aaroosa_M not trying to be mean, but why is zayn doing a tour in Ramadan? My friends wanted to see 1D but aren't goin now

— Manaar🌸 (@jazzcrank) April 11, 2013
6. Prior to One Direction taking off, Harry Styles had a part time job working at the W Mandeville Bakery which, according to its Facebook page, is known for its awesome sandwiches and pies.
7. Harry also sang in a band while he was in school at Holmes Chapel Comprehensive School. The band was called "White Eskimo."
8. Of the five members, only Zayn and Liam Payne come from families where the parents haven't divorced.
9. Prior to the British group One Direction taking the world by storm there was another band called One Direction in the U.S. that had existed for two years before the British group even formed. The California-based One Direction was also made up of five members. In 2012, after the American group had received death threats and hate mail from British One Direction fans, the group changed its name to Uncharted Shores despite having already recorded two albums under the name "One Direction."
10. Liam's great great great grandfather was both deaf and mute. He was also a barber despite these limitations. In fact, all the One Direction band members ancestors were pretty blue collar and had jobs like button making and masonry.
11. In June 2012, a One Direction book came out aimed at kids ages 6-12. It hit number one on the New York Times Best Sellers list.
12. An actor first, Louis Tomlinson would never have appeared on the X Factor at all if he hadn't first played the role of Danny Zuko in a rendition of Grease. He said that playing this role gave him the motivation he needed to audition.
13. Louis is also a huge soccer fan and has played in a number of charity games. In 2013, he was injured during a tackle. While being substituted out of the game he then threw up on the sideline.
https://www.youtube.com/watch?v=XZHbXaVe6dg
The guy who tackled him then received Twitter death threats but Louis was fine.
14. When not performing and recording with One Direction, Liam Payne creates musical remixes under the moniker "Big Payno." His stuff is super chill.
https://www.youtube.com/watch?v=2vJc2OL3xP8
15. In 2013, One Direction was second only to Taylor Swift in terms money raised for various charities by celebrities. They were also the 6th most charitable in 2014. Taylor Swift was still number one for 2014 as well.
16. Zayn leaving One Direction resulted in a lot of bad blood between him and the other members of the band. Eventually this spilled over into social media with Louis making fun of the photo filter used on a picture of Zayn.
Remember when you were 12 and you used to think those Mac filters for your pictures were cool haha ! Some people still do HA!

— Louis Tomlinson (@Louis_Tomlinson) May 6, 2015
This resulted in an angry reply.
@Louis_Tomlinson remember when you had a life and stopped making bitchy comments about mine ?

— zayn (@zaynmalik) May 6, 2015
Which lead a lot of people to believe that One Direction's statement about being fine with Zayn leaving was just PR.
17. There is an entire Tumblr page dedicated to Harry Styles pants bulges. http://harrystylesbulgeandchub.tumblr.com/
18. Last year, 25-year-old Texan, Anna Todd wrote an erotic fanfic piece called "After" about One Direction. It got 800 million reads online and was bought up by Simon & Schuster. Todd received a six figure advance in the deal.
19. Harry took a ton of flack back in 2011 and 2012 for dating Caroline Flack, a woman fourteen years his senior. Since then he's dated both Taylor Swift and Kendall Jenner which seemed to make One Direction fans happier.
20. Last year, an Australian journalist on A Current Affair asked the group if the One Direction "bubble" of massive popularity was going to burst, Liam responded back "The trick is there is no bubble."
21. Videos for songs like "Night Changes" and "Best Song Ever" focus mostly on undermining the image of perfection that many previous boy bands tried to project. Every date in "Night Changes" ends in a disaster including getting arrested and vomiting in a date's hat.
22. Liam is kind of a hero. In 2013 he saved a friend Andy Samuel's life after a freak gas fire resulted in Samuel's entire body being engulfed in flame. The same year, Liam took his life into his own hands when he confronted a group of soccer players at a London nightclub over their treatment of a waitress. The soccer players backed down. And, finally, also in 2013, Liam saved Calvin Harris from being hit by a little person during Miley Cyrus's insane birthday party where she'd hired a group of little people to re-enact her MTV Video Music Awards performance.
So, 2013, a good year for good guy Liam.