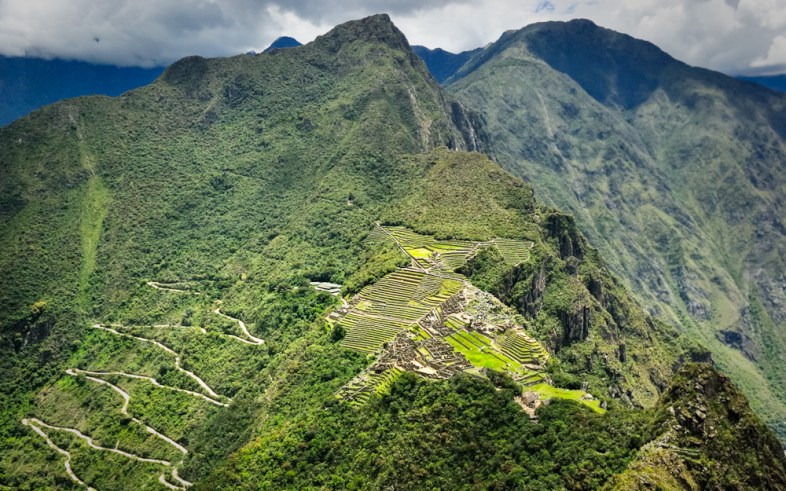 While travelling around South America, in Peru I completed the Salkantay Trek and made my way through the mountains and journeyed to the majestic Incan ruins of Machu Picchu. I was in a group with five friends all travelling together for the first time. You can imagine our excitement before setting off on our first trek together. Our tour was with Salkantay Trekking. We spent five days walking. The beautiful terrain changed from rocky mountain paths with snow-capped peaks to beautiful jungle while the sun slowly set. We were given a bag to fill with anything we would need for the trek as well as snack on the first day and a bag full of coca leaves. Coca leaves are extremely popular in South America. Locals use the leaves in tea or chew them to get a caffeine-like high. The leaves also help people with altitude sickness and so are highly recommended for anyone trekking high up in the mountains.
On the first evening, the stars were incredible. So beautiful that in fact everyone in our group braved the cold in sleeping bags and roll mats to see it. The Milky Way shone clear in the centre of the sky surrounded by a sea of twinkling stars. To add to the scene shooting stars flew across the sky like fireworks making going into the dark tent to rest for the next day's adventure as much of a challenge as the trek itself.
The food we ate during this trip was not only typical Peruvian cuisine, but much healthier and more natural to what we had been eating since starting our travels. Each meal contained three courses starting off with vegetable soup cooked right in the heart of the Andes Mountains. Each course was not only filling, but rich in flavour. An example of the excellent hospitality from both the tour guides and porters was the llama-shaped pancakes with sweet sauce for breakfast on the first morning. Each afternoon, before dinner, popcorn and tea was set out to keep our stomachs from growling while our meals were freshly prepared. With the meals were carved carrots and vegetables in the shapes of condors, snakes, and cats. All the staff were very friendly and spoke good English making it easy to communicate and making the whole trip far better than I had expected.
One of the most useful parts of the service provided with Salkantay Trekking was having porters and donkeys to carry our tents and cooking supplies with them. They carried up to 40 kg of weight on them, making our rucksacks a lot easier to carry. The porters would leave earlier in the morning to arrive at our next camp spot before us to start cooking and set up. This meant when we got back from a full days trekking we could just relax.
We arrived in the small town of Aguas Calientes at the bottom of Machu Picchu. We had dinner at a lovely restaurant with our tour guide and the rest of our group. Having travelling around Peru for over a month, staying in cheap guest houses and hostels, this hotel was like living in complete luxury. Hot working showers, TV, private bathrooms, soft double beds; all of which was absolutely amazing after days of not showering and sweating through the Peruvian mountains. What was even better was the hour long massage we had when we got back to Aguas Calientes after an afternoon of roaming around Machu Picchu. God it was painful… and then super bliss. It was the most relaxing way and perfect end to such an incredible experience and to celebrate a great achievement.