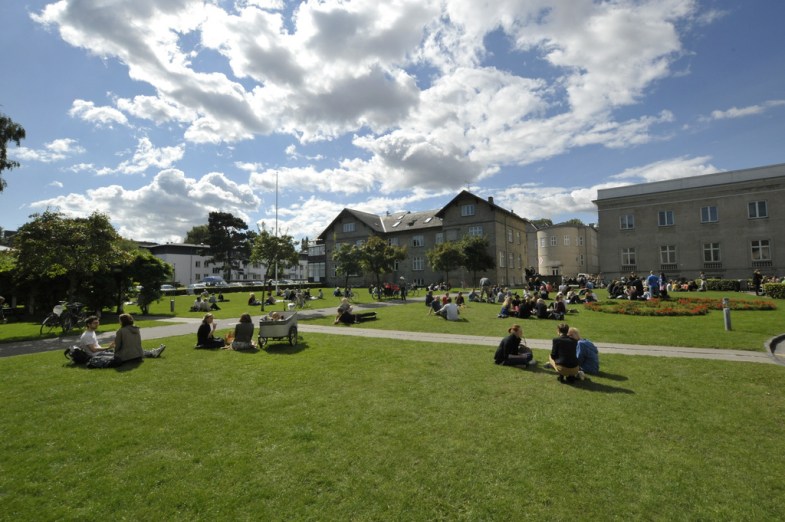 When I came to college, I was, like a lot of my classmates, a virgin. I'd only had my first kiss a few weeks before, and it was a sloppy, awkward, and utterly unsophisticated. I was eighteen, and had never had a relationship, or even been asked out on a date. Nearly four years later, virtually nothing has changed except that my entire 900-person campus has painted me as the campus slut.
Maybe it's warranted. I lost my virginity early in the fall of my freshman year to a guy who ended up struggling with his sexuality for the next year and a half, before coming out and becoming one of my best friends. Since then, I've had sex or "hooked up with" (here meaning doing everything except sex) with thirteen guys, twelve of whom are either my classmates or recent alums of my school.
As a student body, we notoriously refer to our college – a Midwestern private liberal arts school in the middle of nowhere – as a glorified high school. Rumors fly faster than jet planes. People know things about you that you didn't know about yourself, and one wrong move will forever taint you in an unfavorable light for the rest of your college career. Nobody has the "best years of their life."
It was the middle of my sophomore year when jokes became malicious. It began with a fraternity coining a name for the collective of brothers (then only two) that I'd been with; when the number grew to four, they pushed me to my limit. I drank. I took pain pills when I didn't need to, maybe hoping in some metaphorical way that the Advil I was pumping into my system would somehow numb and take away the self-loathing that flooded my body and filled my lungs until I couldn't breathe.
Worse, I began cutting. Regularly, every day, because I thought maybe the bad blood would spill out and the good blood would stay. My friends, my sorority sisters, didn't know how to help me. They couldn't. The jokes wouldn't stop, no matter who asked them to – me, the brothers I had slept with, even the fraternity president. Their mockery had reached the point of no return, joining into the cosmos like the sparks from a fire, so high above my reach. I couldn't take back my actions – but I could take them and make them my own.
When I asked for help, for support, the advice I was most often given was to "pretend that it doesn't get to you." For a little while, it worked. For nearly three years I acted unfazed by the rumors and the jokes. My cutting stopped, and my behavior mellowed out to the level of a typical twenty year old coed. But when I turned twenty-one, it all changed.
I met someone. A baseball player who had ambitions of being a special education teacher, he was the first guy to make me feel good about myself. The first guy in my entire life to tell me I was beautiful, the first to even compliment my appearance in a positive manner, even as he fell asleep drenched in the white light of the streetlamp outside my dorm room. He was the type of guy who I would never have been able to see myself being attracted to – a totally stereotypical Midwestern chewer with an affection for hunting camo – before he swaggered so unbearably smoothly into my life. An unattainable charmer, with the perfect teeth and glinting, mischievous blue eyes of some god long ago cast down to earth, he made me feel that maybe I was better than I thought I was – prettier, maybe, funnier and definitely cooler.
But now that it's over, it's all getting worse again. The baseball team, the football team, and fraternities once again made knowing my business not only their business, but also their inalienable right in some really fucked up patriarchal dichotomy. Over the past few months I've grown from being reckless and sure of my ability to vocalize my disapproval to being unable to go anywhere on campus by myself. Fear grips me when I leave my room alone, and I try to stuff my ear buds as deep into my ears as I can, my head buried into my winter jacket and eyes on the ground.
For the first time in my whole life, I hung out with a guy who didn't try to sexualize me. He apologized when a misplaced hand grazed my chest when we cuddled on his bed. He kissed me with the nervous tentativeness that made my heart race, and made me feel wanted. For the first time in my entire life, as I kissed this boy, I felt like that was where I was supposed to be.
But the maliciousness ruined it. The jokes, the stories, seem to have been too much for him. I do not blame him. I can't.
I asked my closest male friend about a theory that had been floating around my head for quite some time. Did men not want anything to do with me because of what was said about me? The quiet jokes and the whispers traded over foaming beer mugs? He was honest, as I'd asked him to be, and told me: yes, yes that was exactly it.
It didn't hurt as much as I thought it would, probably because a good part of me already knew it to be true. In fact, hearing it made me feel like everything made more sense. Why sisters of mine who had similar behavior patterns were still in relationships or approached by men for dates. For them it is easier, and I finally understood why. They were not 'infamous.' Their actions were talked about, not scandalized, shamed. They were simply college girls, not the campus slut. There were no aches in their stomach for every minute they were left alone in one of the campus eateries, or the library, or out of a classroom. They do not physically fear the simple taunts of men, despite their vocabulary far below my own intelligence quota. They don't cry themselves to sleep more than they should because others' actions have ruined their chances of someone interested in them pursuing something that could be great.They do not have their name painted in red.