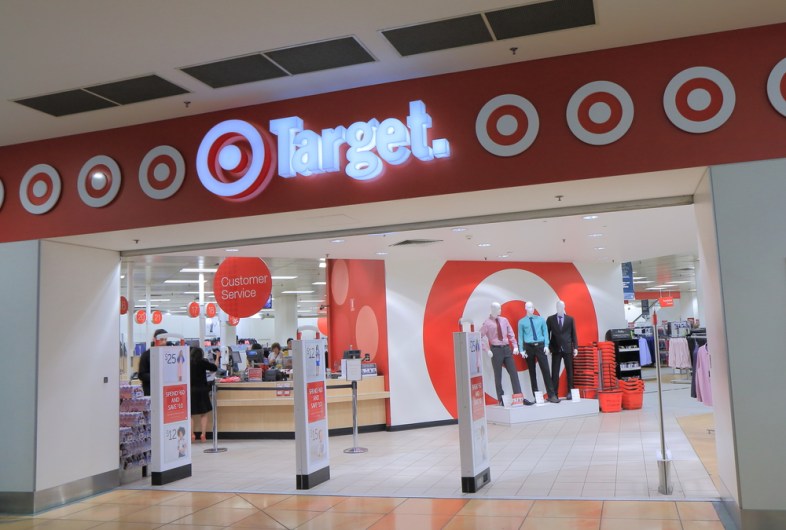 Taking a trip to Target has a way of bringing out a multitude of emotions. It's like the one stop shop for all things basic, so there's an initial excitement over that. I can get my Starbucks, waterproof mascara, gluten free pasta, and Jillian Michaels DVD all in one place? Sold. Then, of course, I get to the store, search the back of the lot for a spot, and start experiencing mild anxiety over how many red and white carts will be overflowing in the shopping aisles. I walk through the doors knowing that I'm going to be late for whatever I have planned next. Target is never the quick in-and-out experience that I promised it would be, and that's okay, because oddly enough it's kind of one of my "happy places." Not to mention, my internal dialogue becomes as mentally stimulating as a crossword puzzle, with thoughts such as these:
1. I'm just going to walk past the clothes today. I don't need another inspirational workout tank top or bathing suit in February. Oh, those printed leggings are cute. They'd look good with a hoodie. Do I already have a coral hoodie? I don't think so. I definitely need a coral hoodie.
2. Their maternity stuff is nice. I wonder if anyone would notice if I started wearing maternity tops. They're so loose and flowy. And then when I'm pregnant I won't have to buy all new things.
3. Do adults actually buy pajamas? I feel like the pajama section is always empty.
4. Oh that's cute, that couple is shopping together. Actually, he kind of looks miserable. I bet his phone battery is dead by the end of this. I wonder how many times he's refreshed the ESPN homepage.
5. I should see what books they have. I need a new good book. Oh, the Oprah book! Truly no better motivation to get my shit together. Oprah's going in the cart.
6. Is that the Taylor Swift album playing in the music section? I haven't listened to "Blank Space" in at least a week. Note to self: listen to Tay on the drive home.
7. It's supposed to snow tomorrow. I should probably get the stuff for chocolate chip pancakes. And wine.
8. Velveeta and Rotel. Definitely not on the list, but it looks so good. Almost as tempting as the Hershey's displayed in the tampon aisle.
9. There are so many kinds of toilet paper. Should I go with the soft or the strong rolls? 1 ply or 2 ply? Definitely the double roll. Don't have to change the cardboard as often. OMG, they have triple rolls now? Hallelujah. Grab a pack with the puppy on front. He's cute.
10. The men's deodorant section is almost as big as the toilet paper aisle. Since when do guys care so much about the specific scent of their armpits? Going solely with the name on this one. Swagger for the win. Feeling self-conscious that the guy in the deodorant aisle thinks I'm buying men's deodorant for myself. It's just for my husband.
11. Do I need a fake plant for the living room?
12. I've got to start going generic with brands. This cart is out of control.
13. I'm going to put the Oprah book back. And by "back," I mean sitting between the Hallmark cards and the little girl's section. I can probably find out most of what Oprah knows for sure online.
14. Okay, time time to check out. Please be under $200. There's no way it's under $200. How does this happen every time? Regardless, I'll see you next week.