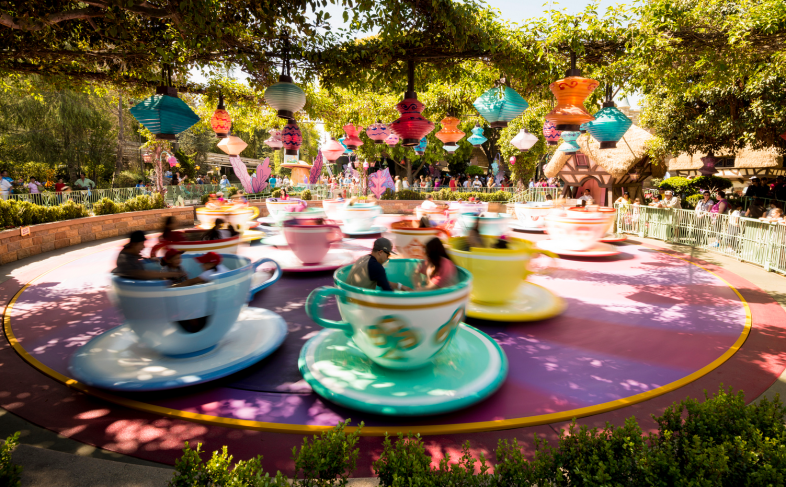 Disneyland is more than just a theme park to me. It's my second home. I know it well, so well that I don't even need a map. I know every bathroom, charging area, and even the restaurants. From the history of the company to quotes from Walt himself, I know just about as much as you can know. Some say I am a Disney Nerd when it comes to traditions, facts, and keeping up with the news. But, to me, that's always been normal. After the last few months of working at Disney World I have discovered that people don't really grasp Disneyland as a place. It's more of a mythical place where Walt started, but they all believe Disney World is better. I personally don't think either one is better than the other because both offer different experiences. It's hard to compare the two if you look at them on the same level. When a guest asks me about Disneyland I try my best to explain it and all it's glory without making it seem insignificant in comparison to Disney World. Mostly, I tell them a variation of these 11 things that make Disneyland special:
1. You can walk everywhere.
Disneyland is small. There's not even a better way to say that. It's small. You can walk from Harbor Blvd to practically Euclid Ave (roughly 6 blocks) and along the way you pass the entrance to both parks, downtown Disney, two of the three resorts, and the parking structure. If you have a park hopper and are a little bored of one park it's not a twenty minute minimum journey to the next park, it's across the promenade. You are so close in fact that you get this nifty glow in the dark stamp on your hand to prove its your ticket upon reentry. At night the second best place to view the fireworks is just outside the gates on the compass, they don't play the music there, but the view is amazing. It's easy to navigate and almost impossible to get lost via walking. Alternatively in Disney World, you have to take a combinations of a bus, a tram, a boat, or monorail to even get to the main entrances. Each park even have their own highway exits on Interstate 4.
2. Everything is on roughly 50 acres of land.
Meanwhile Disney World is on roughly 144,000 acres of land. Just think about that for a moment. Even the smallest park is the size of basically the entire property in California. It's almost as if you took all the "best of" attractions from Disney World and put them in a Shrinkie-Dink oven to make Disneyland. (Even though Disneyland is the original, that's the best metaphor I have). Two of the three resorts owned by Disney are either in Downtown, or just after it. You don't need ten or more days to get everything done either. You can fully do all the parks in about three days. The walkways are smaller at Disneyland, so there's more 'secret' routes to get from one point to another like cutting between buildings and behind carts, where most guests don't realize are there made as overflow walkways!
3. The Castle.
Cinderella's Castle is amazing. It's grand and so massive that they can put on a full production with characters in front of it throughout the day. You can see it peeking from the trees when you're on the monorail into the Magic Kingdom because of it's massive size. It's so big in fact, you can't get a selfie in front of the castle and have the entire thing in it, unless you're in the middle of Main Street USA! In Disneyland, Sleeping Beauty's castle takes center stage. It's not exactly small, but if you compare castle to castle, there's almost no competition. But Sleeping Beauty's Castle isn't less gorgeous, plus it was built practically by Walt's own hands. Actually, almost everything in Disneyland was built that way. Also, you can walk from Main Street, USA straight through to Fantasyland.
4. Southern California surrounds you, the "Disney bubble" doesn't exist.
Walt didn't have anything he wanted to change about Disneyland, he said it himself in multiple interviews. However, when it came time to build his next big dream, he wanted to buy enough land to ensure that the outside world was hard to see from inside the parks. He tried his hardest to buy up as much land as possible to make this dream a reality. In Central Florida, we call this the "Disney Bubble". That doesn't exist in Disneyland. Although in the past few years the Imagineers have done wonders to successfully hide the outside world from within the gates, Southern California is just outside the security bag checks. You can leave the park and go get the a perfect In-N-Out Burger, or a famous California burrito. When you leave the immediate area of Disneyland, you find a baseball stadium, office buildings, Garden Walk mall, and dozens of neighborhoods. It takes about twenty minutes to drive to the beach, and thirty to drive to the heart of downtown. Sure as hell beats two hours to the closest beach, or a half hour drive to a full service non-fast food restaurant.
5. Resort stays.
I think I have stayed at a Disneyland Resort three times in my entire life. They're expensive, and if you're not a young family its not always worth it. Disneyland has the luxury of having half a dozen Disney partner and approved hotels around the perimeter of the property. When a Cast Member says "resort wide" at Disneyland they mean the entire property, not just the hotel you're visiting. Although nothing beats staying at a Disney hotel, it's not a journey to the next closest hotel outside the resort. The three resorts are themed, but not as intensely has the 20+ resorts at Disney World. The Grand Californian is the Deluxe stay where you are taken into the Northern Californian lifestyle, similar to Wilderness Lodge. The Disneyland Hotel is just Disney themed with 12+ specialized suites to different movies and Disney-lands, like Adventure and Tomorrow-land. Paradise Pier is a fun beachy feel with Goofy as the unofficial mascot. Each one offers great Disney Experiences, and if I had the money I would stay in them every time. But staying at the Super 8 on Katella isn't bad either!
6. Characters.
Sure we got 'em, but not nearly as many as Disney World. You can meet Mickey at his house in Toontown, and occasionally see a princess in Fantasyland or Fantasy Faire. Disney World got Disneyland beat 1000 to 1 in the character category. The variety of characters is better in Disney World, but is also more sought after. Kids in Disneyland tend to see Mickey and that's it. Meet and greets happen for about three hours a day in Disneyland, but in Disney World you could spend all day getting character autographs and still be missing more than half of the them.   But in Disneyland, Peter Pan is a free floating character who is always in search of new Lost Boys (and girls) to join him to Neverland. Sometimes you'll even catch him riding the carousel!
7. The food is different, way different.
At Disney World there are over 6,000 different places to grab a bite to eat. Most of these places require that you make a reservation 3-6 months in advance. At Disneyland, you'll find yourself chowing down in all the different quick service places, like Californian favorites in DCA, or enjoying a corn dog at the Red Wagon on Main Street USA. Full service restaurants are far and in between. If you're lucky enough, you'll find an open table at StoryTeller's Cafe in the Grand, or be first in line to get the best table at the Blue Bayou. At Disney World, you have to book reservations far in advance, and know exactly where you want to eat your entire trip. Also, there's no corn dog wagon, so don't even go searching for it!
8. If you meet an elderly Cast Member, chances are they knew Walt, or started working there between 1955-1965.
Basically, the history at Disneyland is tangible. If you run across an elderly Cast Member, spark up a conversation. Some of them knew Walt, not always personally, but can tell you a story or two. They can also tell you stories about the park opening, what things used to be like, and some best kept secrets. One Cast Member I had the pleasure of working with and training me is the only Disney employee with her last name on a nametag because that's what Walt called her. They'll tell you about the clock that's frozen in time, and the oddly placed holes in the cement near the flagpole at the start of Main Street USA. Or how the Autopia cars were made in garages and driven up and down Orange County neighborhood streets for test runs. They'll tell you the meaning behind the windows along Main Street USA, and the Haunted Mansion has a more eerie past than expected. If you have the time and find one of these Cast Members, it's worth the conversation.
9. Becoming an Honorary Citizen is fun, and happens more often.
Per request of a Cast Member at the only location on WDW property, I will not release where you can get an Honorary Citizen's button. But at Disneyland, there are multiple different occasions you can get one. In Frontierland, the fiddler who teaches you how to square dance may hand them out to thank those who participate. A custodial Cast Member may see that you went out of your way to pick up trash that someone else left on the floor and bestow the honor of being a citizen of Disneyland to you. The horse drawn carriages down Main Street USA may give you one for getting Disney trivia correct. Becoming an honorary citizen isn't a magic moment saved for children because at Disneyland all guests are free to let the child in them out.
10. World of Color and the Firework shows.
The firework shows aren't nightly. "Pyro" is what most Cast Members will call them, and they happen Friday and Saturday nights year round. When they happen more often than that, it's peak season. (Peak season is also something unheard of at Disney World considering it's International draw). The firework show changes depending on the season, and every night there's pyro one firework will display a hidden Mickey. Also, it's not Tink who flies across the night sky. Don't even get me started on World of Color, it is a whole new ballgame. There's nothing at Disney World that can even compare. World of Color takes you across all your favorite Disney movies, encourages the crowd to sing along to the songs, with water projection, laser light shows, and fire. If you don't get a FastPass, I personally wouldn't bother watching it. World of Color is all about the experience and the Fast Pass let's you fully engulf yourself. Just get one the next night. It's worth taking up one of your DCA FP's for. Besides, take advantage of a huge crowd watching the show and get some attractions in!
11. Saying good-bye to Walt, every night.
Walt built himself an apartment above the Main Street USA fire house. It's no longer able to be toured by guests, but the light is always on to let all those coming and going know that Walt's spirit lives on. When you see the light you're reminded of Walt's late nights at the park thinking of new ideas, planning, and drawing. He used to sit up there when the park first opened, and guest would wave good night. Now the light is turned on out of respect and tradition. There's still creativity left in the world and so the light remains on. Every night as you drag your exhausted self out of the park, you see the glowing light on the right. Most avid Disney fans give a moment to say goodnight to him. It reminds us that he put his entire life into his work and never stopped believing. So next time you're in Disneyland take a moment to both thank Walt and say goodnight.