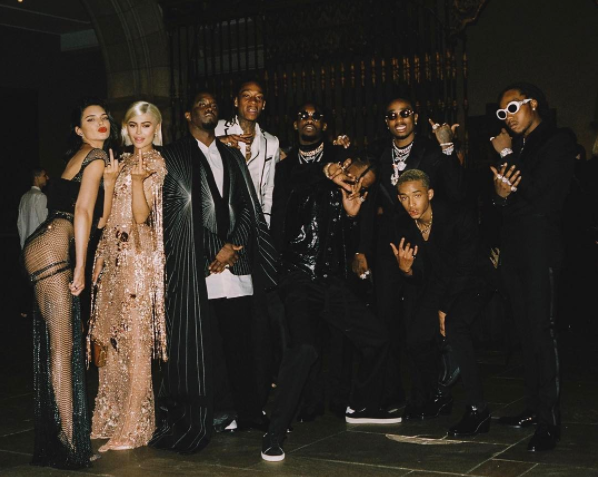 The internet is going crazy over Diddy cropping Kendall and Kylie Jenner out of his Met Gala photo recently, and rightfully so. It's pretty freaking hilarious!
I don't know the reason for him doing so, but I could think of a few that make sense.
A. Maybe they photobombed the pic in the first place
B. Maybe he wasn't a fan of their tacky middle fingers
C. The pic was tagged #blackexcellence when he posted it… Maybe he simply saw an opportunity to show that and figured it wouldn't be this noticeable
D. Maybe he just figured they didn't need him to give them anymore press than they already get
Regardless of the reason, he cropped the pic and it made for some great chuckles. The #DiddyCrop heard around the world!
Sometimes you have to #DiddyCrop people, not just out of pics, but out of your life altogether. There are going to be people that just can't go where you're destined to go. People that may have shared some good times and memories with you, but just aren't good for you in the long run. People that might mean well, but their actions hardly ever reflect it.
There may not be bad blood between Diddy and the Jenner girls, but still he did what he needed to in order to make the picture suitable for his social media page. The same applies to you. You don't have to be angry with people to make cuts in your life. Anger and spiteful behavior shouldn't be what fuels you. Sometimes removing people from your bubble is just necessary for your personal growth and peace of mind, even if it's just temporary. You have to do what is necessary to ensure your life is suitable for you, and that won't always result in something that's desired by others.
The truth is no matter how much you may care about people that you have spent time with throughout your life, everyone that you care about isn't going to always be able to be involved in every milestone of your life. Some people are simply too toxic for you to keep around in close proximity. Loving from a distance is necessary at times in order for you to remain on the path or personal growth track destined for you. It's nothing personal… but then again, it's everything personal.
Don't be afraid to #DiddyCrop in order to only surround yourself with those loyal, consistent people who mean well, support you and are seeking personal growth and improvement just as you are.