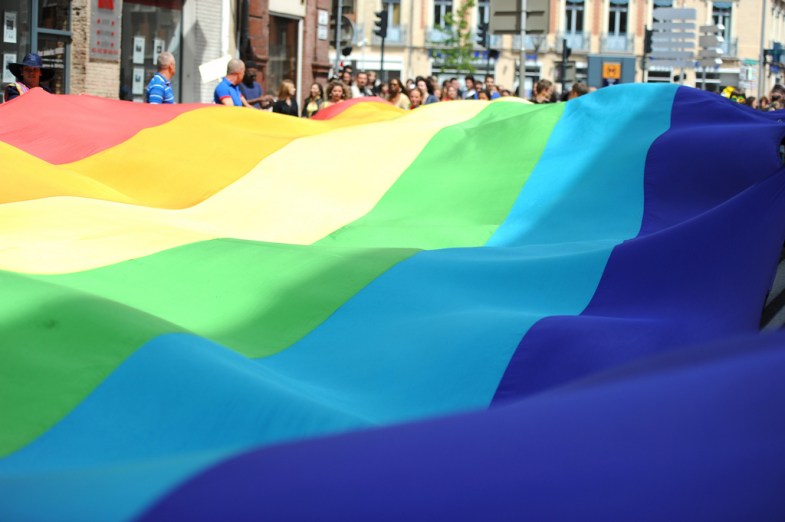 Twelve months ago I began a temp role I assumed was precisely that… temporary.
A recently crowned counseling graduate who was eager to start saving the world one fragile person at a time, I needed a short-term fix to pay the bills and keep alive the dream of private practice.
The first week passed like most other first weeks; lots of new names to learn, policies to read and deciding what part of my limited wardrobe qualified as "casual corporate".
On day 3 of week 2 I was asked the inevitable question many same-sex-attracted employees fear… "What does your partner do?" To which I drew an apprehensive breath and replied… "She works in HR."
Most lesbian, gay, bisexual, transsexual, intersex and orange people with green hair will tell you that the "coming out" process is continuous and exhausting. Particularly exhausting on a Monday.
The level of apprehension I feel each time I "come out" is based on a combination of past experience, present perceptions and my overall sense of self-worth.
On day 3 of week 2, I was moderately apprehensive showing signs of subtle optimism.
Over the weeks that followed I discovered a company unlike most I had encountered in corporate Sydney.
The question needed to be asked – what was it about this company that made an openly gay feel ok?
To answer, we shall compare this story to a very different one…
It's 2009. Tina Arena has hit Mardi Gras and the GFC is hitting everywhere else.
Amidst all the chaos and sequins is a 25-year-old female at the dawn of her career, in the heart of Sydney's CBD. Pumped at the prospect of making her mark in a male-dominated industry, she's ignoring the hype around a glass ceiling.
But on day 5 of week 1, those dreams of possibility evaporate when the words "dyke" and "puff" float around as carelessly as the cheap wine they're serving at her "Welcome Lunch".
And when her boss sits her down and asks her what her partner does… she resolves to keep her "dykey" little nature to herself!
The tragedy of this story is that it's not always the exception. It's often the rule as many LGBTI employees keep this very special part of themselves to themselves.
It wouldn't surprise the 25-year-old in this story to learn that nearly half of "closeted" employees feel isolated at work and almost 3 quarters are more likely to leave their job. Indeed she became a statistic after a year of avoiding staff room gossip and post-work drinks.
So what should companies be doing?

Working in content creation I'm acutely aware of the impact of words. Indeed words are what give bark and bite to our views.
Those subtle, bigoted phrases that sneak into the office vernacular; "that's so gay" and "isn't he camp" make the toes of an LGBTI employee curl each time they're overheard. And they're meant to be overheard.
Falsely flung assumptions about what a same-sex-attracted employee might want from life convinces them they are misunderstood and leaves them questioning themselves. The year I stopped listening to the outrageously inaccurate opinions of my coworkers was the year I realised I wanted kids. "And how would I go about this?" they'd ask. Well that's none of your business now is it?
Companies need to speedily figure out that in order to persuade an LGBTI employee to stay, they should stop giving them so many reasons to leave.
As research points out, the LGBTI community have money and lots of it. Which means they can pick and choose the businesses they buy from. It makes simple economic sense to support workers who form part of an ever-growing customer base. And the costs of not supporting the LGBTI workforce include high staff turnover and absenteeism. In short… a less productive, less committed and less profitable employee. It's not rocket science!
Although it's not all doom and gloom either.

With national benchmarking tools like the Australian Workplace Equality Index (AWEI), LBGTI workers can begin to identify those companies promising a culture of greater inclusivity backed by policy. And with big names like IBM, KPMG, Goldman Sachs and Lend Lease occupying the top ten spots in 2014, its reassuring to realise a broad range of industries are finally coming to the party.
My skeptical self will continually question to what extent these corporate displays of inclusivity are a smokescreen for self-promotion, yet if they succeed in weaving acceptance and unbiased support into the fabric of corporate culture – they have my vote.
LBGTI employees need to step up too
Although not all of us want, nor feel the need to publicly flaunt our sexualities in the workplace like a plumber does his plunger, until every LGBTI employee in Australia is safe and protected at work – we have an obligation to be brave and visible.
So when my CEO sat beside me the other week and congratulated me on my engagement to my beautiful, female partner of 7 years, I was able to breath a long-held sigh of relief… smile…. and say thank you!