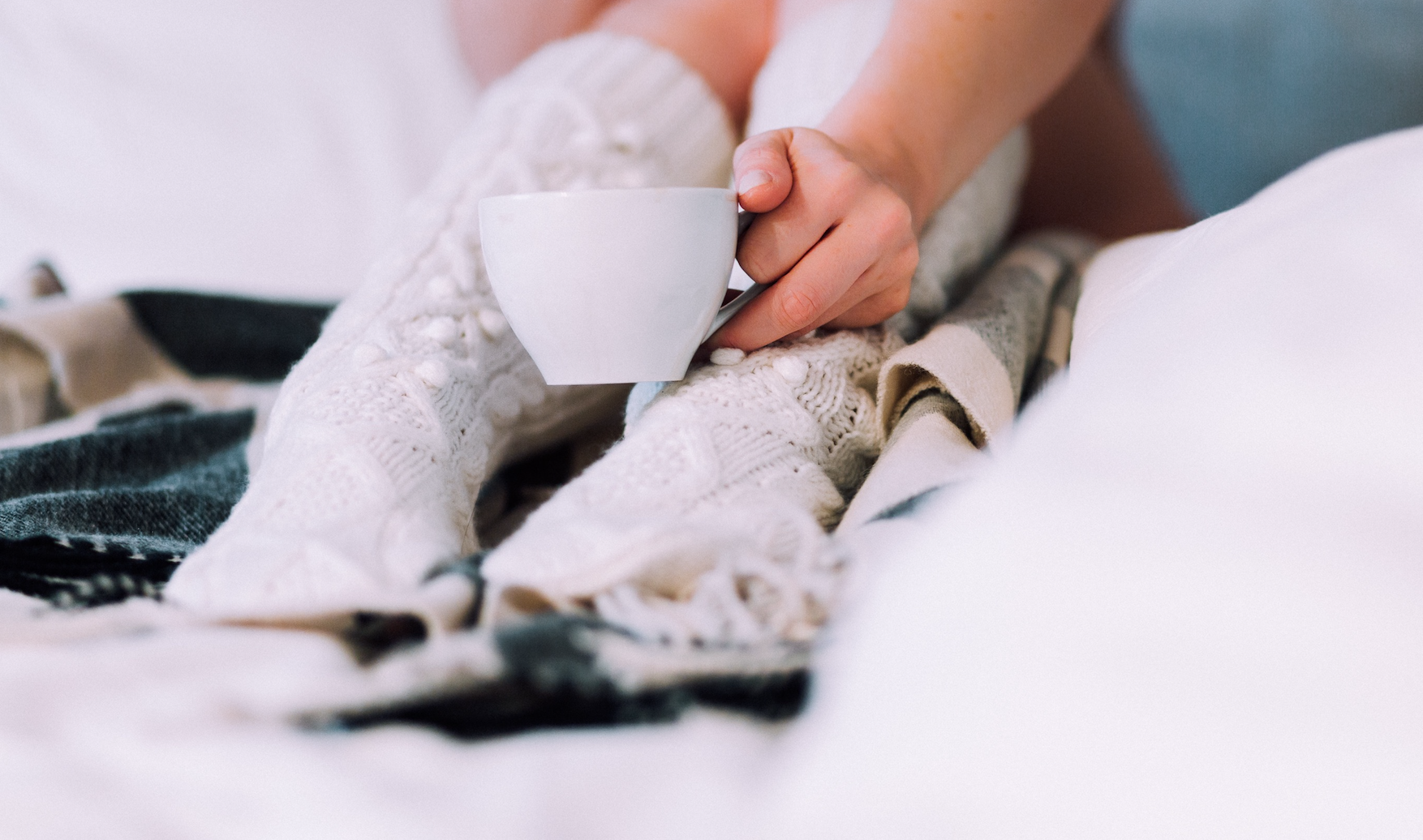 I'm about to turn 28, which feels dangerously close to 30. I don't care much about getting older; in fact, I kind of welcome it. As I approach my birthday, I've been thinking a lot about the experiences in my twenties that shaped me, and I'm sharing them with you!
Most of us buy something every single day, whether that's coffee, a tank of gas or a song on iTunes. (LOL, no, everyone streams now.) I buy a lot of things, like vintage clothes from Etsy and a million books from Amazon Prime (I like instant gratification, OK?), but there are a handful of purchases that really changed my life. Things are just things, as any Marie Kondo devotee will tell you, but some of them carry a significance that makes them more than just a purchase. These are 28 of the best things I've ever bought, and what each taught me.
1. My own apartment. OK, I didn't actually buy it, but renting my own place was one of the best things I've ever done. I pay for all of this on my own: rent, Internet, electricity, groceries, décor. It's all mine. I'm 100% responsible for it, and it is my true happy place. I love my home because it feels like me. (Cluttered, chaotic, feminine, never any food in the fridge.)
2. Black Dolce & Gabbana pencil dress. This dress wasn't cheap even at a consignment store, but it was perfection, fitting as though those two Italians made it for me and me alone. I bought it and wore it to a wedding where I'd have to exist in the same room as the ex-boyfriend I hate. It sounds silly, but the dress gave me the confidence to get through it. I felt hot as hell and that feeling sustained me through the night.
3. My car. Buying a car is a huge pain in the ass and I hate the process, but I purchased a 2013 Toyota Rav-4 a few months ago and it's been an important learning experience, financially. I pay $330 per month and have to budget that payment in with student loans, credit card payments and rent. It's worth it, though, because I love my car and care for it like it is my own child. (OK, I still leave a bunch of junk in it, but I might need those shoes one day.)
4. MAC Red lipstick. I bought my first MAC lipstick as a senior in high school on a trip to the Mall of America, and even though I don't wear it often anymore it is a precious possession. Most of my classmates went on rides, but I went right to Nordstrom and plunked down the $16 for my first tube of MAC lipstick. I never looked back. It was my gateway to "luxury" makeup.
5. Six vintage nightgowns. I scoured my favorite thrift stores for weeks to collect pretty vintage nightgowns for my friend's bachelorette gift. She said they were verrry popular on her honeymoon and told me it was the most thoughtful gift she received.
6. My Ninja blender. I don't really cook and have very little interest in it, so my Ninja is as close to a kitchen appliance as I get. Everyone needs one. Eating your greens is so much easier when you can blend them up in a smoothie.
7. Plane tickets. I'm not one of those people who's all like, "Travel is the most important thing you can do! You won't grow if you don't travel!" That's a nice sentiment, but worldwide travel isn't feasible or affordable for everyone. That said, I never regret the money I spend on tickets to visit friends in other cities.
8. Four pairs of consignment Manolo Blahnik pumps. For a grand total of $150, I got black, chocolate, and two shades of nude. What else could you possibly need? These are sexy power bitch shoes.
9. A vintage '50s embroidered silk jacket. I don't wear this purchase anymore, but it's stored in a garment bag in my "archive" anyway. This little black silk crepe jacket came from my favorite, now-shuttered Minneapolis vintage store, and I bought it because the owner had such a strong connection to it. "I call it my Cinderella jacket," he said. "It should go home with you." So it did. I cherish it. It looks pretty simple, but it was important to him in some way and that made it important to me. I'm a sap, what can I say?
10. "Dimestore Alchemy" by Charles Simic. I give this little book to everyone. No matter what you're going through, there's something you can take from poet Simic's book about the artist Joseph Cornell.
11. Uggs. When you live in Minnesota, Uggs are the only thing that keep your feet warm (without socks, too!) in the frigid winter temps. I've had at least five pairs since high school and I will go to my grave defending them. I'm wearing them right now, bitches!
12. My first bottle of perfume. Does anyone feel like a true adult lady until they buy their first bottle of perfume? Fifiteen-year-old Kara sure didn't.
13. Every $25 donation I made in the past year. One of my New Year's resolutions was to donate $25 to a cause I cared about each month. (I only forgot to do it once!) I donated to women's shelters, friends' creative projects, AIDS charities, Dolly Parton's Imagination Library. It's money I never regretted spending, and I'm going to do the same in 2016.
14. Amazon Prime. For $99 a year, you get fast-as-hell shipping (sometimes as little as an hour!) and basically anything you want at your fingertips. As someone from cold-ass Minnesota, this is convenience at its finest. Don't want to haul a bunch of shit from your car after a big Target run? Just Prime it, duh. Prime keeps me up to my ears in books, too. It's probably not really conducive to me saving money, but … I'm supporting a lot of poets?
15. A Marc by Marc Jacobs coat. When I was a sophomore in college, I got a little drunk on my new independence and bought myself a Marc by Marc Jacobs fur-trimmed coat new at Nordstrom for $700. Why? I had worked all summer and saved money and wanted it. However, once I got it home, I kept looking at it and thinking how ridiculous I had been, and returned it. It was a valuable lesson about how much $700 really was to me at that point in time.
16. Every single journal and notebook. I have at least 15 journals, notebooks and Moleskines floating around my purses, desk and nightstand, but I never regret any of them. When you're a writer, you gotta write where and when the mood strikes, and sometimes that means waking up and scrawling something almost unreadable at 4 AM.
17. Professional bleach-and-tones. When I had platinum blonde hair, paying for it to be professionally bleached and toned was ALWAYS a better idea than attempting it myself with a friend … just saying.
18. A ticket to the One Direction show last summer. Yes, I paid $120 for a ticket and yes, I also bought a $25 tank top. Do I care? Nope. It was fun as hell, and I had an incredible time meeting the (older) 1D fans around me.
19. Champagne. Does anyone ever regret buying the $11 champagne instead of the $7 Andre? Actually, any kind of champagne is A-OK by my standards. It gets the party started!
20. Donna Karan Cashmere Mist deodorant. This is the greatest deodorant in the history of the world and I have hooked 50% of my (smart) girlfriends on it. I will fight you if you hate on it, and I will literally die if it ever gets discontinued. It is magical, and a tube lasts you an entire year,
21. 12 Hanky Panky black lace thongs. Almost three years ago, I bought 12 Hanky Panky brand lace thongs for $120, which is about half of what they're sold for. Three years and plenty of wear later, they still look perfect. It sounds like a dumb investment, but they've lasted so much longer than any of my other underwear AND they're sexy!
22. "After the Witch Hunt" by Megan Falley. Megan Falley is a poet every 20something female should know about and read often. Her poetry is stabbingly real and true.
23. My haircut. Do you ever feel so blah that you avoid being photographed and feel itchy in your skin? I do, and the last time I got the bug, I chopped off all my hair. Boom! The feeling was gone, and I realized that I feel a lot sexier and more confident when my hair is just below my chin. Take the chop! Dye your hair black! Change it up. It's always worth it.
24. Any piece of vintage clothing I've ever purchased. I probably have way too many vintage dresses that I only wear once or twice, but I bought them for a reason and I love all of them. I always wonder who wore this dress or those shoes before me, why she let it go and how much fun she had wearing the items.
25. The good sheets. A friend of mine once paid $8 for sheets at Ikea and trust me when I say you felt the low, low price when you slid into them. He had to baby powder himself! Buy the good sheets. They make your bed a better, sexier, comfier place.
26. Ridiculous phone cases. Do you know how many people stop me when they see me on the street with my "Moschino" phone case? It makes everyone's day and that makes me smile. I ask you, why house your precious iPhone in a boring old Otter Box when you could store it in French fries, a Starbucks iced coffee, a shark or some big red lips? Have a little fun.
27. My vibrator. Because DUH. Also, I spent kind of an insane amount of money on it, but it's worth it. It charges with a USB, it's waterproof, the charge lasts forever and you can play with tons of customizable patterns. I make all my girlfriends buy it!
28. My Balenciaga bag. I've wanted a Balenciaga bag since the Olsens started carrying them in the mid-aughts. I always hoped a man would buy me one as a gift, but when I turned 27 I bought one (at a resale shop, not new) for myself. It was still expensive, but I had worked really hard and wanted to reward myself with something beautiful and timeless. It means so much more to me because I bought it on my own.