Hey, I know you! You're a glamour girl too. Real recognize real, isn't that right? You prefer lacy underwear, pretty perfume and a killer dress to sweatpants and sneakers. You wear lipstick everywhere, even to the grocery store. You identify with the girl in Drake's "Fancy." Me too, girl. It takes one to know one.
Halloween is the perfect time to take chances, to get gross and cover yourself in blood and fake guts. Or … not. Glamour girls aren't really into that sort of thing, but we still want to dress up and have Halloween fun. Maybe you're like me and have a thrift-store gown collection at the ready for occasions like this. When Halloween comes around, your friends are begging you to let them borrow that dress and those shoes.
Halloween is also an excuse to buy more dresses, makeup and accessories, too! So if you've waited until the last minute and need a glam costume to throw on before some fabulous party, I'm here to help you out.
Jessica Rabbit
https://instagram.com/p/9O-p1kNcJf/?taken-by=miss.chezza
I was Jessica Rabbit when I had red hair in 2013. I've never had so many men buy me drinks. Find a long red dress at the thrift store; you can slice a slit up the thigh easily yourself. To erase your eyebrows, use a glue stick and cover them with foundation and powder, then draw on new ones with an eyebrow pencil. Add purple shadow up to here, a bright red lip and some big fake lashes and bam! Get ready to turn all the heads.
Morticia Addams
If you want to toe the line between super-glam and spooky-ooky, then look no further than the Addams matriarch, the slinky Morticia. It's a pretty easy costume to pull together, too. All you need is a long-sleeved black bodycon dress (which you probably already have), some red press-on talons and a long black wig. My good friend Alle at xoVain did the only Morticia makeup tutorial you'll ever need.
Vanna White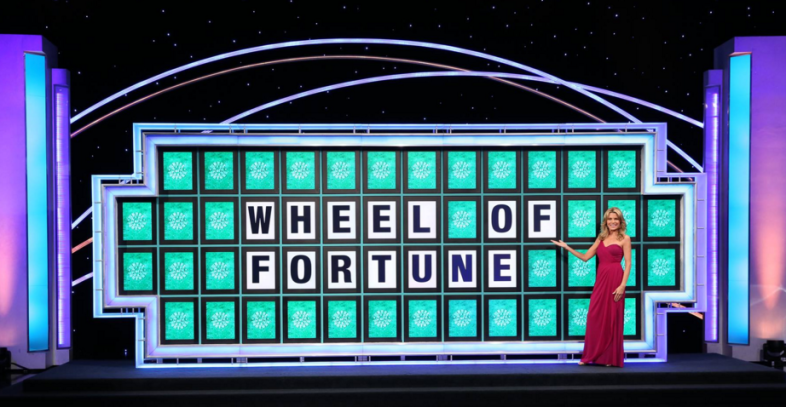 Sequin gowns, girl, sequin gowns. Be Vanna and feather your hair back. Carry a few letters (R, S, T, L, N, E) around with you to "turn." If you've got two parties, just throw a sash over the dress, grab a tiara from Target's little girls' section and go as Miss ______. I'll let you fill in the blank.
Miss Piggy
As if you needed an excuse to wear a sequined gown, feather boa and little satin gloves! Why not go as the most glamorous pig to ever walk this earth, the Divine Miss Piggy? Curl your hair into big barrel curls (hot rollers will help) and slip on a piggy nose. Voila! Bonus points if you get a friend to dress up as Kermit. Remember to always refer to yourself as "moi."
Blair & Serena
Is your bestie a brunette and you're a blonde, or vice versa? Go as the terrible twosome from "Gossip Girl." Shrunken navy blazers are easily found at the thrift store, and when you pair it with white tights, a red lip and a plaid mini, you're ready to scheme the night away as prim and pretty Blair. For Serena, try a bodycon dress with a slouchy vest and boots, and tie your prep school tie loosely around your neck in contrast to picture-perfect Blair. XOXO.
Hollywood starlet
Don't buy that cheap Marilyn Monroe wig and nasty polyester white dress, please. However, if you wanna go ultra glam, why not do a #TBT Hollywood glam costume and model yourself after some of the greats. If you're platinum blonde, try Jean Harlow with a vampy red lip, slinky white or silver gown and a matching fur/faux-fur. Or go generic glamour and find a dress with a sweetheart neckline, then pincurl your hair and slick on the lips and lashes. A fur stole and a big blast of perfume finishes the look.
The Nanny Named Fran
Dressing up like the legendary Fran Fine is super easy and really fun, because it gives you an excuse to tease your hair to the sky and wear whole lot of makeup. Find a miniskirt and a matching shrunken blazer, then pair it with sheer black hose and cute little heels. Of course, you can never go wrong with Fran's favorite pattern: leopard print! Bonus points if you attempt to talk in Fran's whiny accent the whole night, too. Subtle tweaks can take this costume from Fran to Joan Rivers.
The Kardashians
Channel the mothers of modern glam as the Kardashian family. This is a great group costume – if you got your mom involved as Kris, it'd be even better! Naked Wardrobe is the best place to find cheap, Kardashian-style ensembles; I have my eye on at least four of their dresses. You could be Kim in a midi-length maxi with matching long coat, plus giant rock of a diamond and a baby bump, or try Khloe in skinny jeans, super-high heels, long coffin-shaped nails and a bodysuit. Kylie can rock a bright green wig and a minidress, and whoever gets to play Mama Kris could do a Chanel-style power suit with big rhinestone earrings. The Kardashians are literally the most powerful family in the world, and that's a little scary, isn't it?