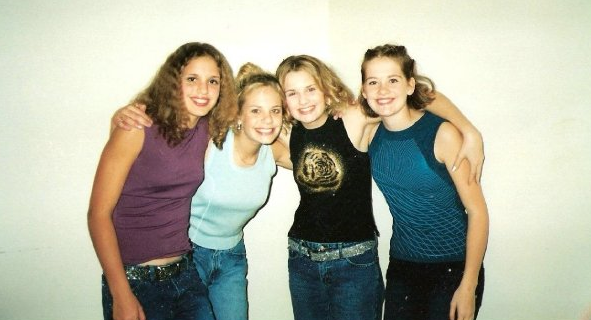 Some people are embarrassed about the things they wore in high school, but not me! I graduated high school in 2006, so my high school years were smack in the middle of some of the worst "style" ever: low-rider jeans, Juicy suits, popped polos and those tacky Tiffany-style necklaces, paired with flat-ironed hair and frosty eyeshadow. It was pretty bad, but I don't care. I'm waiting for the '00s Renaissance; you know it's coming.
I was a baby clotheshorse in high school, and I had a few favorite outfits, including:
• An Express beige wool pencil skirt, worn with fishnets, an American Eagle silk cami and a tight cardigan, for when I felt like Sylvia Plath
• A beige "boho"-style shirt with fluttery sleeves, worn with low-rise Express jeans with a frayed waist and hem
• Grey Abercrombie flare sweatpants, rolled 2-4 times, worn with Abercrombie baby pink baby tee with some "sexy/clever" saying, white Adidas Superstars whose stripes we painted with glitter nail polish
• Black top, khaki miniskirt and those godawful knee-high stretchy black boots with a pointy toe, circa 2003. I still see women wearing those. STOP WEARING THOSE THINGS.
• Senior year, a black turtleneck from GAP with American Eagle's first "skinny" jeans and black flats. This is pretty much what I still wear today. The jeans are still alive, worn as cutoffs. All of the rhinestones have fallen off the butt pockets.
I asked my social network what their favorite high school ensembles were and their answers were amazing, and very indicative of each era. The '90s are back now, so it's only a matter of time until the style of 2005 is the shit again.
"Big Smith overalls – which I still have and wear – with a camouflage tank top and Rocket Dog platforms." –Chris, '97
"Oh man. I was a fashionista then. Tight (even though that wasn't popular then) dark jeans with down the sides and a Shiney blue boat neck shirt. Pink shirt with a rabbit fur collar, black knee-length skirt and fishnets with peep-toe heels. A purple sheer sweater a girl on 'Popular' had with a matching Prada bowling bag and giant Gucci sunglasses." –Tyra, '00s
"I finally finagled a pair of Guess jeans from my mom. They were plaid, slim fit, ankle-length with zippers. I paired them with a yellow shirt with a light blue paisley pattern. It was my first foray into mixing patterns." –Meegan, '87
"Red tartan bondange pants, paired with oxblood Doc Martens and a shredded Distillers tee. I used to stock up on the $.99 fishnets at Value Village and cut the feet and crotch and wear them as a shirt under some band tees. I never figured out a coat situation, so I'd wear some filthy hoodie. My school was in the North Pole, so needless to say I looked hilarious." –Trista
"Skin-tight grey sweatpants, a baggy red Abercrombie sweatshirt and hot pink Steve Madden tennis shoes. I was so obsessed with Steve Madden! Remember the bumpy bottom black Steve Madden shoes? I had them in boots, shoes, sandals. Why? I worked three days a week in a tipped job and spent all my money on regrettable clothing." –Chrissy, 2005
"My favorite outfit of all time was this Delia's dress in a retro print waitress style- empire waist and mini. It was cream with an orange, baby blue, avocado, magenta and light yellow print. This was my sophomore year, so it was 1994." –Colleen
"Light denim ultra flare Silver jeans with a hot pink spandex v-neck from Express, white platform sneakers and a glittery silver star belt." –Megan, 2005
"I had the flip-over waist acid-wash jeans. I don't even know how to describe them, but they were full '80s. Full, baggy waist and tapered legs. So hot." –Heather
"Dark wash bootcut hipster Abercrombie jeans with a dark brown cowboy buckle belt. Suede J. Crew clogs. Thermal long-sleeve knit with floral embroidery. I was voted best dressed in HS." –Sophie, '00s
"Kentucky red shorts, pastel polos and boat shoes." –Alex, 2005
"Burgundy flare sweats with a matching vest hoodie and a daisy print t-shirt. I was really into weird Japanese stuff and loved emulating my favorite J-rocker. I even had his hot pink mullet!"-Natasha, '00s
"Baby tee with a ladybug applique with an A-line black denim miniskirt with lace socks and Mary Janes. Or an oversized (it fits my dad!) Abercrombie flannel with dark blue Henley and button-fly flares." –Katie, '90s
"Contempo Casuals forest, olive and black plaid one-button blazer. It was $60. I saved for it all summer." –Kate, '90s
"Caffeine cargo pants, Punisher t-shirt, oversize ball chain necklace, thick-rimmed fake glasses with yellow lenses. Sigh." –Paul, '00s
"Abercrombie/Hollister jeans with blown-out knees, slightly too big so everyone could see my Abercrombie underwear, paired with a new "vintage destroyed" t-shirt or an Original Penguin polo. With green Chucks. And hockey hair." –Aaron, '00s
"Precociously slim white jeans and a small, white child's shirt printed with a red and green Virgen de Guadalupe worn as a crop top, a green shoulder bag that kind of looked like a Fendi baguette, black Aldo platforms." –Berae, 2003
"All I will say is that it involved wearing a sports bra over my actual bra to get the most A+ cleavage possible. And a necklace from Claire's I purposely wore dangling down into that cleavage. And I'd never even kissed a boy." –Sarah, '00s
"A shimmery lavender halter crop-top from Delia's worn with men's vintage zoot suit-style grey pants from Ragstock, worn slung down on the hips. Probably worn with Vans." –Jahna, 1998
"One of about 795 bodysuits from Ragstock or Contempo Casuals, with no bra, paired with overalls or baggy jeans and Docs and a flannel wrapped around my waist. Or some weird flowy broomstick skirt with the same shoes. I went to prep school and these outfits did NOT fit in." –Andrea, '89-'92
"Flare jeans and a pink cameo tank top that said 'Kitten' in rhinestones, with blue suede tennis shoes. Total early '00s Kelly Osbourne hair." –Katie, '00s
"A green/red plaid miniskirt that I had sewn zippers on, with ripped fishnet tights and high-top Converse. And of course my children's acid-wash denim jacket with a Bikini Kill emblem on the back. That I drew with puffy paint." –Brittany, 2005
"Circa 2001, I was obsessed with Grace Adler of 'Will and Grace.' I remember fashion at the end of the early '90s/early aughts was primarily minimal in terms of silhouette with 'funky' accent pieces. My favorite look was a fitted black top with ¾ sleeves with a keyhole cutout at the chest, paired with a leopard print bootcut pant and black sandals." –Maritza, '00s
"White ballet flats, light-wash Abercrombie jeans that were far too tight. I cut them to be cropped jeans and they were frayed at the hem. I wore a lot of vintage-inspired t-shirts from Urban Outfitters – my favorite was the purple RAMONES tee. A rosary as a necklace and my mother's engagement ring. I feel like I still dress this way. And I did a smoky eye literally every morning before school." –Brittani, 2005
"Shaker-style, loose knit V-neck sweater, worn backwards (of course.) Jodhpur-shaped knit pants with pockets, tucked into ankle slouched boots. Add a lot of Aqua Net hairspray and I welcome you to flash back to the wonderful '80s." –Tracy
"I had a white crew-neck graphic tee with some twee quote paired with grey pinstripe wide-leg trousers from Urban Outfitters. It's a hard look to convey, but I was obsessed. I wore the pants for years and the shirt until the BO stain was permanent. Other pants of note: red plaid flares, pleather flares. Boots were chunky heel ankle boots."
"Homemade Nirvana t-shirt, baggy black jeans, wallet chain." –Jason, '99
"Grass-green corduroys with a yellow cardigan, and vice versa. I was asked to stop dressing like fruit." –Carly, '00s
"My white 'Everybody loves a Catholic girl' shirt from Urban Outfitters with a navy blue miniskirt." –Amanda, 2005
"Black pleated skirt, striped tights, band tee with a ratty thermal, jelly bracelets up to the elbow, plastic rings, Wet 'n Wild 508, Cover Girl powder, Camel Wides ina Felix the Cat purse. Floppy black velvet hat, ennui." –Janey, '90s
"Juicy tee, white denim Hollister mini, Guess platform flip-flops, fake Tiffany bracelet. It was 2006, that's my excuse." -@MaySongz
"Brown herringbone men's trousers, white babydoll tee, sweater – either cardigan or crew – definitely from the thrift store. Doc Martens." –Beth, '92-'96
"An unspeakably late-'90s getup of jeans, t-shirt, Henley, flannel – all from Structure (Express's old men's store) – and Docs." –Ryan
"Shiny black satin pants, stompy platform biker boots and a hot pink tank top." –Alle, 2001
"Emo shoestring necklace, Thursday t-shirt, skinny jeans, Chucks." –Jay, 2004
"Juicy tracksuits all day, every day!" –Nicole, '00s