If someone told me I could have any pair of shoes in the entire world, that money was no object and I could choose my perfect footwear, of course I would choose the iconic, legendary Ruby Slippers from "The Wizard of Oz." I have coveted Dorothy's magical shoes since I first saw the 1939 movie, and I'm not alone.
There were several pairs of the slippers made for the movie and its small-footed star, Judy Garland. One pair has just been stolen from Judy's hometown museum in Grand Rapids, and a reward for their safe return was set at $1 million. Crazy, right? Well, not really. The shoes are worth $3-4 million, if not more. They're probably the most famous piece of Hollywood memorabilia.
The story of the ruby slippers – where each pair came from, ended up and currently live – is fascinating.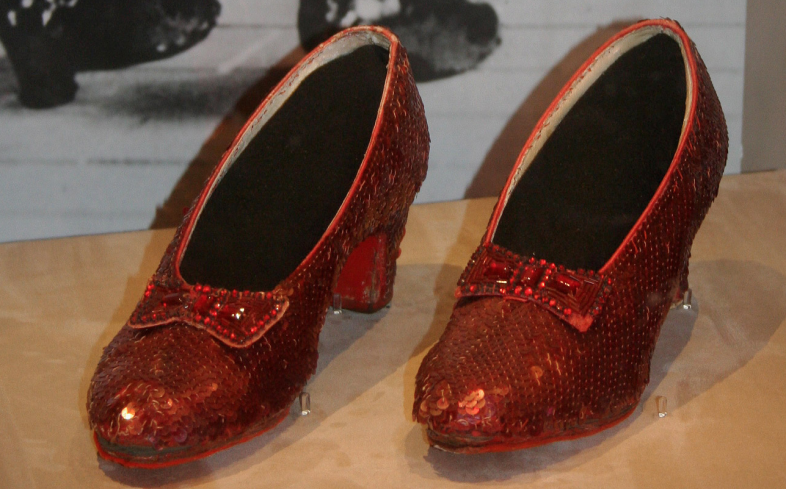 The shoes were designed by MGM's head costumer, Adrian, out of 2000+ red sequins. Various costumers and MGM staffers have said that anywhere from five to ten pairs were made. Garland had size 5 feet, though a few pairs were made slightly larger for when her feet swelled from dancing and walking the Yellow Brick Road. Another pair was made for her body double.
Five pairs of the slippers are known to definitely exist. There may have been more slippers created, but if so, they're hiding somewhere, and finding them would be the archaeological discovery of a lifetime.
The movie studio system dissolved in the early '50s, and all of the beautiful costumes and props created for MGM movies like "Oz" were left in storage or carelessly tossed in basement bags for years. Certain gorgeous pieces of iconic movie costumes were found at thrift stores for a couple dollars. Can you imagine finding something like that today? You're just browsing at the Goodwill when holy shit! Here's a costume from "Gone with the Wind!" The most notable story is that of the Cowardly Lion costume, made of real lion skins, which was brought to a seller in a garbage bag and recently sold for $3 million! In the '70s, MGM had a huge auction of these items, and the slippers were one of the items up for sale.
So where are all of the slippers now?
• Smithsonian pair- The pair that sold at the MGM auction for $15,000 later ended up at the Smithsonian Institute. An unidentified lawyer had purchased them at auction and donated them; thankfully, they're safe and sound at the high-security Smithsonian.
• Roberta Bauman pair- A young woman named Roberta Bauman won a pair of slippers in a 1939 contest and kept them until the '80s, when she finally decided to sell them. She'd kept them in a box and only rarely showed them off to small children. Her pair sold for $150,000 to a man named Anthony Landini, who displayed them at various museums and theme parks until he sold them to a Hollywood memorabilia company for over $600,000.
• Kent Warner's pair- MGM employee Kent Warner was responsible for the discovery and sale of most of the slippers – except for the best pair, which he kept for himself, because duh. He amassed quite a collection of famous Old Hollywood costumes, most of which he sold to collectors before and after the MGM sale. Warner had a real passion for Old Hollywood, so he cherished his pair until their eventual sale (for a paltry $12,000) in 1981. This pair eventually played understudy to the Smithsonian pair and was recently sold to the Academy of Motion Picture Arts and Sciences in 2012. We're not sure how much the slippers went for, but we do know that Leonardo DiCaprio was one of the benefactors. Even Leo loves Oz.
• The "original Arabian" pair- Another style of slippers, an ornate Arabian-style pair, was created for Dorothy. They looked silly with her farmgirl costume, so they were scrapped. Debbie Reynolds purchased these at auction for her Hollywood museum, which never got off the ground. Reynolds auctioned off most of her collection in 2011, and the slippers sold for $500,000.
• The Grand Rapids pair- This pair was sold to a private buyer, who donated them to the Judy Garland Museum in Grand Rapids. They were stolen in 2005, returned, and again stolen just last week! Get it together, guys! Up the ante on your security system! So far, the shoes are still at large, but hopefully they return home safe and sound soon.
Want to learn more about Old Hollywood, "The Wizard of Oz" and the ruby slippers? Get thee to Amazon and grab a copy of "The Ruby Slippers of Oz" by Rhys Thomas. It's out of print, but definitely worth snagging and devouring.