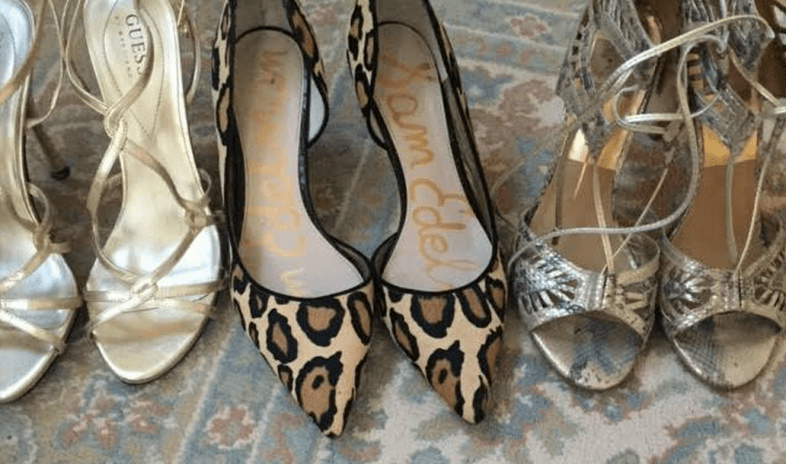 Finding the perfect summer makeout buddy is like finding the perfect pair of high heels. You gotta try on a lot of pairs until you hit the jackpot, the one that makes you feel hotter, look amazing and emerge victorious, like you can take on the world. Sometimes you need to spend a little time with them to see if they're the One, adjust the straps or test them out with different outfits or in certain social situations.
So what better way to spend another single-girl summer than marrying two of my favorite things together: shoes and dudes? In effort to get out of my usual pattern of fooling around with the same four dudes over and over, I made myself a pact. For every (new) boy I kissed, I could reward myself with a new pair of shoes. It was incentive to break out of the box. I'd actually swiped this idea from a fluffy Plum Sykes novel called "The Debutante Divorcee," where the heroine's recently-divorced girlfriend rewards herself with a new gem for every romantic encounter, though I made adjustments for income, of course. It sounded fun and exciting, and I had my eye on a few pairs at Nordstrom anyway.
And so I set out, armed with a few girlfriends and a few bottles of rosé. I was hungry to be kissed by summertime boys, to taste their beery breath and feel their skin as warm and sun-bitten as mine. Here's how I've done so far. It's nearly August, and I just don't think three pairs of shoes is good enough. Summer (officially) lasts until September, anyway.
#1- Boy Next Door, gold Dolce Vita sandals
How cliché is it to be making out with the boy next door? Well, I don't really care because I'm doing it and liking it. Initially, he took me to Sonic to fulfill my craving for a Cherry Lime-Aid, which is date enough for me at this point in the summer, and after a few delicious kissing sessions that only keep improving, I purchased a vintage dress AND a new pair of too-expensive Dolce Vita heels, if only because I was kind of drunk on champagne.
#2- Long-ago College Flame, gold metallic thrift store sandals
I'm allowed to count this one as a "new" makeout because I haven't kissed this dude, a long-ago college flame, in like six years. I am happy to report that the kissing was still top-notch, if not better than it was when we were 21. I'm not a fan of the long hair or manbun in this current incarnation of College Flame, but I'll overlook it for the promise of this kind of kissing. He made a brief stopover in my city and we connected again, because of course we did. It was just like a walk down memory lane. I rewarded myself just a little for this one with a $6.99 pair of semi-slutty gold metallic GUESS heels at the thrift store. Everything old is new again.
#3- The Wingman, leopard-print Sam Edelman D'Orsay heels
I treated myself to a pair of Sam Edelman calfhair D'Orsay heels during the Nordstrom Anniversary Sale to make up for the horrid kissing I endured at the hands of this dude, the BFF of a guy one of my girlfriends is currently kissing. I did her a favor and played wingman, but I paid the price. Sir, I do not need to be kissed with your entire tongue. I do not ever need to be kissed that way. Therefore, to cleanse my brain of this experience, I am buying the perfect pair of fall-ready pumps. Of course, this means I'll think of that dude's tongue scraping my incisors every time I put said shoes on, but they look so cute I'm willing to risk that. They're a present to make up for that makeout.
"You have been doing too much kissing," I said to my reflection in the mirror. "Just look at your skin!" It's true. Their stubble has irritated my cheeks, neck and chin. There are angry spots where my skin is protesting falling asleep in my makeup. I'd forgotten the toll nonstop kissing can take on your face! Maybe it's time for a little break … at least until I find another void in my shoe collection.