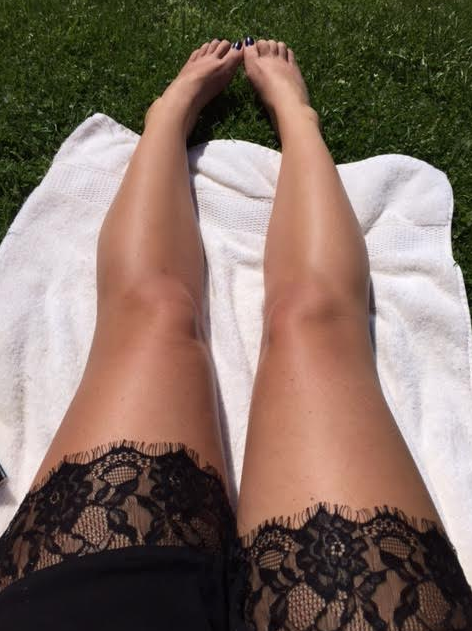 Hey Minnesota girl! It's finally summer! You managed to make it through the cold, nasty winter and the weird, wet, randomly-snowy thing we call spring. Now celebrate, because the most glorious three months known to all Minnesotans are finally here.
Are you prepared for all the fun you're going to have? Definitely not! I never am. Here's what you're going to need to have your best summer ever … at least till the next one.
1. A new perfume. I always like Estee Lauder's limited-edition Bronze Goddess during the warmer months. It smells like expensive shampoo, suntan lotion and a fruity cocktail, but it's grown-up enough to wear to work, too. Trust me on this one. I have also decided to keep a bottle of their classic, crisp White Linen in my fridge to spray when it gets really sticky and humid so I can imagine I'm a Hamptons WASP chillin' on my tennis court. My mom wore it when she was in her twenties!
2. A night out with your girlfriends at a lakeside bar. Chrissy and I can occasionally be found at Lake Minnetonka's famous Lord Fletcher's, where you just need to stand next to a man at the bar and he'll buy you a drink. Don't pretend you're too cool for Grape Apes, because you're not.
3. A weekender bag. For trips to your cabin, or your friend's cabin, or … any cabin. Someone you know has access to a cabin and you need to make it your business to visit one at least once. My weekender is from Everlane and it's squishy enough to shove into cramped overhead compartments on planes.
4. A friend with a cabin. As previously stated, someone you know has one. Try to tag along.
5. Condoms. Be prepared for summer romance, duh.
6. Aveda's Foot Relief. I never get pedicures but I don't need them because I have a pumice stone and this magical cooling lotion. (If you work retail or a serving job, it will be the blessing at the end of your day.) Aveda is a Minnesota company too, and there's nothing we love more than shopping local and repping our state.
7. A cheap, giant hoodie for wearing to various campfires. Don't get your pretty clothes all fire-stinky. Steal a hoodie from a dude. It's way more fun to curl up in by the fire anyway because it's roomy enough for your legs and can hide your feet from mosquitos.
8. A red lipstick. When you're tan, nothing looks better than a bare face and a red lip. Cherry Pop by Clinique is my current favorite because it's demi-matte, so it doesn't feel heavy or crusty.
9. Tickets to one outdoor concert. Whether that's Rock the Garden or WEFest, get yourself to at least one outdoor show this summer. Buy an overpriced beer and enjoy the weather and the crowds and that beautiful feeling when music pours out over the city (or country) in twilight.
10. A new swimsuit. Remember, as I've said before, the best $5 bikinis are from Walmart and you should buy one in every color to mix, match and dole out to friends who "forgot" theirs.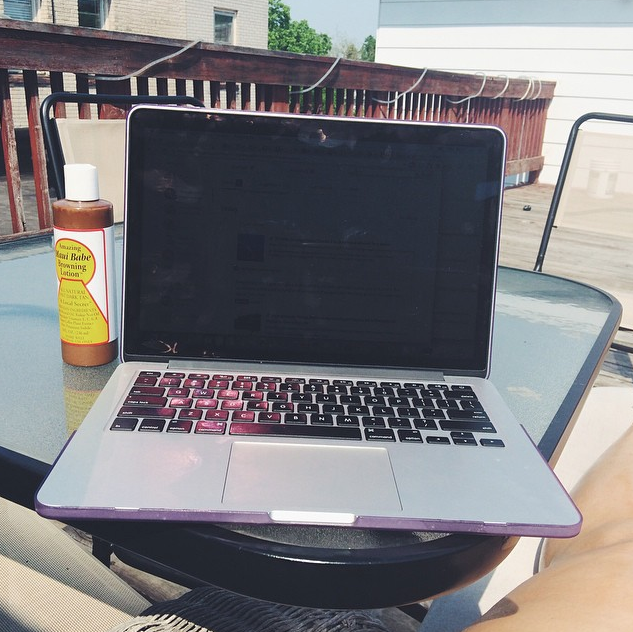 11. Sunscreen, because you're not stupid. But also Maui Babe tanning lotion, because it helps speed the tanning process along magically even if it does smell like soy sauce. We don't get a whole lot of sunbathing time here, so make it count. Just be safe!
12. Extra iCloud storage. Take tons of photos and download every "song of the summer" that you enjoy even a little. Blast them in your car.
13. A cooler. How is it that none of my born-and-bred Minnesota friends ever have access to a cooler? (I don't have one either, but I'm going to Walmart ASAP to grab one.)
14. The ideal beach blanket. Non-Minnesotans can scoff at our "beaches" by the lake but they're pretty wonderful. A towel isn't good enough, so get a big old quilt to sprawl out on when you're at Lake Calhoun or Hidden Beach.
15. A pitcher. Well, you have to have something for your Strip N Go Nakeds! (1 can beer, 1 can froz. Pink lemonade, 1 can vodka, 1 can water. Mix and be careful.)
16. A trip to Zorbaz. No zummer iz complete without a ztop at Minnesota's famouz lakezide pizza chain! (It iz exhauzting to type like thiz!)