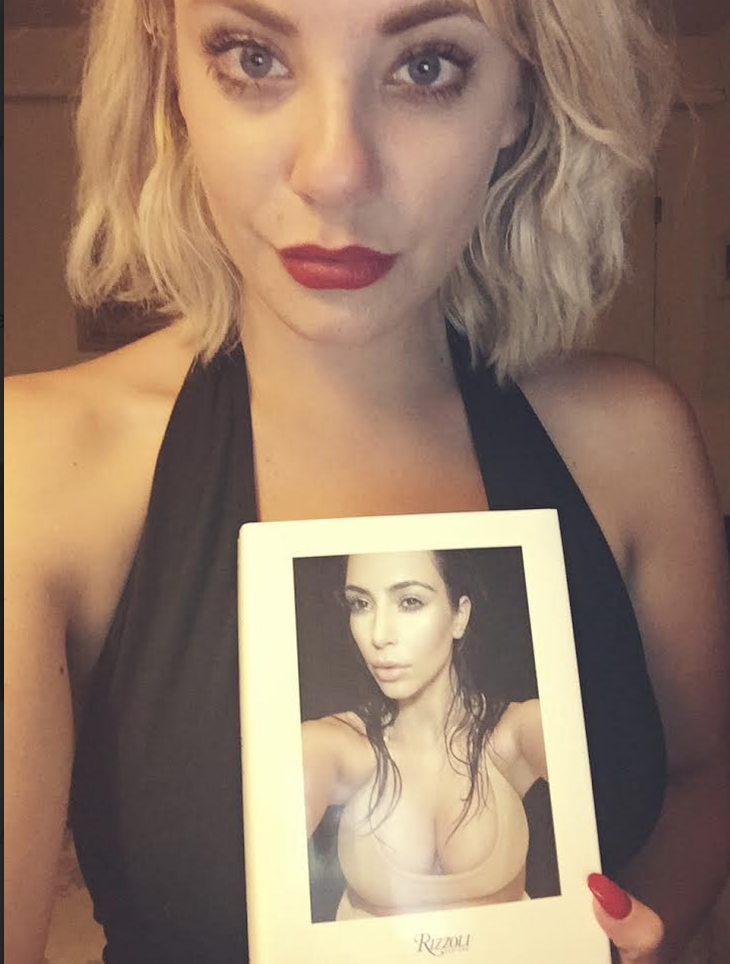 I ordered my copy of Kim Kardashian's "Selfish" on February 23. The book was released May 5. I'm obsessed, I know. It arrived via Amazon Prime in the afternoon and I immediately Instagrammed it and devoured it, as Kim would want.
"Selfish" is a small, fat coffeetable book, and at around $20 it's meant to be affordable, a starter art book for people who don't spend their time trolling the thrift stores for big ol' coffeetable tomes like I do. She released it with Rizzoli, which gives "Selfish" more art cred than anything. Kim has been documenting her life via selfies since digital cameras were readily available; in the early '00s, she says she had a huge camera she'd haul around.
"Selfish" is fascinating in that we see the Kim we now know – the ubiquitous media figure, the most famous woman in the world – develop over the years. The bones of stardom are always there, but they get refined more and more as Kim learns how to develop and control her own image. We see her so often via paparazzi shots, but we're also lucky enough to see Kim's world through her own eyes via her obsessive Instagramming. When she Instagrams a photo of herself and J. Lo at the Met Gala "shot by Kanye," it feels both otherworldly and totally casual at the same time. That's the magic of Kim Kardashian.
If you haven't gotten your hands on "Selfish," or at least peeked through it at B&N, here's what I've learned. Kim has scattered the book with little tidbits here and there to explain certain photos.
1. Kim takes slutty lingerie selfies with her MacBook Photo Booth, just like the rest of us. Her lingerie is better, though.
2. There's a "black pages" section of "Selfish" with her nudie pics, which feels both intimate (some are sent to Kanye for inspiration) and not shocking at all.
3. Kim doesn't know how her nudies got leaked during the iCloud leaks because she took them on a Blackberry. She included them in "Selfish" anyway because she's not mad at them.
4. When Kim gets super-dark spray tans, Kanye calls them "Ye-Tans."
5. Even though she was born into privilege as the daughter of a prominent attorney, Kim hadn't really traveled much until she met Paris Hilton and worked as her "stylist" and "closet organizer."
6. Kim has the uncanny ability to remember who did her hair and makeup (excuse me, her glam) in every selfie she's taken, no matter the year.
7. Kim took her first selfie in 1984. She put earrings on baby Khloe and found a disposable camera to document the experience.
8. There's a selfie taken in a diamond mine. Of course there is.
9. The late, great kitten named Mercy, a gift from Kanye, makes an appearance only once in "Selfish." This is probably because Kim found she was highly allergic to the precious white kitten.
10. Kim's advice to pregnant women: Don't cut bangs while hormonal. It's a mistake.
11. There are only a few photos with baby Nori. I think this is because the book ends with Kim's wedding to Kanye.
12. Bikini selfies are Kim's fave. Because of course they are! If you looked like Kim, wouldn't you want to take photos of yourself in bikinis 24/7? I would.