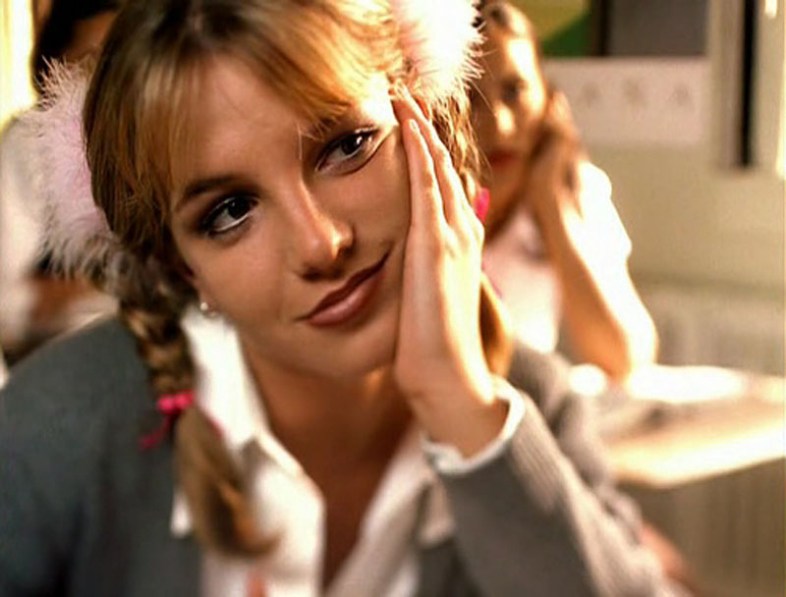 As you know, Miss Britney Jean Spears is one of my most favorite people on the planet. I may or may not have a small Britney altar in my apartment. She's transformed herself many times over the course of her long, crazy career, though some phases of Britney are more memorable than others.
Present-Day Britney – I love you forever, Britney, but the whole partnering with will.i.am and Iggy Azalea only yields terrible songs. I am sincerely dreading the mess that I know "Pretty Girls" is going to be. I know you didn't make this choice and you probably don't even know who Iggy is, but still. I really liked the William Orbit partnership! Why not try to make your own "Ray of Light?" That said, Present Day Britney is a pretty adorable mom who occasionally makes kooky Instagram videos. I just don't get that excited about her albums anymore.
Hot Mess Britney – Hot Mess Britney basically blew up the Internet in 2007. I used to follow her nightly exploits on ONTD. It was shocking when she shaved her head. It was semi-entertaining when she started hanging with Paris. She released her (arguably) greatest album, "Blackout." Then paparazzo boyfriend, the pink wig, the wedding dress repurposed as a going-out dress … and then the really strange and scary behavior. Hot Mess Britney started to alarm me, and when she was placed on psychiatric hold I felt terrible. It wasn't a joke anymore.
Teen Britney – Teen pop Britney was so fucking cute. Remember her adorable appearances on "The Rosie O'Donnell Show?" She had a cute little flippy bob and wore those teeny glasses and weird pink latex outfits onstage. She was BFFs with NSYNC. We were all like, "Wow, who is this Southern pop star suddenly taking over the world? Why is she wearing a schoolgirl outfit? Why are we attracted to that?" This period is notable for the white two-piece "Sometimes" ensemble, which is so of its time it should be in a museum.
Early '00s Britney – Early '00s Brit gave us some of the decade's best pop songs: "Oops! I Did it Again" stands the test of time. She was the most famous person in the world. Her albums sold millions of copies in days. She dominated "TRL." There was a lot of frosty eyeshadow, but it was the early '00s. We were all doing it. In this period, we got Brit's episode of "Diary," which featured a cameo from then-boyfriend Justin Timberlake. Awwwww.
2003 Britney – 2003 Britney was fucking hot. That's all. Google it for proof.
Wild Child Britney – As young women do, Britney rebelled in her early twenties. She released a very sexy album, "In the Zone," and went on a very sexy tour (Onyx Hotel), where she met future husband Kevin Federline. Their love story was recorded on a hot mess of a reality show called "Chaotic." This was when I really fell in love with Britney. She was drunk. She was stoned. She was kooky and hot and fun. She was running away with her man to smoke cigarettes, drink Red Bull and eat Cheetos on the beach. She was doing just what she wanted to do and I was here for it. She got into Kabbalah. She had a secret wedding and her bridesmaids all wore matching Juicy suits. It was great. Britney was living the dream of the mid-2000s. She's an angel we don't deserve.