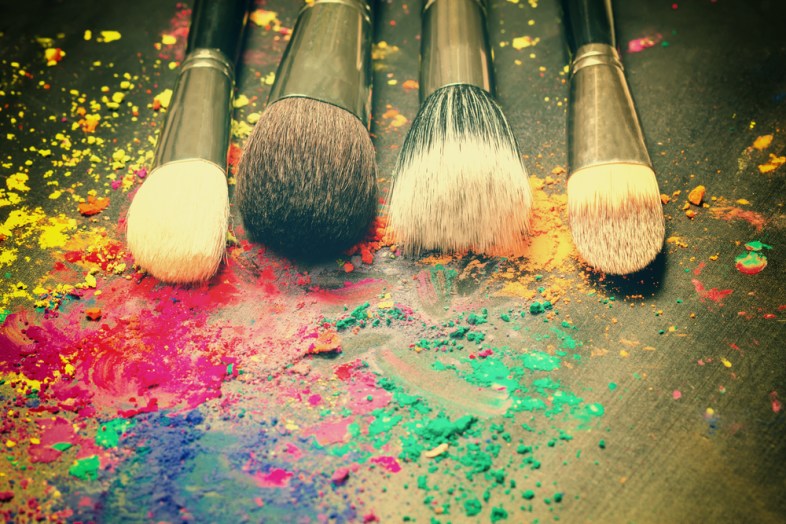 OK, OK, I know it's only February, but whatever. I'm in the mood for spring and the change of seasons. It's probably because I just returned from a week in Palm Springs, and going from cold Minnesota to 85 degree California was kind of jarring. I'm ready for the happy medium, but since I know it's still awhile away I have to channel my desire through what else – beauty products. (I mean, did you think I was going to say exercise?) It's escapism in a bottle!
Clinique just launched their Beyond Perfecting concealer + foundation duo and I'm pretty sure it's going to be my new HG (holy grail) foundation. I have pretty bad acne scarring on my face and I'm always covering it up with layers of makeup, but this stuff is so pigmented that I don't need the extra layer of powder, which is a huge plus for me. It has a unique doe-foot applicator, almost like a lipgloss, so you can dab it wherever you need a little more coverage.
I'm also down with their new Wear Everywhere shadow pans, which come in a few different color groupings. They're super-slim, which is awesome for vacations – you have everything you need to create a perfect smoky eye or a more casual Serena van der Woodsen shimmery gold eye. I don't wear a ton of eyeshadow in my daily life – aka none – which is why I like little palettes for when I do have the urge.
Are you going to Coachella this spring? If so, you gotta get some Pixie Ink temporary tattoos. They sent me the "Shooter" set, which has a country-western theme perfect for me, and I'm kind of obsessed. Temporary tattoos are fun at any age! I have a gold metallic Johnny Cash on my bicep right now, and I'm definitely going to have dueling pistols on my hips later this week. They've got a few different sets for you to choose from if the Old West isn't your thing.
My old faithful escapism is Bobbi Brown's classic Beach fragrance, which legit smells like Coppertone and sand. It's like hanging out at the beach without the screaming kids and sweaty weirdos around you. Use the lotion in lieu of the fragrance for a softer, more summery skin scent.
One of my favorite warm-weather looks is bronze skin, an orange-red lip and a turquoise cat-eye liner. How nice of my employer, Aveda, to introduce an insanely pigmented aqua liner, Tidepool and a pretty bright orange-red lip gloss called Fire Poppy! It's like they read my mind. A highly-pigmented liner is something you have to spend a little more money on; I've never found a drugstore dupe that can do it just right.
Tidepool is super creamy and blendable, so if you want to smudge it out for a sexy, beachy style, that's incredibly easy to do. And now that I've had my lips injected, I can finally wear lip gloss and look hot! I like to blend a few tiny dots on my cheekbones for a pretty flush that looks like I've just been exercising, even though I definitely have not! It's not swimsuit season YET.