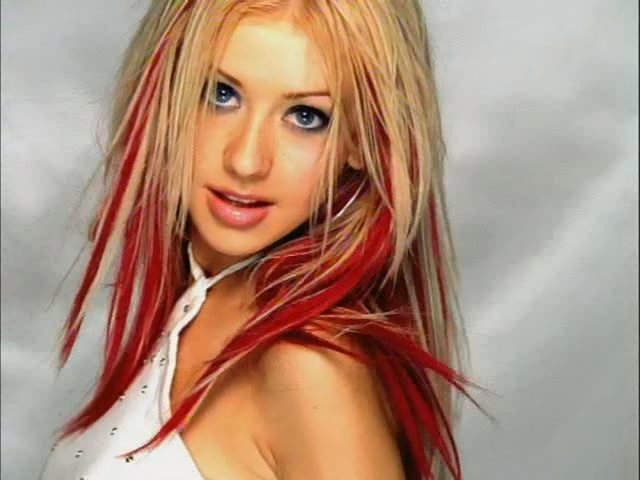 We all saw Christina Aguilera's bang-up Britney imitation on "Jimmy Fallon" this week, which only solidified my opinion that Christina is seriously underrated as a pop star. Sure, she's made more than a few fashion mistakes and has at times come off as a bit desperate, but there's no denying that Christina is legit madly talented AND charming. ("Burlesque" is a guilty pleasure.)
It's disappointing that her last few albums haven't done as well as they should have, but it's understandable. While we have a dependable "sound" from artists like Katy Perry and Britney, it's been a bit harder for Christina to find her niche. She's tried straight-up pop, retro-tinged pop, electronica-pop and more, but she can't quite reinvent herself in the manner of Madonna. It's probably because she has that insane voice and is reluctant to lean only on ballads and torch songs. It would get boring, I'd imagine.
So in celebration of Xtina, I put together a playlist of some of her most underrated jams! I promise you'll enjoy it. (Xtina/Missy's cute version of "Car Wash" would've made the list, but it's not on Spotify.)
1. "Your Body"
"Lotus" was a pretty huge flop, but I really enjoyed the video for this one. Xtina in a trailer with pink hair? I was into it.
2. "Nobody Wants To Be Lonely"
Remember this "TRL"-era duet with Ricky Martin? I hope so. I still like it, but it sounds sooooo 2000s. ~*Memories*~
3. "Guy What Takes His Time"
Christina sings her face off in this now-cult classic movie. It's been playing on E! a ton lately, so GO WATCH IT one hungover Sunday.
4. "Candyman"
"Stripped," like most Xtina albums, is all over the place, but this torchy ballad with Alicia Keys on piano is a standout track.
6. "So Emotional"
think Christina's debut album "Christina Aguilera" is golden. It's FULL of hits, from "Genie in a Bottle," which still holds up, to the classics "What a Girl Wants" and "Come on Over." God, I miss "TRL." This song shows off her voice without letting it overpower it.
7. "Save Me From Myself"
I've always liked this stripped-down little filler from "Back to Basics." Christina is at her best when she's allowing herself to be quiet and vulnerable, not brassy and bombastic.
8. "Birds of Prey"
"Bionic" was great when it was great and filler when it was filler. It should've been two albums. "Birds of Prey" is a super sexy, sorta creepy electro jam that has Xtina almost whispering the lyrics. She teamed up with Ladytron for parts of "Bionic" and the results were really cool and unexpected.
9. "Infatuation"
Xtina taps into her Latina side for this one off "Stripped" and it's playful and sexy.
10. "When You Put Your Hands On Me"
Another late-'90s pop song, which toes the line between innocent and bad, bad girl. Christina could never do this as well as Britney, but she tried.
11. "Sex for Breakfast"
Another gem off "Bionic." Paired with its just-as-good intro "Morning Dessert," it's pretty delicious.
12. "You Lost Me"
I like to point out that Xtina was working with Sia LONG before anyone else was, and this stunningly beautiful, simple ballad that builds to a shattering climax should've been the single off "Bionic." It's just perfect.
13. "Mercy on Me"
A slow burning, dark ballad off "Back to Basics." I remember a particularly good Demi Lovato cover of this one. It lets Christina show off that insane voice and almost sounds like a Fiona Apple piano jam. A dude I know added it to his sex playlist! Christina would love that.