Have you ever had the realization that pretty much all you watch is reality TV? It just happens one day – you notice that you haven't watched a scripted show besides reruns of "Sex and the City" on E! in ages. I have had this realization and honestly? I'm OK with it. Reality TV is kind of great. It holds the mirror of our culture right back at us. I will gladly relish my trashy TV habit and the "heroes" it has created for me. I know that Ken Burns' documentaries are waiting for me on Netflix when I need a little more substance, OK?
Kim Kardashian and Company
If you know me at all, you know that Kim Kardashian West and her entire family will take the number one spot on my list of reality TV heroes forever. Think of what they've given us! North West! A wedding in Italy! The evolution of Khloe, Kendall and Kylie into superhot babes! Kris Jenner as Mama Rose with her huge glass of wine and Bruce Jenner as sitcom dad with toy helicopters! And lest we forget – AUNTIE KRIS! IT'S ME! TODD KRAINES!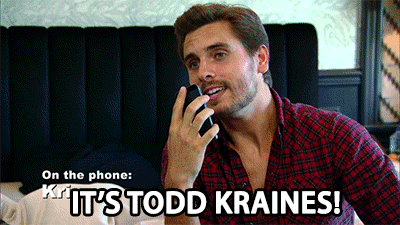 The Kardashians are a wonderful invention and I love them forever. I can't help it. No shame here. They're entertaining, they work hard supporting their brand (and it IS a brand, and you CANNOT deny that) and they really do love each other. Like, when the kids get asked what they think about Bruce's possible transition, they all go, "He's great, he looks great and is happy and we love him!" They support each other and are taking over the world. Deal with it. Look at how far they've come; the show was about the girls and their dinky boutiques and now one of them is married to Kanye West, so…
King Curtis
Have you been #blessed enough to see one of "Wife Swap"'s greatest characters? No? King Curtis went viral at the time of airing for refusing to eat anything but chicken nuggets. In his own words, "Chicken nuggets is like my family." He rebelled against his health-nut new mom in the way only a chubby Southern boss child can do. He even packed his kiddie suitcase and ran away to his grandma's, where he could indulge his fried-food habit. Endlessly quotable, King Curtis is. "She needs to eat a little bit to be happy! That's how I do it!" I will let you see the wonder of King Curtis for yourself:
Courtney Stodden
Courtney didn't come to fame via reality TV, but I'm counting her because she was on "Couples Therapy." I love Courtney because she used to write her tweets almost entirely in alliteration and because she works her look – the tired platinum blonde, huge boobs, French manicure of Playboy legend – and doesn't seem to give a shit what anyone thinks. I do take offense to her idolization of Marilyn Monroe and all the fake quotes she posts.
Anna Nicole Smith
Speaking of Marilyn Monroe and Playboy, we can't roundup Kara's Favorite Reality TV Heroes without mentioning the one true queen: Anna Nicole Smith. I was legitimately devastated when she died, as I have long loved Anna. When I was a child, I thought she was the most beautiful woman in the world. If you Google her Guess campaigns, you'd agree. Anna Nicole was a Personality, and her reality show is truly great, though it is the preface to a really sad ending.
Brody Jenner
Last on this list is Brody Jenner. I watched "The Hills" twice: once as it aired and again when my stupid ex-boyfriend spent hours playing FIFA and I laid in his bed watching it on Netflix. I could've put Lauren, or Lo, or Justin Bobby, or Speidi on this list because I have a fondness for all of them – but I didn't. Because there's one true hero and his name is Brody Jenner. His appearance is not much to write home about here or on "Kardashians," but Brody's magic is that every single girl I know finds him attractive. Girls who have COMPLETELY different taste in men. Brody Jenner unites women with sheer, simple hotness, and that is his magic and his true gift to the world.