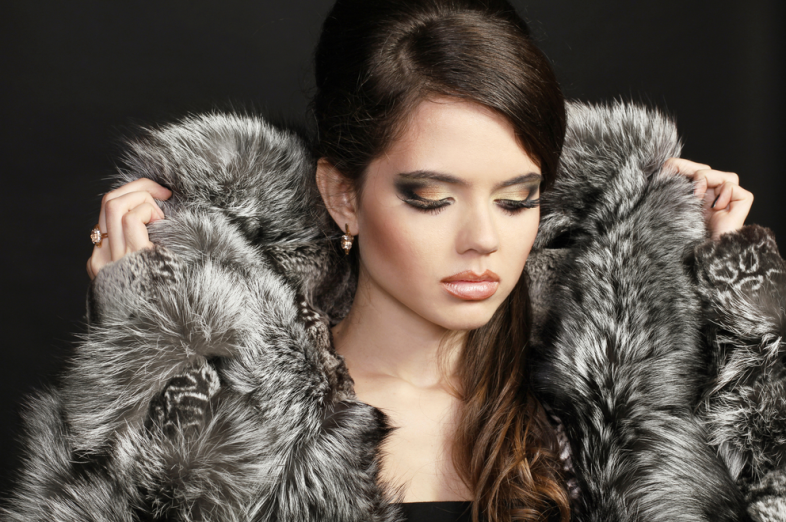 It's officially the holidays now, seeing as we've made it through Black Friday and Cyber Monday. I like to take it one holiday at a time, so I don't start focusing on Christmastime until Thanksgiving is over.
I always like to dress up fancy no matter the month, but the holidays really gives you the excuse to go all out. Want to subtly change your look for any parties or special events you may have going on? Or maybe just for the hell of it? Here are a few easy ways to do so.
1. Try a metallic eye. You can shine without sparkle, you know. Try a metallic shadow in gold, silver or a pretty, flattering rose gold all over your mobile lid, or use it in place of the light shade you usually use when doing a smoky eye. I think a gold smoky eye is much more modern than a sooty black one. Or do a metallic cat eye with a gold or silver liquid liner.
2. Swap out your basic red or pink lip for a dramatic burgundy. If you want to make your lip color even more standout, slick a gold-flecked lipgloss on top or place a small dab of gold metallic shadow in the center of your lower lip, then gently blend.
3. Are you a die-hard ponytail girl? Upgrade for the holidays by locking that pony with a solid gold barrette. Or wrap your own hair around the base of your pony, then add a pretty vintage brooch to the top so your hair sparkles, but subtly. Don't choose solid rhinestones, because nothing screams "PROM!" more than a rhinestone barrette. Honestly, you can search "pretty vintage brooch" on Etsy and find beautiful options for less than $10.
4. Ditch your black tights for patterned ones. Why not try a textured fishnet style or a retro backseam? I like sheer tights with polkadots or floral patterns too. They add an element of interest to a basic black dress. (Pro tip: I get mine at Nordstrom Rack for about $4, but TJ Maxx and Marshall's often have good options, too.)
5. Going out to a fancy party? Add a vintage fur capelet or a faux fur coat. Hello, Hollywood. (Stay way from rabbit, which sheds a lot. Mink is always the best, and can be had fairly inexpensively at thrift and vintage stores.) Throw a fur piece around your neck – real or faux, whatever floats your boat – for warmth AND glamour. It makes everything you're wearing look more special.
6. Cocktail rings and a good manicure are a must. You will be holding a cocktail at all of these parties, won't you? Show off a big fancy ring or freshly-painted nails while you sip. Please, please, please – don't go to your office party with chipped nails.
7. Add an element of glamour to your every day. Maybe that's a new, more elegant and/or sexier perfume. Maybe it's wearing lipstick when you normally don't. The holidays are a really great time to try something out of your comfort zone. You can pile on the jewelry or get a really obnoxiously sparkly manicure, and no one will bat an eye because hey, it's the holidays.