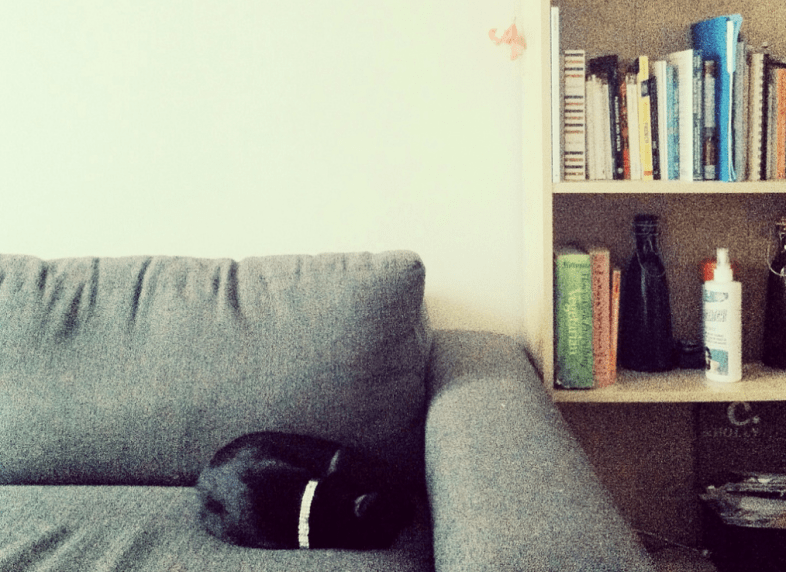 1. A coffeepot. Because duh.
2. Adequate cleaning supplies. By this I mean a broom, a mop and bucket, a multi-purpose cleaning spray (I like Method's Lavender), toilet bowl cleaner and a brush, something to dust with and a bottle of Mr. Clean and/or Murphy's Oil Soap for wood floors. Use these often.
3. Supplies for overnight guests. Keep extra pillows, blankets and clean towels, as well as toothbrushes, for anyone who might crash overnight.
4. Good quality towels. They're soooo worth it.
5. Candles – nice ones. Make your home feel more inviting with candles. Voluspa makes wonderful, not-incredibly-expensive options. I even like Scentsy! Sorry for making fun of your Scentsys, Mom.
6. One or two items that remind you of your childhood. Maybe it's a beloved book, or your tattered teddy bear. They don't need to be kept out in the open, but having them around is comforting.
7. A few nicely-framed photos of people you love. Please, no more collage-style photo groupings on the wall. This isn't college. Go to Home Goods, find a few nice frames for $10 and under, and grow up.
8. Adequate cookware. Maybe it's your parents' old stuff, but if you've got the basics, you're golden.
9. Décor that looks like you. Your home should be a place you want to be, and it should reflect you and your tastes.
10. Books. Please, if you do one thing for me, at least have a handful of books in your home. Coffee table books are OK too.
11. Real groceries. LOL. I'm still working on this one. The whole "single girl with nothing in her fridge but cheese and champagne" trope is true where I'm concerned. But one day soon I'll be a real person who has actual groceries ready and waiting to be made into a meal. Maybe.
12. Nice bedding. If you, like me, often work from your bed, it should be a paradise. Spend a little extra for high thread count sheets (easily acquired at Overstock or Home Goods) and you'll thank me.
13. Dishes that match.
14. Champagne glasses! Because of course you need these. You can thrift barware so easily.
15. Basic tools. A hammer, some nails, a tape measure and a flashlight would be a good place to start. A needle and thread count as tools too.
16. A real quality mattress and mattress cover. No more sleeping on hand-me-down beds. Buy one. It sucks to spend the money, but it's worth it. Your bed should be your sanctuary! It's where everything good happens.
17. First Aid supplies. You never know when you'll need them.
18. Things to heal you when you're sick. Trust me, there's nothing worse than coming down with an awful cold overnight and waking up to find you've got no cough syrup or Tylenol in the house. If you can't beg a friend to grab you some, your sick ass will have to go to Walgreen's. It's better to have these things on hand just in case.
19. A piece of art. That someone made. Someone you know, maybe. Real art, and not just a poster or a cheap print from your college days. There's no room for posters in an adult house. I've purchased several pieces from my artist friends or paid for the supplies they use to create custom pieces. It's so much cooler when the art on the wall was made by someone you know.
20. Velvet hangers. Or at least hangers that match. Am I the only one who hates a closet full of random hangers? Probably. I recently hung my entire closet on black velvet hangers (pretty cheap at Marshall's and/or Home Goods) and I have SO MUCH more space, plus nothing falls off or slips onto the floor. It looks great. It's so zen in my closet now.
21. A basic "bar." If you entertain relatively frequently, having the "basics" of a bar will come in very, very handy.
22. A piece of art/furniture/knickknacks that makes you happy every time you look at it.
23. Storage that looks chic, not like the Rubbermaid aisle at Target. Keep pretty bowls to hold your jewelry. Have a place to keep mail organized. Organize your bathroom – I like old candle jars to hold my makeup brushes. Store your curling irons in a pretty basket. You can keep all your "stuff" out in the open if you do it prettily.
24. Emergency supplies: cheap candles, matches, batteries, a flashlight. What if your power goes out for a day or two? It happened to me once and I had to light my way with tea lights because I didn't want to waste my phone battery using the built-in flashlight. Not prepared!
25. A spare box of tampons. Nothing is worse than when you get a surprise period a few days early and have no supplies. NOTHING.
26. A flattering full-length mirror. Whatever – a skinny mirror always boosts my confidence before I head out the door!
27. A lint-roller. I don't know WHY I never have one of these in my home, even now that I live in a pet-free place. I am still finding cat hair on the majority of my clothes. Some day…