Every girl has a Clinique story. For some, it was their entry-level makeup. For others, it was the brand of skincare they coveted, or the yellow bottle of moisturizer their mom used for years and still uses. Maybe it's the smell of Happy perfume, or the gift with purchase you'd find at your grandma's and steal the lipsticks from.
When I was ready to wear makeup, my mom didn't allow me to fumble around with drugstore cosmetics and go out into the world with an orange foundation line and wonky blush. She took me right to the local Clinique counter and bought me the basics: good skincare, a small bottle of foundation and powder, simple mascara and some lip gloss. I thank her for this mentally every day. (And I curse her, because she started me on department store makeup and I can't ever go back. Spoiled!)
I forgot about Clinique for awhile. I "grew out of it," so to say. But once I started working a 9-5 job and had less time to mess with my face, I realized that my old high school favorite was the perfect brand with which to get a pretty, polished "five minute" face. The products always deliver, the colors are great and varied and the price point is definitely doable.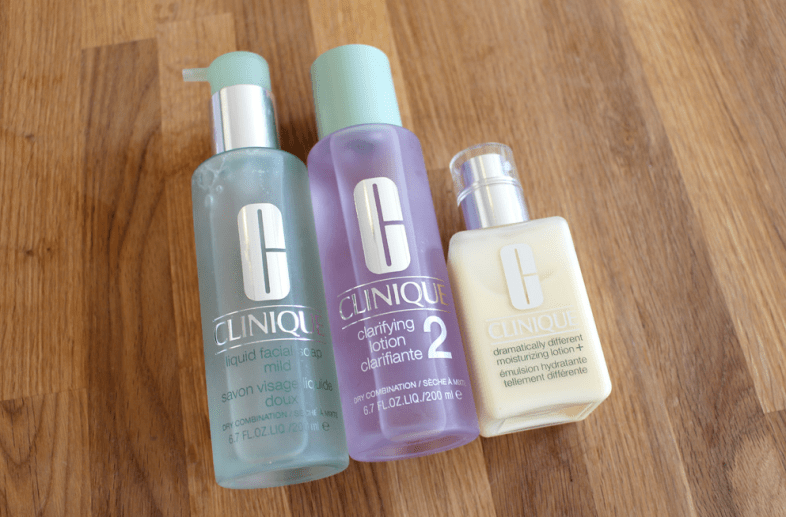 The three-step skincare system is still one of Clinque's bestsellers. I am really into the soap because they've upgraded from the old bar of my youth to an easy pump system. It removes my makeup quickly but doesn't feel drying. I use the clarifying lotion (read: toner) in the morning in lieu of washing my face. If you want simple, effective skincare, this is still an excellent routine to start with.
I am OBSESSED with the Moisture Surge CC Cream. It's so lightweight and easy to blend, and if you need more coverage (like me), it layers very well with foundation. It comes in compact and bottle form, depending on your preference. I didn't think I'd enjoy a compact, but the sponge applicator is more functional than I thought it would be. Just a few swipes over my problem areas and I'm done – everything looks a little more even and brighter.
I always stress the importance of groomed brows. However, I recommend newbies stay away from brow pencils, which can be hard to use. (I don't ever use one and I've been filling in my brows for almost ten years.) Instant Lift for brows is like a crayon you can easily "draw" your brows on with, and on the other end they've included a highlight you can add under your arch to create the illusion of even more arched brows. Grooming and tinting your brows is a really easy way to look polished instantly.
I depend on bronzer to look alive in the morning; I sweep it on my temples, cheekbones and below my chin in a "3" shape for a tiny bit of definition. Clinique makes a good, basic bronzer that isn't too orange, too shimmery or too brown and muddy.
My FAVORITE Clinique product is the Chubby Sticks. I LOVE them. I hoard them and I give them often as gifts, because they really do suit everyone. They're so easy to use and the colors are beautiful; you can do a sheer pink, a J. Lo nude or an easy, pigmented red. The world is yours. Mightiest Maraschino is a wonderful "starter red" for those of you who'd like to wear red lips but don't feel confident enough to do a matte lip right away. It's not fully opaque so a bit of your natural lip color can still shine through.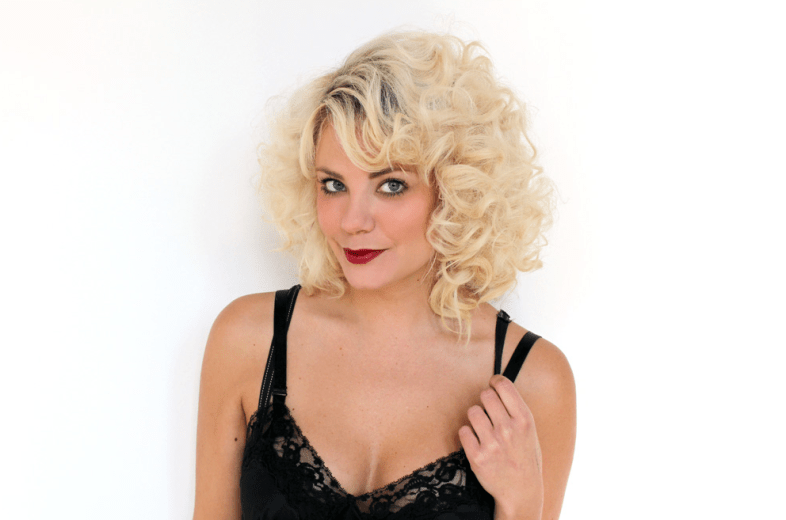 That's all I need to create my five-minute face. It's so easy and definitely the best way to greet the workweek. Simple and pretty – what could be better than that?
Share your Clinique stories below. I'd love to read them!

Pics by Emily Ruf. All products courtesy Clinique.