Every girl has an item in her closet that always makes her feel fantastic. Once you slip it on, whatever it may be, you feel like the best, most complete version of yourself. Looking into your closet is like looking into your SOUL. So I asked a few of my friends for the piece they feel most like themselves in.
"Obviously this is me. I bought this ridiculous teal dress at the American Apparel factory store and I've managed to wear it to more occasions than I thought. It's slit high up the leg and low-cut, which I like, and the metallic color makes me feel like a movie star. I'm a huge fan of buying silly dresses like this just to have on hand for whenever I need a boost."
– Me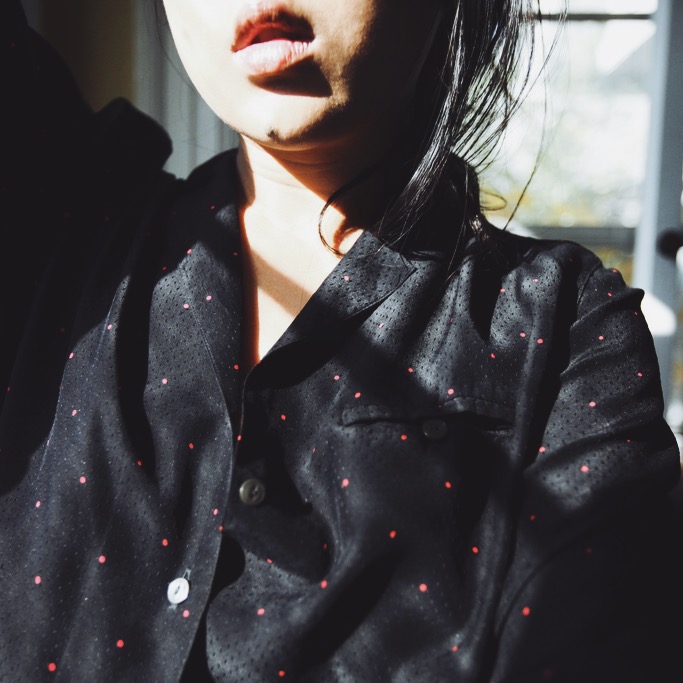 "I found this vintage silk Christian Dior blouse 4 years ago in Milwaukee while visiting friends. I took this photo almost immediately after bought it. Since then, I've had some crazy fun nights wearing it – I like to call it my lucky shirt. It's not too flashy but it's still unique, which reflects who I am. I usually wear it when I want to feel confident."
– Amy

"I bought this dress at a Vegas Savers for 12$. I'm not a huge fan of thrifting or second hand clothes but the Savers stores in Vegas are pure gold. Cast off cocktail waitress outfits, crazy Hawaiian shirts, silk, beads, it's all bonkers. I picked up this dress and tried it on. It fit like it was custom made and I immediately knew it was going to be a keeper. It's my perfect dress, it makes me feel sexy and adorable. It's chic enough for a serious date and cute enough to wear around grandma. That's kind of what I'm all about and it's embodied in this seemingly simple little black dress."
– Lottie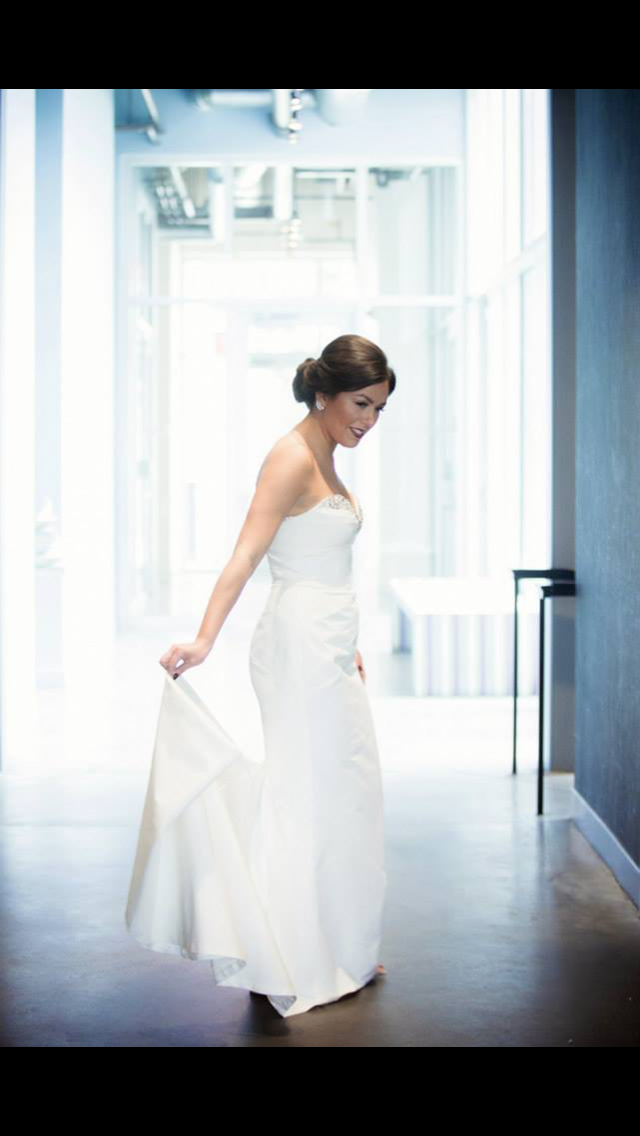 This is the best dress that I've ever worn. OBVIOUSLY, it is quite predictable to pick your own wedding gown as your favorite dress, but it truly is the most glamorous dress that I've ever worn. Our wedding is a nod to Art Deco-starting with the engagement ring that my husband picked out for me. It is real a 1920s platinum bezel-set hand-engraved piece of art. I love everything about Art Deco, but knew that I wanted a modern dress with a hint of the past. I found my gown at Nordstrom and totally had the crying "this is the one" moment in front of 3 of my closest gal pals. If you look closely, you can see all of the bias-cut chevron strips at the waist, which I felt mimicked the beautiful skyscrapers of the time—the angular lines in Fritz Lang's Metropolis were the first thing that came to mind. I also loved that it hugged my curves in all of the right places—very important for this Latina body type. I paired the dress with a Cathedral length veil, because I wanted to add a little more drama to the entire look. Paired with dark nails and lips to channel the silver screen goddesses of the time, I was happy with the overall head-to-toe look.
– Maritza
This is me at a music festival this weekend, Moon Block Party. My favorite article of clothing is my jean jacket. I got it at my friend's garage sale for $5. I had been looking for a replacement jean jacket because I set my old one down at a party at the Roosevelt Hotel, and someone STOLE it. I was pretty sad about it. The original one was dark wash and fitted. I found it in the children's department at a thrift store, and it was perfect. Anyway, my new one is American Rag and I added buttons that my friend Amber makes. Her Instagram is @thunderpuss and her art is amazing. I get a lot of compliments on them. I also have a King Tuff patch that I ironed on with a hair flat iron because I don't own an actual iron. This jacket is my favorite because I can wear it with anything, and it's like an instant shell. I feel protected wearing it. Also I can put my hands in the pockets, which I couldn't do with the other one. I'm always glad to have it when I get cold.
– Ali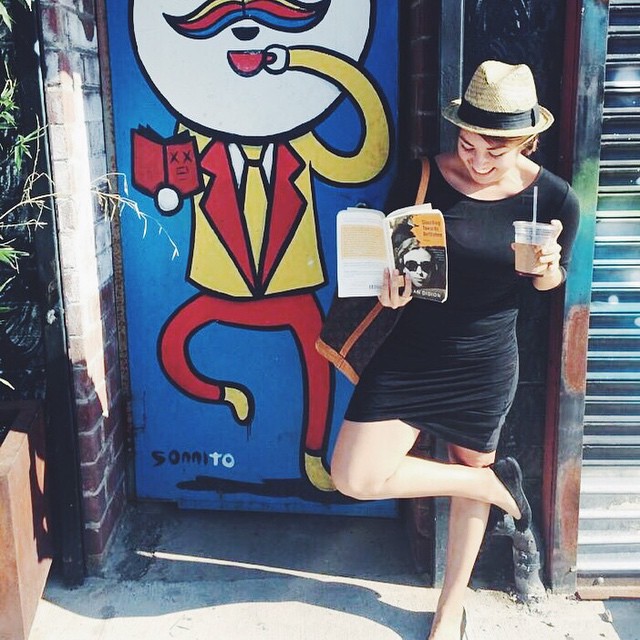 I found this H&M dress for $25 a few weeks ago and loved it so instantly I had to buy it in the other colors it came in, too. I gravitate to black most of all because it's easy, and I can pair it with boots or flats and can literally be out the door in five minutes. It's super comfy and jersey, but flatters instead of pointing out problem spots – and it's seen me through warm and cold temperatures. It's a low-maintenance LBD, and a firmly believe that every woman should have one of those in her arsenal.
– Ella
My favorite thing to wear (and I wear it all the time) is this pink vintage Jessica McClintock for Gunne Sax dress. My boyfriend bought it for me from this little store in Atlanta, while we were riding bikes along the Beltline on a really beautiful August evening. We stopped in ATL on our way from Maryland to Mississippi on a road trip, and every time I wear the dress I have all those great memories, but most of all- it's a gorgeous dress and it fits me like a glove. I was meant to own it. It makes me feel pretty and happy.
 – Rachel
See this is my problem with my leather leggings: I don't have one.They give an otherwise basic outfit three extra doses of sass. The first time I wore them my inner Midwesterner came out and I was like, "THIS IS PROBABLY A BIT MUCH, RIGHT? YEAH TOTALLY, IMMA GO CHANGE," but now I practically wear them everywhere (work and Sunday brunch included.)
– Liz
I buy so many beautiful, colorful dresses, and always seem to end up leaving my house in black. It is just what makes me feel comfortable and confident. I have started investing in more black dresses with interesting fabrics or details (like this off the shoulder one) so I don't look like I'm repeating the same outfit over and over again.
– Maggie
After mulling it over for an absurdly large amount of time, I concluded that the outfit that feels most like me is the absence of any outfit at all. I've slept naked for ten years, and used to make a living dancing without clothes on. The only outfit I wore some days was the one for the time between being naked all day at home and driving to work where I performed my job in various stages of undress. Nakedness is my default. This is me.
– Britta
I am not a stylish person but I do really like to wear fun blazers with jeans or black skinny pants because it makes me feel very productive. I was recently inspired by the mom no one likes on Nashville to add another to my collection.
– Chrissy
I bought this at [a secondhand store] for $4 in 2008 and it makes me feel elegant and sensual like an old Hollywood film star daytime lounging. It's ripped to shreds but I still wear it. It's one sentimental thing I've allowed myself to keep and it reminds me of so many moments and people I cared for. I won't ever let it go.

– Brittani