Marge Sherwood — The Talented Mr. Ripley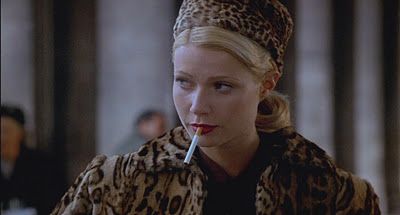 Even as a stunning, wealthy debutante, we don't envy Marge Sherwood. The blonde babe gets deceived, dumped and experiences the death of her one true love. Not exactly a fairytale. Yet her hardships were basically lost on me as I was consistently distracted by the ALL.THE.AWARDS. that is her wardrobe. Our girl impresses fashion gods everywhere with her effortlessly chic look of embroidered, A-line skirts, tied-up blouses, Hermes scarves, and strappy sandals as she pounces around Italy. A wardrobe so Pinterest-board worthy, it was destined to be replicated by women everywhere. Ben fatto, mi cara!
Wednesday Addams — The Addams Family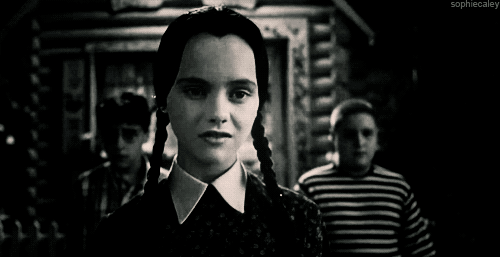 Attention needs to be paid to our dear, goth-chic princess, Wednesday Addams. Not only is she to praise for the origin and acceptance of resting bitch face, (applause) she respectfully honors the deceased by deadpanning around in an overload of onyx. Her funeral-chic ensemble sets a power play statement that says "back off," so she doesn't have to. Leave it to our sardonic millennial to rebel against the fashion ideology that braids belong to babies. #Shutsitdown
Mia Wallace — Pulp Fiction
Trends come and go but the classic white button down reigns superior across the modern woman's closet due in large part to our drugged out dancing queen, Mia Wallace. Mia charms the pants off ladies and gents alike in a white-collared blouse with leather pants, a waning cigarette, and enough eff-off vibes to make Wednesday Addams wince. Not to mention, her impeccable bang game will make you rethink every decision you ever made, hair related or otherwise. Mia is a character so deliciously edgy that the Grand Canyon should be renamed after her.
Bonnie Parker — Bonnie and Clyde
If Bonnie Parker didn't rob banks for a living, she could certainly find success as a fashion designer. Her knee-length, tweed-tastic pencil skirts are flawlessly coupled with simple blouses and silk printed scarves that evoke a classic '30s glamour and elegance. Bonnie refines the look with a plaid trench coat and her signature beret. My fashion heart skips so many beats just thinking about it.
Gaby — The Man From U.N.C.L.E.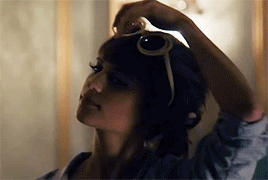 Lets be honest, Gaby with her rich, bold stripes and flirty printed box-shaped silhouettes stole the goddamn show. She's an accessory architect. She builds an outfit like an architect builds a building and Ends. All. Fashion. Games. Our girl pairs glossy mid-heel loafers, with sophisticated mini handbags, flashy round, alabaster sunnies, feminine floppy hats, and chic-de-la-chic earrings. If she didn't make you feel all kinds of frenzied fashion delight, then maybe gardening is your thing? I don't know. I don't know your life.
Betty Draper — Mad Men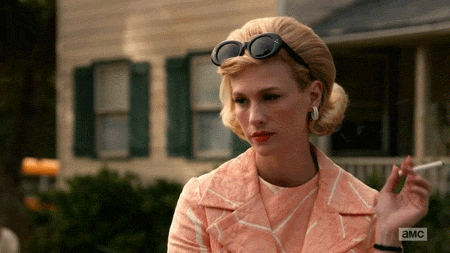 Mama lion is perfectly polished to a degree of exhaustion. From stepford-wife-curls and a Jessica Rabbit red lip, to her A-line uniform, and enough jewels to bedazzle everyday of the year, Betty dolls up for the role that is expected of her. But naturally, her finest accessory is her no bullshit manner that reveals itself through her grim facial expressions and cynical commentary. Betty has her priorities in order and we admire from a distance. Bless the best.
Margot Tenenbaum — The Royal Tenenbaums
Margot speaks to all women because she is epitome of the angsty teenager who will always have a home inside of us. This home is an array of doodads including aggressive black eyeliner, preppy polos, cigarettes, oversized coats, and casual loafers, laced with a hit of emo and a dash of charm. Also, this is Gwyneth's second appearance on the list, which breeds a well-deserved Gwen-induced-swoon, forever. I didn't make the rules.
Rachel Greene — Friends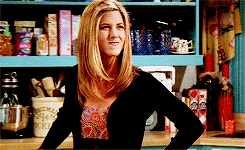 There is no question about it. Our '90s fashion goddess, Rachel Green, slayed every last trend that sauntered passed her. Plaid skirts, high-waisted denim, low-waisted denim, overalls and crop tops, and of course the casual braless t-shirt phase. We kept her in our heads and hearts when we were shopping for ourselves because Rachel's outfits were inspirational yet feasible, as opposed to notorious meat dresses via Lady Gaga. But fashion wasn't Rachel's only field of expertise. One could argue Rachel's hairstyle was the true star of the show. Bobbed, long, braided, straightened; those tresses had enough charisma to lure a certain Brad Pitt and then a Justin Theroux. Save some for the rest of us, Green.
Marcia Brady — The Brady Bunch
Though the size and shape of my forehead doesn't welcome a praised Marcia Brady centered-hair part, I imitate her sophisticated schoolgirl attire when the weather permits it. Our seventies golden girl is known for marrying bright ribbed knits or turtlenecks with A-line minis and wallpaper patterned mini dresses with modest flats. She never left home without her sun-kissed tan and award-winning pair of walkers. Marcia, Marcia, Marcia. I get it.
Marla Singer — Fight Club
Sure, Marla may not be your typical Sunday brunch Target shopper, or Bobbi Brown cosmetics hoarding heroine. And she might steal clothing from the Laundromat, but the woman knows how to make the most of her look. With the budget of a pack of gum, our leading lady pulls it together in a black fur coat, strappy dresses, tortoiseshell sunglasses, platform heels, a squashed black hat, After Sex Hair and an everlasting cigarette that may as well stand as her sidekick. Not too shabby, Marla. Well, a little shabby, but it works.