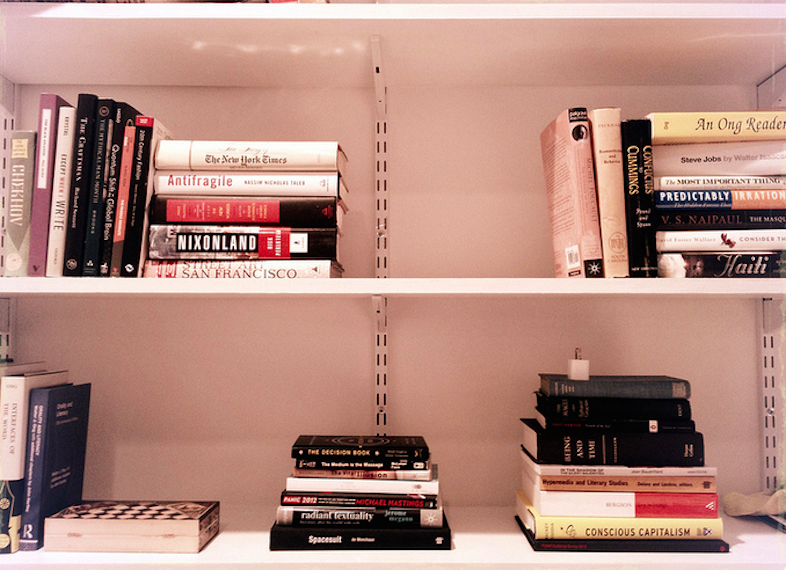 I am a physical book kind of girl.
I love the feel of the pages, the aesthetic of the inside cover panel and the way I can gauge my progress simply by glancing at the bookmark. I can't read a book without a highlighter & page flags close by. Every book I've ever read is a well-loved, dog-eared, color-coded wonderland.
I'm sharing this with you because I want to help you understand my love affair with books. You see, this is a relatively new thing for me….
I always thought that by this age, a man would have my heart.
However, as a traveling sorority consultant working primarily with 18-22 year old women, run-ins with the male species are hard to come by. So, I've been spending most of my free time cozying up with books, and I've come to realize that they make great companions. They make me less stressed, more interesting, and I can count on them to be there whenever I feel lonely. Plus, as soon as I'm done with one, there is always another waiting in the wings!
I enjoy reading for the same reason as anyone else—an escape. I love the way a book allows me to insert myself into somebody else's story. It allows me to spend time with fictional characters in faraway lands while real life waits in the parking lot.
One of my favorite things about reading is that the stories stay with me after the covers are closed. While I'm no longer immersed in the pages and the names of the characters inevitably escape me, the lessons learned from each book I read follow me wherever I go. If ever I need to be reminded of a sentiment, I refer back to my well-marked pages.
In a way, I feel like the books I've read are like my diaries.
If you were to gather them all, flip through and read every passage I've ever highlighted, you would really understand me; the way I think, what I believe in, what I wish I were like, what I wish I had written first. There is something so beautifully vulnerable about that.
You can learn a lot about a person by noticing their highlights and paying attention to the things they appear to love.
But there is still so much to wonder. Did they love it because it made them laugh? Cry? Think? Dream? Smile? Did it bring them back to a memory? Did it make their heart pound?
I feel naked when I think of another person reading the books I've read, wondering about all my markings. Do they make me seem more predictable or more complex?
They would come across coffee specks on the outside margins and wonder if I read that chapter in my kitchen or somewhere else. Maybe they would picture me at a hole-in-the-wall bakery or on the neighbors' back porch.
They would come across mascara-stained pages and wonder which line was the one that made me feel. Maybe they wouldn't need to wonder because they felt it, too.
I think that's why I am so infatuated with the idea of books that once belonged to strangers. Someday soon I want to raid a used book store and buy the most tattered and marked-up books I can find. I want to buy books with inscriptions inside the front cover and notes in the margins. They feed my fascination with the way books connect people.
I'm in love with the way a book can tell the story written on its pages as well as the story of its reader.
Unfortunately, books are heavy. So are my suitcases.
So for now I leave my physical books in places I've been, to tell pieces of my story through words written by authors who don't even know I exist. I'm anxiously awaiting the day I'll have a library of my own filled with shabby, highlighted pages that will keep me alive long after I'm gone.