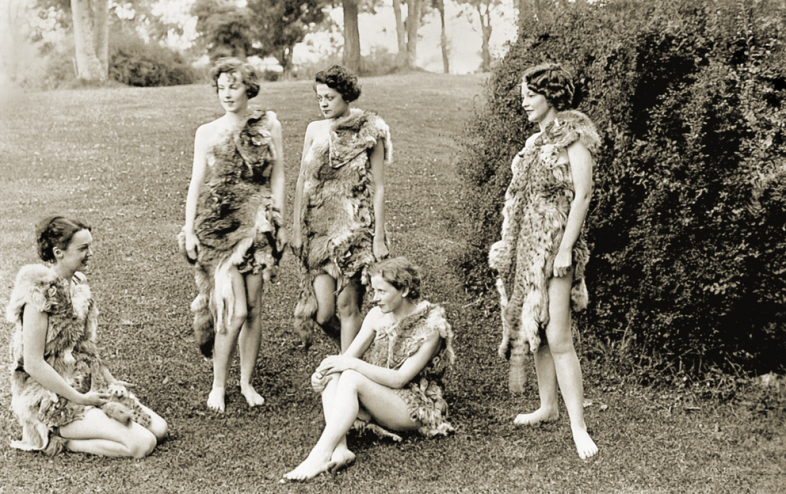 The parties, the people, the memories- it's an important night, there's no debating that. If you haven't already chosen your outfit over the past week and/or month, you may be experiencing a strange onset of pre-party anxiety / peer pressure, but do not submit to this vortex of delusion. It is never too late to throw something together. Even if you plan on spending New Year's Eve babysitting in a stranger's empty house, wearing the right adornments can be pivotal to your mood during the countdown. You'll probably want to bring in 2015 with the right frequency of you. Here are a few options and considerations:
GOLD
Whether it's classic or white gold, wearing this precious, historically precious metal can elevate your mindset and experience. It might be tempting to buy cheap jewelry because the design is interesting or really hawt right now, but nothing beats the heaviness of a 18K accent. It's kingly, it's bold. Treat yourself with your holiday gift money and invest in a piece that really strikes you– or dig up that old family heirloom you forgot about until now. What are you saving it for? / protecting it from? For all you know, a crack addict might break into your bedroom and sell everything to a pawn shop. Better live while you can! Just don't get drunk and flush your gold down a dirty nightclub toilet.
GLITTER
Whether you're five years old or working at McDonalds or signing multi-million dollar contracts with major record labels, glitter is the way to go. There's no easier way to force people's eyeballs into acknowledging your physical form. It's like a mini epileptic seizure every time you shift your body before the light. Why not take it to the next-level and get a full-body suit made entirely out of glitter? By turning yourself in a vessel for reflective surfaces, you command a certain level of stimulation. Be prepared to do a lot conversing and entertaining or else your dress will outshine you and consume your soul.
LACE
On the other hand there's always lace. The appropriateness of wearing lace in public is always subconsciously controversial and that's largely a part of its appeal. There was a bit of an influx of lace wearers between 2010-2012 so now it's more just a matter of doing it right. A subtle layer of lace can be perfectly provocative, especially when countered/paired with something more bold and regal. Too much lace can kill the vibes completely, unless you're going for that kind of night-crawling-vixen appeal. There's always the common tendency to lean towards black, but why not try something a little more invisible, a little more mysterious, a little more nude? Thoughts?
SILK
Silk kind of has the appeal of glitter and lace combined because it's both super reflective and reminiscent of lingerie. Also very historical and feels great on the skin. People don't wear enough silk these days but there's no good reason for it. Want to feel like you getting kissed by a million worms? It's exquisite!
CASHMERE
Winter is cold! Cashmere is warm. It also doesn't smell, no matter how much BO you pour into it. This is a nice option for the more practical, sultry types. It might not be the best thing for rubbing up on a bunch of strangers in a tight sweaty crowd at a concert, but for the right environment it is a definite win. Wearing this precious material can elevate a person's mood even if they just rolled out of a pile of garbage and/or haven't ingested vitamin B12 for three weeks.
NYLON SPANDEX
Touchy subject. Spandex sometimes looks and feels incredibly cheap. Other times it's totally hot and teeth-sinkingly delicious. Nylon is warm and totally flammable. This is definitely a good option if you are hanging out with furry animals because the hair doesn't cling to such a slick nonporous synthetic fabric. Perfect for hanging out at bear-frequenting gay bars.
FUR / LEATHER
Speaking of fur, you could just wear fur. Logically it makes the most sense in the winter. Our ancestors knew this best, but what's great about fur TODAY is that there's tons of it sitting around thrift stores collecting dust. Mink, rabbit, fox, dog: it's precious stuff that shouldn't go to waste. Unless your friends are vegans, everyone will want to stroke you. Hyde without fur is slim and protective. If you think it looks too bougie or attention-seeking, you could always try wearing one or two small accent pieces. Tanya Tagaq sported beautiful furs on her wrists at the Polaris music awards which were very simple and complementary to her sleek skin-tight red dress. In cold climates a lot of people are just wearing furs on the edges of their hoods- in probably the least practical spot of a winter jacket. Obviously creativity is well overdue and there is no better time to embrace this than at the welcoming of a new year.
NAKEDNESS
Without a doubt nakedness is the best way to ensure a memorable New Year's Eve. It takes a pretty confident person too complete the look. Whether you're taking the sexy approach, comical approach, animalistic, or rebellious, strutting your junk in the nude proves that the fashion industry is missing one key element. You can't put a price tag on this kind of glamour. Whether you're having a low-key dinner with friends, or feeling bored at a party that should be more fun than it actually is, taking off your clothes is almost never a bad idea on this very special night- the last night of 2014 / the first morning of 2015.
Whatever you choose to do with your look, remember that virtually everything is subjective and you are an autonomous human being. Happy NYE!