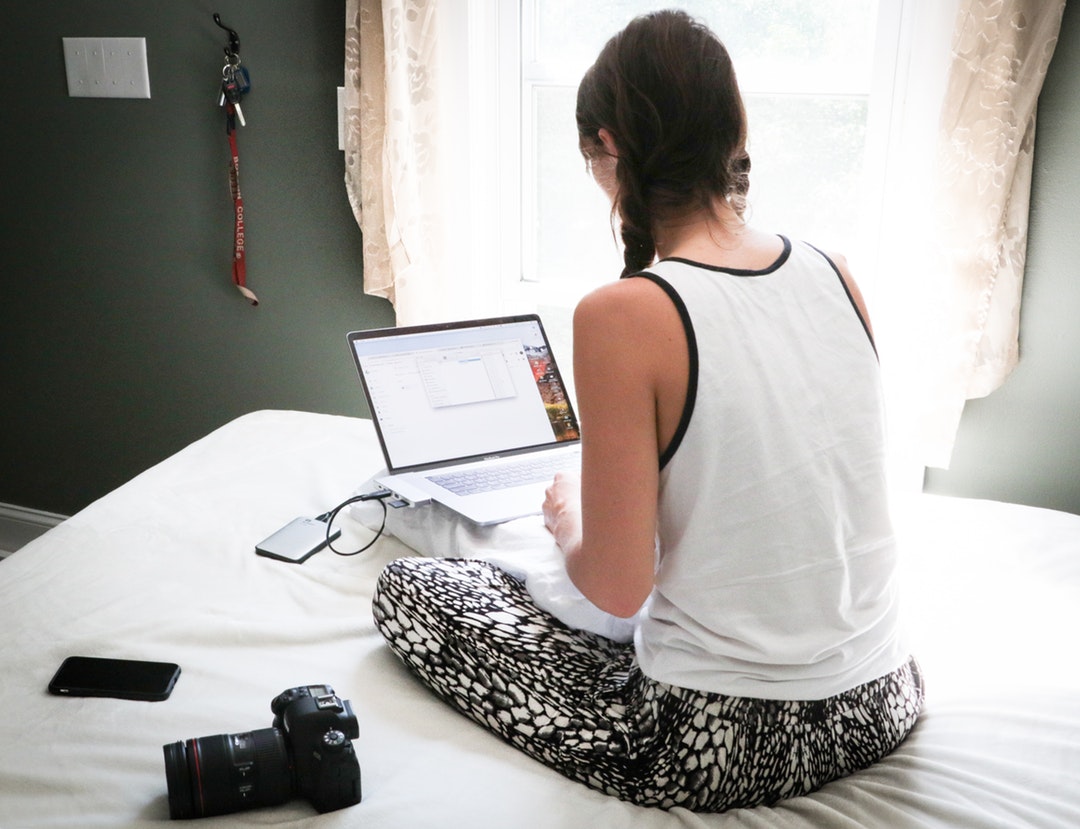 Explaining what I do, as an online-based professional, has always been a bit of a brain-fuck. As a millennial– even though this term didn't exist when I was starting out– pinpointing where I fit in, period, requires some finesse. For some reason, the world can't seem to grasp "laptop badass" as a formal job title. Boo. Lucky for me, in a society brimming with technology, social platforms and digital connection, this creates plenty of room for career anarchy.
Over the past five years (and exactly half of my twenties), I've been everything from freelancer to digital agency, coach to consultant. Labels are becoming less and less important as industries transform and disrupt. Thank god. Yesterday I shared a taxi boat with a couple of German tourists (I currently live on an island in the Caribbean) and they asked what I do. Shooting back with a half-assed "stuff on my computer," to my surprise, they nodded enthusiastically with an "Awesome, you're a digital nomad."
Six months ago I left my home base in sunshiny Florida, USA to become a full-time traveler. I know what you're thinking, and this isn't some clickbait article on how to get paid to travel or become an Instagram influencer. I sure as hell can't (or rather, have no interest to) teach you how to get sponsored, make $100k in six months or master the 4-hour work week. I'm here to give you some super practical insight on what you might think is just a bullshit or make-believe lifestyle.
Whether the term excites you or makes you cringe, it's a real thing. And the good news is, there are unlimited ways to do it, sans gimmicks. Simply put, a digital nomad is someone who is able to perform work from their laptop, from anywhere in the world. See? Not so elusive. Technically I've fallen into this category for years, although until now, my version of travel extended only to nearby co-work spaces and coffee shops. For those of you who think digital professions are mysterious or abstract, they're not. They're modern, accessible and more common than ever.
First I'll debunk the idea that working for yo'self is glamorous. Because in a lot of ways, it sucks.
1. You have to pay money to rent desk space, be cool with vagabond-ing it up in cafés (and be prepared for blender noises, the retiree who won't stop talking to you and the fact that you can never get comfortable in those cold metal chairs) or be disciplined enough to work from home– where it becomes the ultimate challenge to put on pants (trust me, I would know).
2. You've gotta be real clear on what it is that you do, and be committed to making it work. Finding your own projects ain't easy, and there's no consistency of having a regular paycheck. Some months you'll be ballin', while other months you'll struggle to feed yourself. That's a risk you must be willing to take.
3. You're confined to a computer screen. This, for introverts like me, is a mega perk, and a huge reason I chose this lifestyle. Working digitally means you're literally in front of your laptop for the entire day, so get comfy in isolation, friends.
Oh, and reality check: it's actually work. Being a digital nomad is a full-time job. So, whether you're sitting in a hammock in Costa Rica or working from a villa in Greece, you're not actually on vacation.
On the bright side, there are some pretty neat-o (and, as promised, non-douchey) ways to become a digital nomad.
Freelancer (Upwork)
Work for a startup company (Angellist)
Photography
Videography
Web design
Graphic design (Creative Market)
Web development
Copywriting/writing/editing
Social media management
Digital marketing agency
Virtual assistant
Project management
English teacher/tutor
Online shop owner (Etsy, Shopify)
Infopreneur (selling how-to courses and digital products)
Life, spiritual or business coach
Marketing, brand or business consultant
Then, there's the world of influencers (bloggers, content creators, social media rockstars), online entrepreneurs (a.k.a. starting your own brand or business), inventing some sort of side hustle or any dang combination of the above. Of course, not digital but worth a mention are remote positions like traveling interior designer or touring yoga/fitness instructor.
Last on the list, and my favorite profession, is to make that shit up. If you don't feel like you fit into a box, then don't stuff yourself into one. Go crazy and dub yourself with your own title like "Chief Unicorn Officer" or "Digital Sorceress." Carve out a space for yourself in the digital world. As long as you're making money and living your best damn life possible, get as creative as your soul desires.
Curious about how to make it all happen? Wanna add some ideas to the list? Drop your comment like it's hot.