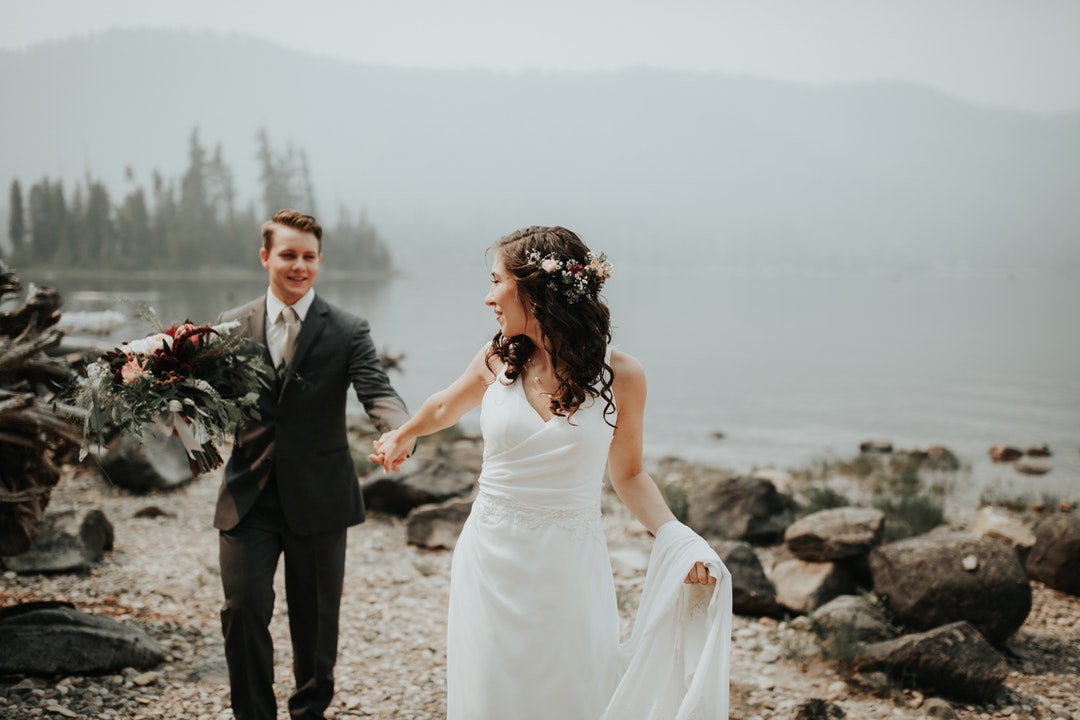 Planning a wedding is a big ordeal. It's nonstop stress for several months as you scramble to find the perfect dress, venue and caterer, while you also argue with everyone about the guest list and why mom's entire country club group doesn't need to attend. During all the chaos, it's easy to become completely overwhelmed and make mistakes from time to time. You're human. It's ok.
Mistakes during wedding planning are inevitable, but you will make fewer mistakes if you realize that first off that they will happen. Second, know what some of the most common wedding planning mistakes are so you can watch out for them from the get-go.
Here are eight common mistakes literally all brides are guilty of making while planning their wedding.
Wanting to Make Everyone Happy 
One of the most stressful parts of wedding planning is trying to keep everyone happy. You've seen plenty of rom-coms with this very premise and may already know from personal experience that this isn't impossible – what you've heard is true. So, the sooner you accept this and understand that this is your night, the better. Stick to what you want, and don't lose sight of what your night means to you and your fiancé.
Trying to Be a Do-It-All
Whether you're a control freak or just love planning things, do not take on a wedding all by yourself because you're going to need help – or you may lose your mind. While it's a great idea to make your own invitations and maybe even your own table centerpieces – it can get out of hand quickly if you don't have help. If you want to save money and take on some DIY projects, ask your bridesmaids to help out, and make it a fun girl's night – or 4.
Just don't be too hard on yourself and remember to focus on what's most important.
Fretting Over a Missing Rhinestone
Things are going to go wrong – that's just a fact. Now whether this means your cake shows up with the wrong filling or your flowers are a little less vibrant than you thought they'd be – mishaps can range from minor to large. Let's hope less of the latter. If you do spot a flaw, stop, take a deep breath and think. How important is this flaw in the grand scheme of things? If it's something people may not even notice or remember in a month, let it go, and focus on other more important things, like why you're there.
Serving Wedding Talk for Breakfast, Lunch and Dinner
Ok. Just don't. If he's watching a football game, playing his video games or gorging on pizza – because let's be real, you can't, and it's just not fair – don't punish him with page-by-page excerpts from your bridal magazine or YouTube videos from bloggers. He will become irritated with you and lose interest in any wedding planning. If he has an interest in the cake and catering only, then let him weigh in on the things he wants to, but if flower talk to bothers him, let it be. Shoving everything down his throat all of the time will only do harm. Set aside a time every evening, then talk wedding.
Limiting Yourself to More Flowers  
Décor is a fun and exciting part of the planning process – a great opportunity to really display your relationship through centerpieces and themes. Choose something that reflects what you and your fiancé like. Don't limit yourself to florals only, especially if you're not a big flower person. Consider candle or lantern centerpieces or maybe potted plants. The options are endless.
Going over Budget, Then Broke
It's easy to get carried away and blow your budget. Once you start planning and see all of the different possibilities, that initial magic number you came up with before can suddenly seem less magic. Don't wander too far off from the beaten path because you'll end up in more debt than you can handle. Yes, this is your wedding day, but you can still smartly budget for the wedding of your dreams.
When you create your budget, make sure you remember these easy-to-forget things – taxes, gratuities, other fees, makeup and hair trials and transportation. If you've already factored everything in and still find yourself going over, make sacrifices. Trade in your second wedding cake for the extra party favors you want for your guests.
Planning before Finalizing Your (Mom's) Guest List
The guest list is your determining factor for pretty much your entire wedding – venue size, catering, cake, invitations, and RSVPs, etc. If you start to book your venue, choose your menu and get your invites out of the way before you have a finalized guest list, you'll likely run into issues that you'll have to rework to accommodate. This could also result in wasted money like nonrefundable deposits, filet mignon for thirty extra people you didn't plan for, etc. Secure your guest list first and foremost, then determine the rest of your wedding.
Freaking Out Because You and Susan Have the Same Gown
This only happens in grade school. If you're in grade school, please don't be getting married. If you aren't in grade school – stop yourself. Unless you're Kate Middleton and can afford to have a one-of-a-kind wedding gown made, you'll likely end up with the same gown as someone else. This isn't the end of the world. Make the gown you've chosen your own, and add accents to it, like an embellished train, embroidery or even a brooch. Voila. Now it's one-of-a-kind.
Wedding planning is not foolproof and is far from it. However, if you know and understand some of the most common wedding planning mistakes before you plan your own big day, they will be on your radar from the get-go and you're less likely to make those same mistakes yourself.