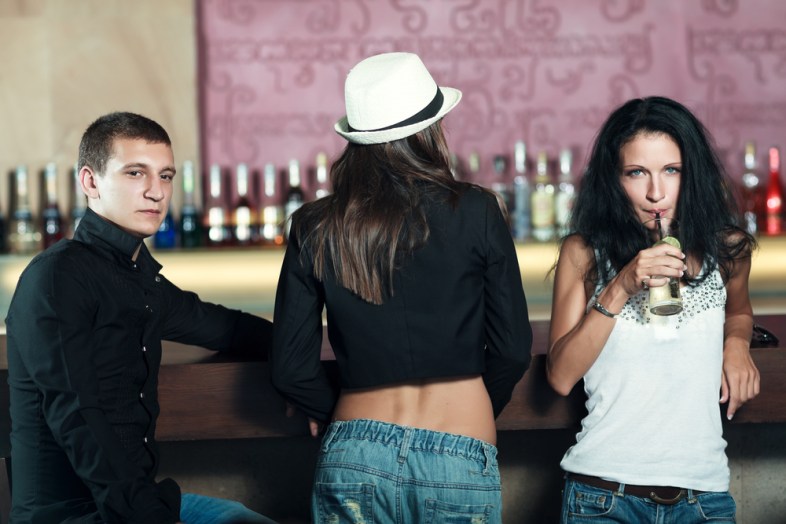 1. Awkward first date.
You can spot these two from a mile away. They met on PlentyOf-OK-Mat-inder. And at least one of them looks nothing like their photos. The awkwardness is palpable. Just looking at them can make you feel like you don't know what to do with your own hands. They are drinking to fill the silences between "So…do you have any siblings?" and "What do you do for fun?" If you're lucky you'll get a chance to eavesdrop for a while and feel better about your love life no matter what phase it's in. Anything beats a bad first date.
2. Frat boy from decades past.
Khaki shorts, pastel polo, boat shoes, Croakies, and an air of desperation. These dudes are bro-ing it up for the 14th year in a row. They met freshman year of college when they rushed Kappa Kappa Douche and they'll never let you forget it. Their undying love of Jagerbombs and shotgunning beers is the closest they've come to finding religion.
3. Grandpa.
This guy has been sitting in the same barstool since 1972. He drinks PBR without the slightest hint of irony and pounds straight shots of Bushmills. Mostly harmless, but if you get him talking politics you might want to start double-fisting because he won't stop until one of you is asleep.
4. Mr. or Ms. on the prowl.
These people are aggressively single. They will hit on any and every thing that walks into the bar. Their one mission in life is not to go home alone. They don't know how to take or hint or a hike. If you ever need a reason to pace yourself at the bar, let it be them! The only thing worse than being the aggressively single guy is going home with him.
5. The too-invested sports fan.
Dressed head to toe in their team's colors, they knos all the stats, latest gossip, and will shout-speak incessantly about the "glory days." Win or lose, these types are bound to spend the night not using their inside voices, so if you value your eardrums head to the other side of the bar.
6. Youths!
Clearly not old enough to be drinking, they will take a solid 20 minutes to decide what they want to drink and still end up with a vodka cranberry, amaretto sour, or a "umm…I don't know. What's good?" Sit at least one to two barstools away, as they always possess a high-risk puke factor.
7. Girls' night!
Usually celebrating a birthday or some pending nuptials, these ladies are on a mission. "Best. Night. Ever." or bust! On average, at least two of them won't make it to the next stop on the itinerary, and depending on the number of times "Shots" by LMFAO has been played, a few tears and sloppy falls are likely inevitable.
8. P.D. Aye get a room.
This could be two strangers, a couple who just started dating, or even the same couple from the awkward first date if they've had enough silences they had to fill with drinking. They will be doing the heaviest of petting and will help to serve as a reminder that PDAs are gross. No one wants to see your tongue, ever. Not even your dentist. You can only hope that someone startles them out of the lip lock or they finally start to chafe and head back to someone's home.
9. Someone with a baby.
Babysitter canceled or they have given up on their dreams of being "Parent of the Year" 2014. These people have convinced themselves that just because they are parents now doesn't mean the party has to stop! Two shots of whiskey and a cup of water to wash off the pacifier that just fell on the bar floor, please.
10. Normal people.
This consists solely of you and your friends. Good times, good drinks, and lots of laughs. But in all likelihood, you probably fall into some combination of the groups above, but come on—"We're not that bad!"