This is the first time in 28 years (even though I should give myself a pass when I wasn't old enough to read or write) that I knew Mother's Day would be celebrated on Sunday, May 10th without having to check a calendar or be told by my family members, friends, or colleagues. I know what you're thinking: Do you want us to give you a medal or something? Big deal.
The reason why it is such a big deal is that we couldn't escape Mother's Day advertising this year, even if we tried. Unless you were living in an underground bunker with Kimmy Schmidt, you had to notice the billboards overhead or the banner advertisements next to web articles you read or Google searches you made. A Mother's Day advertisement would inevitably appear if you turned your TV on, logged into YouTube, or scrolled your Facebook News Feed. If you listened to your car radio or streamed Pandora at work or in your home, you were constantly bombarded. You basically heard the announcer voice saying, "Sunday! Sunday! Sunday! It's Mother's Day on Sunday!" followed by whatever products were being pitched. When you opened your mailbox, all of the local grocery store circulars featuring Mother's Day specials fell at your feet. Then you checked your e-mail inbox and any store you placed an order with within the last year sent you promotional Mother's Day e-mails. It was unavoidable.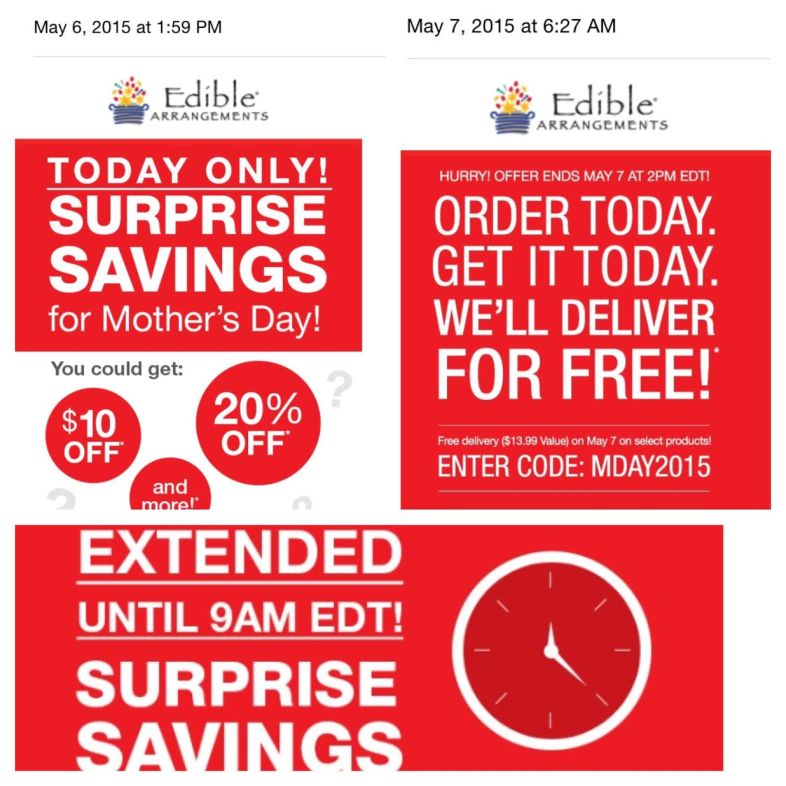 It also shows how important mothers are, albeit in a less traditional sense. There are 43.5 million mothers between the ages of 15 and 50 who have given birth to 95.8 million children, according to the United States Census Bureau. 3.9 million women between the ages of 15 and 50 have given birth within the last year. Talk about marketing and promotional opportunities for the 14,161 floral shops, 15,113 greeting-card publishers, 16,288 cosmetic, beauty supply, and perfume stores, and the 23,096 jewelry stores across the United States.
On one hand, we should be thanking these stores for advertising with such frequency since we knew exactly when Mother's Day took place this year and had ample time to buy mom a gift. On the other, as much as we love our mothers, we, or at least I couldn't wait for the day to come and go so I could hear and see something other than the "gifts that are perfect for mom" and "you know she deserves it" advertisements.
Most of the companies pushing products were somewhat respectful and did just enough to make you aware of what the company offered. Then there was Edible Arrangements, which basically acted like an ex that you ignore and hope will stop contacting you eventually, but just doesn't get the hint. In a span of five days, I received e-mails in the double digits from that company. And each day the offers made it seem as if that'd be the last opportunity for you to buy Edible Arrangements at a discount or with a guaranteed on time delivery. Sure, it's a good sales technique to create urgency. The only problem occurred when the next day came and the offers and pricing were even better than the previous one. This constant stream of e-mails continued leading up to Mother's Day and even on Mother's Day when you could still pick up or possibly even have the product delivered. I could've unsubscribed to the Edible Arrangements e-mail list, but eventually I wasn't even mad. I was impressed by the company's persistence. Just like that ex you eventually take back after they prove that they still want to be with you.
But I can't really blame Edible Arrangements' business strategy when it had to go up against the likes of the unrated Fifty Shades of Grey DVD release, which hit stores on the Friday leading up to Mother's Day. You know how much moms love their guilty pleasures…
The funniest Mother's Day advertisement I saw clearly didn't intend to be humorous, but gave me a good laugh. The grocery store Smart & Final highlighted "Celebrate Mom!" in its circular and then showed a picture of ground beef on top of spaghetti with "FRESH!" highlighted in yellow and $2.29 per lb. to the right. Really? The only thing worse than giving my Italian-American mom nothing for Mother's Day would be showing up with First Street Ground Beef so she could make me spaghetti, marinara sauce, and of course, the $2.29 per lb. beef.
The advertisements, even though possibly helpful for gift ideas to let your mother know you're thinking of her, cheapened and reduced the actual importance of mothers who should be praised and acknowledged more than just once a year with something other than a gift that a company is trying to unload on a spouse or child. The worst part is if a company doesn't advertise leading up to Mother's Day then they might as well be irrelevant since they're not keeping up with the competition and are missing out on a money-making opportunity.
At least Mother's Day is over and we should be safe from the advertising overload now. Aw-shucks, I just realized Memorial Day Weekend is in two weeks. So much for that thought…