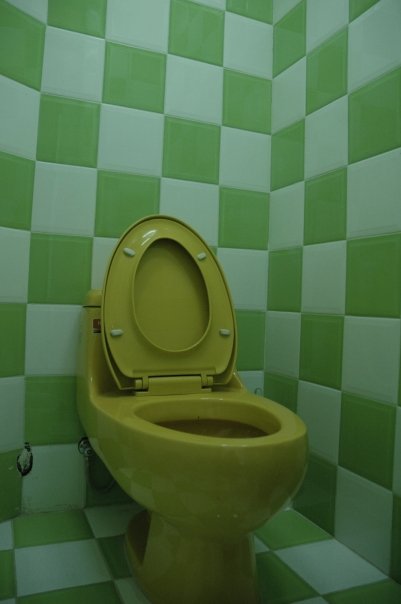 When you visit a friend's apartment or house for the first time and ask for a tour, the living room sparks a conversation about the exposed brick or any photos, instruments, or unique items on display, the stove and dishwasher are the talked about amenities in the kitchen, the bed is the centerpiece of the bedroom, and the bathroom gets an "It's over there" with a point in that direction. The only way a bathroom is getting shown off is if it was just remodeled. Otherwise, a bathroom is a place that you go, but don't talk about.
It wasn't until I searched for apartments in New York City that I understood the importance of the bathroom. Then again, seeing apartments in which you can't sit down on the toilet without your knees hitting the wall will do that to you.
1. It's where you start and finish each day. You wake up, use the toilet, wash your hands, take a shower, brush your teeth, style your hair, and are out the door. Before going to bed, you relieve yourself, wash your hands, brush your teeth, remove makeup or wash your face, apply any creams or moisturizers, and are then ready for bed. The average person will spend about 1.5 years of his or her lifetime in the bathroom.
2. It's the ultimate judgment zone. Anyone entering your home is probably going to use your bathroom at some point. If there are urine stains on the toilet seat, random stray hairs everywhere, toothpaste in the sink, brown marks surrounding the bowl, and no soap in the dispenser, your friends, family, and any guests visiting your home will think you're gross. And they'll be right.
3. It's also a judgment free zone. You don't have to worry about what you're wearing, how you look, and can take as much time reading the paper or doing anything else that you want in the bathroom as long as there's no one else waiting to use it after you.
4. It sets the tone for the rest of your home. Do you have candles, artwork, and matching towels on display or only old newspapers out and a few rolls of toilet paper sitting on the counter? This isn't the place to take any décor shortcuts.
5. It's where inspiration strikes. Get your best ideas in the shower? Enough said.
6. It offers solitude and serves as a great hiding spot. If you want to take a break from anyone or anything, this is the place to go. The majority of people know better than to bother someone using the bathroom. You're safe as long as the door is locked.
7. It's a good place to decompress. If you had a bad day or just want to disconnect from the world for a little while, there may be no better way than taking a long bath or hot shower.
8. Try not being able to use it… You don't realize the importance of your bathroom until you really need to use it and someone else is already in there or there's a temporary plumbing issue.