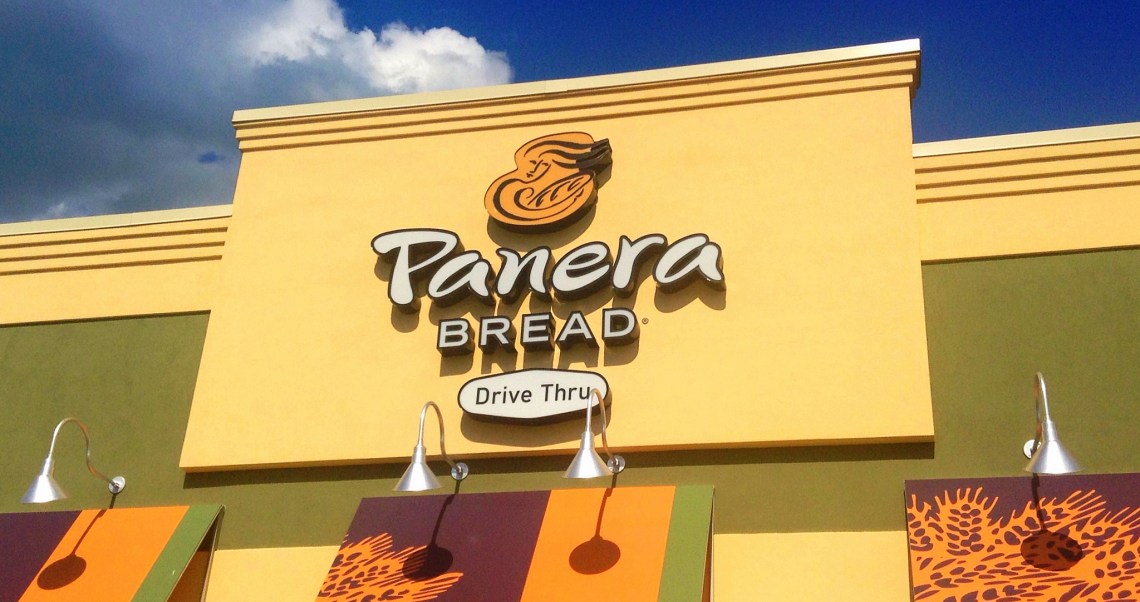 Producer's note: Someone on Quora asked: What are some good Panera Bread secret menu items/hacks? Here is one of the best answers that's been pulled from the thread.

Here's what my personal reconnaissance efforts have unearthed:
You can add avocado to anything. This upped the enjoyment factor of several menu items for me exponentially, especially the Mediterranean Veggie Sandwich, which is somewhat lacking in its natural state. There is officially an upcharge for it — but if you're in the store often enough, I have seen them waive it.
The "rapid pickup" shelf makes it easy to grab your online order without ever interacting with a single human being. One of the things I dislike about my local Panera is that the crowds are insane. I was grateful enough that it's possible to order online through their website for 10-minute pickup at my local store, but it wasn't immediately clear that I didn't have to talk to the person behind the counter to actually receive my order. The first time I ordered online, I stood around dumbly near the Phone/Fax Order sign (haha…fax) until someone took pity on me and pointed me towards the rapid pickup shelf. I have never seen any other orders on this shelf besides mine, despite the fact that there's often a line out the door.
There's a secret breadless menu. While I reserve the right to be suspicious of someone who would voluntarily eat at Panera without partaking in their assortment of simple carbohydrates at their best, I acknowledge that there are plenty of people out there who are gluten-free or carb-free or calorie conscious. Panera offers sizeable "power" bowls that consist of various combinations of protein options (steak, chicken, turkey, or egg), vegetables, and/or hummus.
You can order from your table through the app. This is another great and underused line-beating hack that will save you precious minutes in scoring prime real estate for your party as far as seating is concerned.
These are the things I've observed independently. However, I cannot overstate my obsession with Panera, so I actually decided to do some investigative journalism. Some really hard-hitting research. Okay, I really just clicked their "media contact" link and emailed a very nice lady, who passed my question on to Panera's resident registered dietitian Katie Bengston. Katie had some good advice for Panera patrons looking specifically for ways to make healthier choices from their available menu selections:
You can apparently substitute quinoa for protein on a salad. I won't pretend that I have ever eaten quinoa or that I even know what quinoa is. But if Panera's registered dietician pitched it to me, it's probably pretty great.
For Panera's salads and sandwiches, you can often reduce total calories, fat and sodium by omitting or having sauces, condiments and dressing served on the side. You can always customize your order to substitute or omit ingredients that don't fit into your diet. Also, some of the sandwiches receive salt and pepper when hand crafted, so be sure to ask to have the salt left off when you order if that's a concern for you.
Many of the common-sense healthy eating habits you'd use elsewhere in your life can be easily adapted at Panera; order a half portion of the sandwiches, panini, salads, soups to watch your portion sizes. Trade out2% milk for skim milk to save on calories and fat. Trade out regular eggs for egg whites to save on calories and fat. Trade regular milk for almond milk if you have a milk allergy.
And of course, Bengston recommends adding the all-natural turkey raised without antibiotics to a classic cafe salad for a boost of protein.
I won't lie; I was hoping for juicier trade secrets than those. Nevertheless, I feel a bit happier knowing that there is a secret vat of quinoa (it does come in vats, right?) that lies in wait in the kitchen at Panera, just waiting for that pivotal moment when you, the customer, might pull the trigger on that adventurous food substitution.

This answer originally appeared at Quora: The best answer to any question. Ask a question, get a great answer. Learn from experts and get insider knowledge.