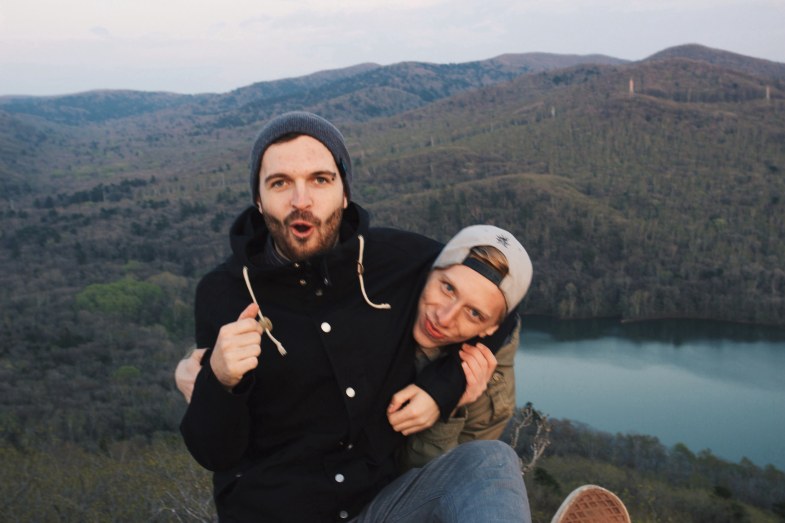 1. Learn how to make decisions together.
This was probably one of the greatest lessons learned. If you are planning a longer trip together you will face yourself with constantly making decisions throughout the day. Where are we going next? Where shall we eat today? What place are we gonna stay tonight? Which route are we going to take next? This will keep you busy throughout the day and will test your shared decision-making skills.
We are a very compromising couple and like to hear each other's thoughts on things before we make decisions. This may work out for buying a new piece of furniture at home or deciding on where to go next weekend. Making these decisions on the spot after a 24-hour bus ride in the middle of a foreign country is a different situation. We had hard times making decisions, especially during the beginnings of our longer trips. After a while we learned what was important for us and knew each other's preferences. We considered these and stopped over-thinking situations. Don't waste your precious time on these things, go with the flow and enjoy the time together!
2. Never forget your humor.
We have had a few moments during our travels where we felt annoyed by people or situations. At the beginning we took these things seriously and let them affect us in a bad way. Yet, we then we realized that we always have to see the funny side of things and keep up the laughter. Don't ever let these things bring you down! And if they do, be sure to backup your partner and make jokes about it. See the fun side of things that are going wrong and turn them into a funny story.
3. Be complementary, be a unit.
Knowing the strength and weaknesses of your partner is vital when you are on the road. As you will face many different situations in which these will be of need, you have to learn to optimize them. Become a unit and learn how to help each other out if you see there is a need. This is not the time to be selfish, working together as a team can help you save lots of effort and time (and money). Learn to split your tasks and act as a complementary partner, in this way you will make the most out of your traveling time together.
4. Don't forget to socialize.
As a traveling couple, we often end up only talking to each other and live in our own travel bubble. Because of this, couples seem less approachable in a way. This defeats the purpose of travel – after all, a core component of traveling is to meet new people. During the course of our travels we had the most fun and adventurous times with people that we met on the way. We changed our travel plans because of others and never regretted this. Other travelers can give you better advice than any other travel book or company. Do not stick to your little comfort zone and get out there and socialize with others.
5. Be flexible and adjust.
You need to be flexible and be able to adjust to new situations on a daily basis. Your surroundings will change regularly and this can get down on your nerves. Sometimes your partner will have problems with this and not feel comfortable in certain moments. Hold back on your usual routines or actions and adjust yourself to your partner to make it easier for them. Be adaptive to your partner and adjust to their needs.
6. Align your plans before you go.
Make sure you are on the same page as to what you want to see and how you want to conduct your travels before you leave. Having an understanding about this can make your travels easier and avoid confrontations on the way. Do not over plan everything as many things will naturally change along the way. Just get both of your thoughts and expectations together so that you are comfortable with that prior to your travels.
7. Listen to your partner!
I know, this is an important aspect of any stable relationship. Yet, if you end up being together 24/ it is of even greater importance. Like mentioned before we learned a lot from each other. Listen to the needs of your partner and manage to adjust is an essential component in getting along during your trip. Listen to what you like and dislike and make sure to remember these things when you face yourself with making decisions on the way.
8. Be open to adventures together.
Never hold back on adventures just because you are traveling as a couple. Go out there and experience as much as you can. Don't ever put a limit on your travels just because this could be 'not the right place for a couple'. Be open to everything you face during your trips and engage with everything and everyone.