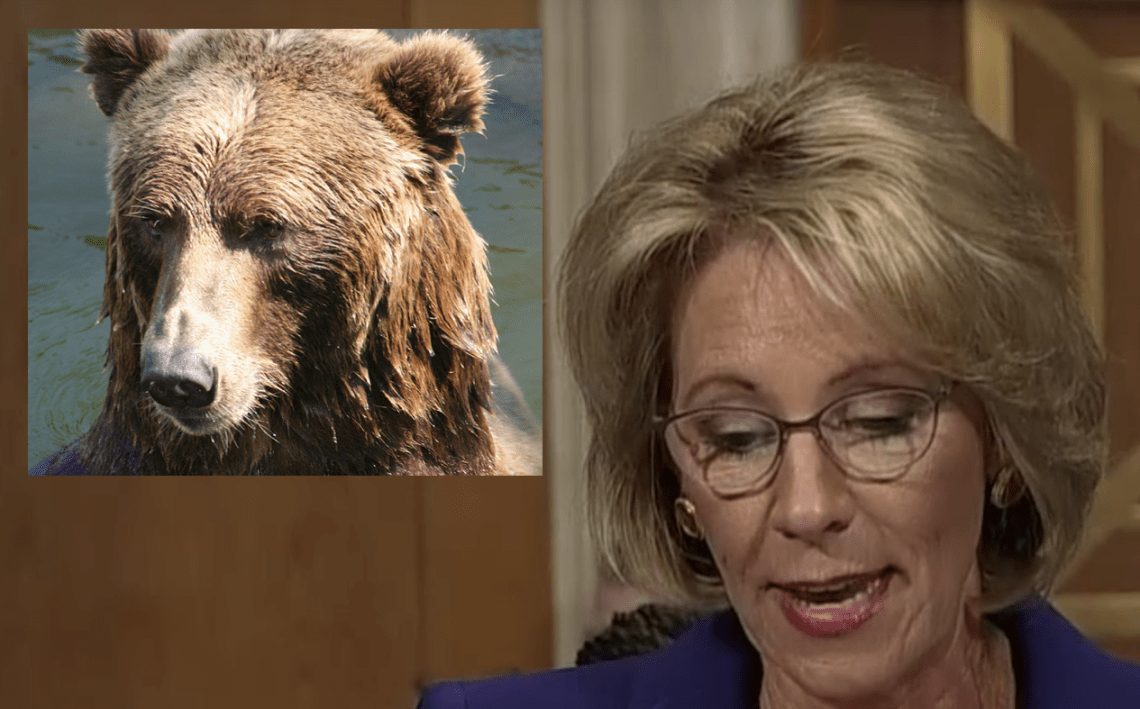 Betsy DeVos, as many of you have probably already heard, made an argument in favor of allowing guns on school campuses based upon the most sinister threat to face the United States since the bombing of Pearl Harbor: Grizzly Bears. Now, I know this revelation has probably left your mind in a state of shock so allow me to take a step back and further elaborate.
For those of you who don't know, Betsy DeVos is Donald Trump's nominee for secretary of education. However, this does not mean that her position is secured, as 60 members of the Senate must approve all cabinet appointments before they become official. Except not really because of the 2013 installation of the Nuclear Option, but that's a topic for another time.  Recently, DeVos graced the Senate's committee of Health, Education, Labor and Pension with her presence. Many irrelevant questions that I'm sure will not give way to the long term ramifications of DeVos' position were asked; however, amongst the drivel one extraordinary question was asked by Connecticut Senator Chris Murphy pertaining to whether DeVos believed guns had any place on school campuses. DeVos' reply lit the world on fire:
"I will refer back to Sen. Enzi and the school he is talking about in Wyoming. I think probably there, I would imagine there is probably a gun in a school to protect from potential grizzlies."
The Senator to whom DeVos referred to was Mike Enzi, who had previously brought up a story about a school in Wyoming that had constructed fences to protect the children from the bearish bears that are known to roam those parts. Lousy news outlets such as The Independent and the New York times have lambasted DeVos' for her response, unlike the highly reputable news outlet Breitbart who have taken a completely unbiased observation of DeVos' statement that totally doesn't devolve into rambling about gun control. The fact of the matter is that bears pose a MASSIVE threat to the good people of Wyoming. In the past hundred years there have been five fatal attacks by grizzly bears in the state of Wyoming. This may not seem like a lot, but this averages to 1 death every 20 years. Now let me ask you something, are you 20 years old? If you're reading this article than you are, at the very least, nearing that age. That 1 fatal bear attack every 20 years could have been YOU! But I rest my case.