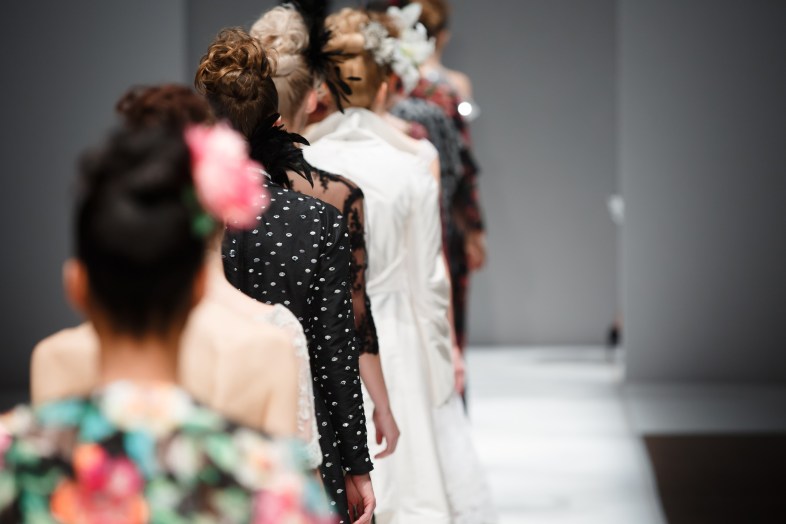 Throughout my high school years, I was always captivated by the fashion industry. Though I lived in the Midwest in a town of 50,000, I poured over the pages of Elle and Vogue, hoping that one day I could be as chic as Kate Moss (Don't look at me like that—we've all been there). Summer after my freshman year of college, I began an internship at a fashion magazine in New York, expecting my experience to rival that of Anne Hathaway's in The Devil Wears Prada. Though exclusive in their own ways, the editors and staff were nothing but nice. However, I quickly realized New York was not my cup of Yerba Mate, so I headed west to Los Angeles where I would begin my descent into fashion public relations…
Internships in fashion PR are anything but glamorous. Sure, you may try to look "trendy" the first couple of weeks—perhaps even wearing heels! LOL—but once you realize that your #1 job is schlepping garment bags, it's all sneakers and Madewell tees from here on out. Who needs a Class Pass subscription when you're regularly lugging around 40 pounds of sequins? After two rounds of internships, I was a pro at wrapping up evening gowns and organizing racks. And guess what? After three years in the biz, I still had to wrestle with the occasional garment bag. If you want to work in fashion, be not afraid of good old-fashioned manual labor.
Working in any area of fashion is not for the faint of heart. The sound bites I have heard over the years range from "You should start getting Botox at 19 years old" to "You look SO good—like anorexic good," which is basically the holy grail of compliments in the industry. Considering said industry revolves around stick-thin supermodels and unattainably perfect celebrities, body image is a prolific and ever-present issue. Being surrounded by these images 24/7 takes a toll, so it's important, for sanity's sake, to develop a thick skin.
Another unforeseen side effect of working in fashion is that shopping will become a chore. You are bombarded with headlines like "The Next BIG Trend in Denim" and "5 Staples Every Fashion Girl Needs" on a daily basis, so it's no wonder that shopping becomes a more frustrating experience than an enjoyable one. While browsing Nordstrom, you go back and forth on buying an off-the-shoulder peasant top thinking, "Well, 60's style is supposedly making a comeback, but will it last into next season? Am I buying too much into trends? Will everyone be wearing a peasant top/suede skirt combo this summer? God forbid I look ripped off the page of a Coachella style story…" Working in a showroom or studio, you will begin to notice the tug-o-war between wanting to keep up with current trends while also being too-cool-for-school anti-trend. Hence, the absurd amount of drapey tees, boyfriend jeans, and overpriced sneakers worn in showrooms and by stylists.
Finally, the thing I never anticipated when starting out in the industry was that I would be thrust into the finicky politics of the entertainment industry. Every industry has its own power struggles, but the constant back and forth between publicists, editors, studios, and designers deserves a league of its own. Attempting to keep all of these headstrong individuals happy and complacent is a daily struggle. Managing expectations and overseeing critical conversations are a part of the job description, so it's key to be prepared and confident.
Despite the less-than-dignified working conditions and demanding industry politics, the perks of working in fashion make it worth it. Working with insanely cool creative people never gets old and the occasional freebies are a welcome incentive. If you're a passionate, hardworking misfit, the fashion industry may be the perfect place for you. Just don't be afraid of getting your Reformation top dirty.